Fox News Hosts Confronts CDC Director Over Sotomayor's Claim About Children With COVID
Fox News anchor Bret Baier confronted Centers for Disease Control and Prevention director Rochelle Walensky on Sunday, urging her to counter inaccurate claims about children hospitalized with COVID-19 made by Supreme Court Justice Sonia Sotomayor during a hearing this week.
The nation's top court on Friday heard arguments for and against President Joe Biden's mandate that America's large companies must require employees to be vaccinated against COVID-19 or take regular tests to ensure they do not have the novel coronavirus. While conservative justices appeared skeptical of the mandate, liberal justices—including Sotomayor—appeared supportive.
Sotomayor faced significant criticism, however, after she incorrectly claimed that
"over 100,000 children" were seriously ill with COVID-19, with "many on ventilators." Government data actually showed as of January 8 that only a few thousand children were hospitalized with confirmed or suspected COVID-19—as some awaited the results of a laboratory test.
Baier, while hosting Fox News Sunday, confronted Walensky with Sotomayor's inaccurate statement and urged her to fact-check the misinformation.
"What we can find from Friday suggest there are fewer than 3,500 current pediatric hospitalizations from COVID-19. Is that true?" Baier asked the CDC director.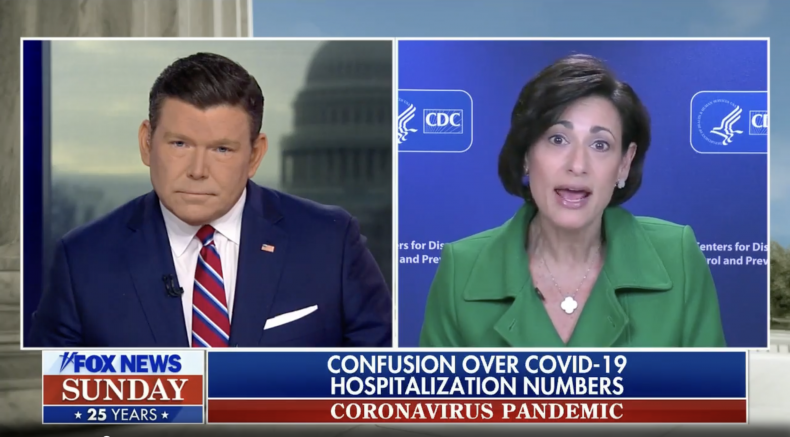 Walensky agreed before quickly shifting the topic to point out that most of the hospitalized children are unvaccinated. "The vast majority of children who are in the hospital are unvaccinated, and for those children who are not eligible for vaccination, we do know that they are most likely to get sick with COVID if their family members aren't vaccinated," she said.
The CDC director urged parents to get their children vaccinated before Baier cut in to reiterate his point
"Understood, but the number is not 100,000. It's roughly 3,500 in hospitals now," he said.
"It—yes, there are—there are—and in fact what I will say is, while pediatric hospitalizations are rising, there are still about 15-fold less than hospitalizations of our older age demographics," Walensky responded.
Baier then asked if she knew specifically how many children are currently on ventilators due to COVID-19.
"I do not have that off the top of my head, but...I don't believe there are any in many of these hospitals who are vaccinated. So, really, the highest risk of being on a ventilator if your child is if you're unvaccinated," she responded.
Later in the interview, the Fox News anchor reiterated his concern with Sotomayor's inaccurate statement. "And do you feel responsibility as the CDC director to correct a very big mischaracterization by one of the Supreme Court justices?" he asked.
"Yeah, here's what I'll tell you. I'll tell you that, right now, 17—if you're unvaccinated, you're 17 times more likely to be in the hospital and 20 times more likely to die than if you're boosted," Walensky responded. "And so, what my responsibility is, is to provide guidance and recommendations to protect the American people. Those recommendations strongly recommend vaccination for our children above the age of 5 and boosting for everyone above the age of 18 if they're eligible."
As The Washington Post reported, since August 1, 2020, just under 83,000 children have been hospitalized in the U.S. due to the novel coronavirus. CDC data shows that as of January 6, some 823 children (ages 0 to 18) have died from COVID-19.
COVID vaccines have not yet been granted approval for children under the age of 5. As of January 7, data compiled by The New York Times showed that 66 percent of children aged 5 through 11 have been fully vaccinated against COVID-19. Of children aged 12 through 17, some 71 percent have received both doses of a vaccine.