Fox News Hosts Revel in Reports Hillary Clinton Will Enter 2020 Race With Graphic: 'Go Ahead, Get In!'
Fox News morning show hosts mocked the idea of former Democratic presidential candidate Hillary Clinton running for president after she said she was under "enormous pressure" to launch a 2020 campaign for her party's nomination.
The co-hosts of Fox & Friends played a clip Wednesday morning of Clinton doing a radio interview with a British station. During the segment, the former secretary of state was asked whether she was considering launching a last-minute presidential run.
"Well, you know, I never say never to anything. I will certainly tell you I'm under enormous pressure from many, many, many people to think about it," she responded. "But as of this moment that is absolutely not in my plans."
Following the clip, the screen behind the co-hosts showed a giant graphic of Clinton with the words: "Third Time's the Charm?" Clinton first ran for president against Barack Obama in 2008. She then served as his secretary of state after he secured the Democratic nomination and went on to win the general election. In 2016, she ran again, but lost against Donald Trump.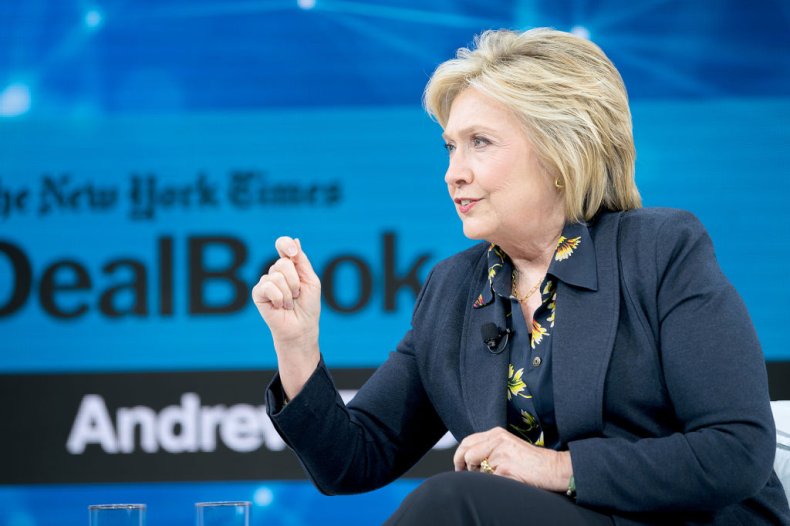 The morning show's panel then discussed the field of candidates leading in the polls for the Democratic nomination. They emphasized how many of the frontrunners were now facing scrutiny and criticism from other candidates and members of their party. The co-hosts also pointed out that Mayor Pete Buttigieg had jumped into first place in Iowa, according to a Monmouth University Poll released Tuesday.
"What's pretty clear, is that when you become a frontrunner, the Democrats attack you like there is no tomorrow," co-host Brian Kilmeade asserted. He then outlined criticism that had been lobbed against several of the leading Democratic candidates over the past few weeks, and months.
"Anytime you're in first place, you have a target on your back," co-host Steve Doocy said in agreement with Kilmeade. Then co-host Ainsley Earhardt quipped: "This is why Hillary needs to get in."
"That would be so great," Doocy responded with a mocking tone. "I hope she's watching. Yeah, go ahead, get in."
Philippe Reines, a senior adviser to Clinton when she served as secretary of state, said in late October that the politician would be interested in joining the 2020 race.
"She is not running because she has any anxiety about the Democratic field, but there might be a reason that she'd be the best person, not only to beat Donald Trump, but to govern after Donald Trump, which is a part we don't talk about much," Reines said in an interview with Fox News host Tucker Carlson. "And, look, you can make fun of her all you want, but 65 million people voted for her and that's second more to anyone except Barack Obama."
Clinton received nearly 3 million more individual votes than Trump during the 2016 presidential election. However, Trump came out on top because he won more Electoral College votes.
Although the hosts of Fox & Friends mocked the idea of Clinton entering the 2020 race, a recent poll by Fox News showed that the former Democratic candidate would narrowly beat Trump in a one-on-one matchup. The poll predicted that 43 percent of voters would back Clinton, and just 41 percent would vote for Trump. However, Clinton's support among voters lagged behind Democrat candidates Joe Biden, Senator Bernie Sanders and Senator Elizabeth Warren, who all would beat Trump by wider margins.
Correction: A previous version of this article incorrectly spelled Brian Kilmeade's first name.
Fox News Hosts Revel in Reports Hillary Clinton Will Enter 2020 Race With Graphic: 'Go Ahead, Get In!' | U.S.