Fox News' Jesse Watters Says Democrats Are 'Pandering to Muslims' by Calling Sri Lanka Terror Attack Victims 'Easter Worshippers'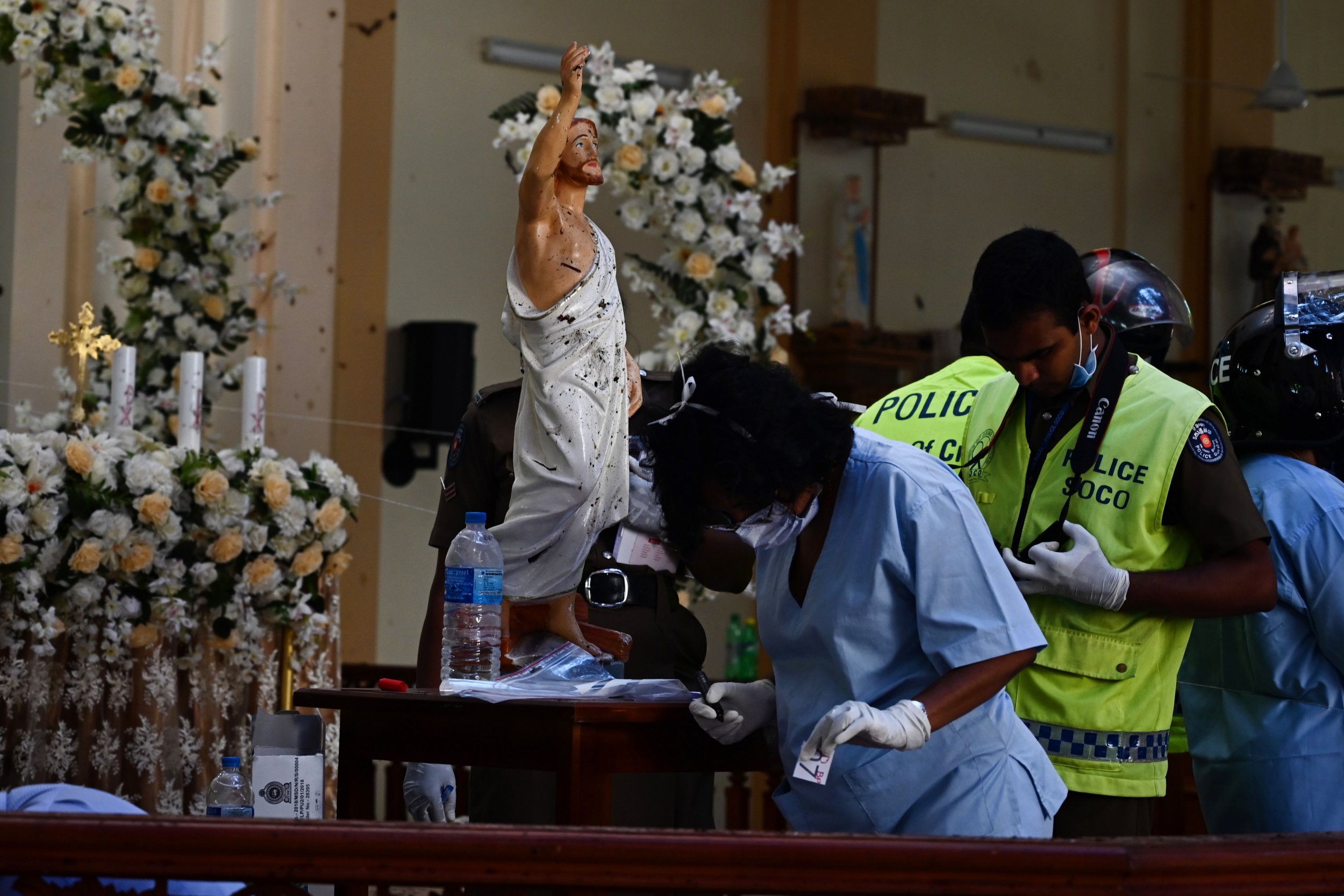 Fox News host Jesse Watters has accused Democrats of ignoring the anti-Christian motive of the terror attacks in Sri Lanka that took place over the Easter weekend, in which more than 300 people were killed.
Watters said Monday that The Washington Post and "leading Democrats" had been careful to avoid using words like "Christians" and "churches" to describe the targets of the coordinated bombings, and claimed they were "pandering" to Muslims.
On Sunday, at least eight separate bomb attacks targeted churches and hotels in three Sri Lankan cities, including the capital Colombo. The official death toll stands at 311, The Post reported, with more than 500 others injured. Local Islamist group National Thowheed Jamaath is believed to be responsible, though government officials believe the militants may have had assistance from an international Islamist group. As of Tuesday morning, 40 people have been arrested.
Speaking on The Five show, Watters suggested that The Post and the Democratic Party were sidestepping the clear anti-Christian bent of the bombings to avoid offending the Muslim community, Mediaite reported.
"I have The Washington Post right here and it's just kind of disgusting," he said. "Christianity under attack. Sri Lanka church bombings stoke far right anger in the West. And it's a whole article, not about editorializing about radical Islam, murdering people. It's editorializing and saying, 'Oh, Christians are upset that churches are being bombed.' And they're making Christians and conservatives out to be the villains for reacting to terrorist attacks."
He then turned his ire on the Democrats. "Look at some of the leading Democrats, how they characterized it," Watters said. "They didn't use 'Christians.' They didn't say 'churches.' They actually said 'Easter worshipers' were under attack. Now, you don't call Muslims Ramadan-worshipers. You don't call Jews Passover-worshipers. It's a made-up phrase."
Prominent Democrats including former President Barack Obama and former Secretary of State Hillary Clinton were attacked by conservative commentators and media for using the phrase "Easter worshippers" in their condemnation of Sunday's attacks. Former Republican House Speaker Newt Gingrich tweeted, "To have both of them use the same term the same day is strange. Is Easter Worshipper the left's new way to avoid the word Christian? Pathetic."
According to Watters, Democrats are using the phrase "because they are pandering to Muslims, because a lot of liberals feel that they are so obsessed with how other people think about them and if they are thought of to be insensitive, that drives them crazy."
"And second of all, they think their own rhetoric causes Islamic extremism. Remember, blame America first? They think Islamophobia causes radical Islam, so they do whatever they can to sanitize it," he added. "This is one of the reasons why people don't trust liberals, because they are not in touch with reality."