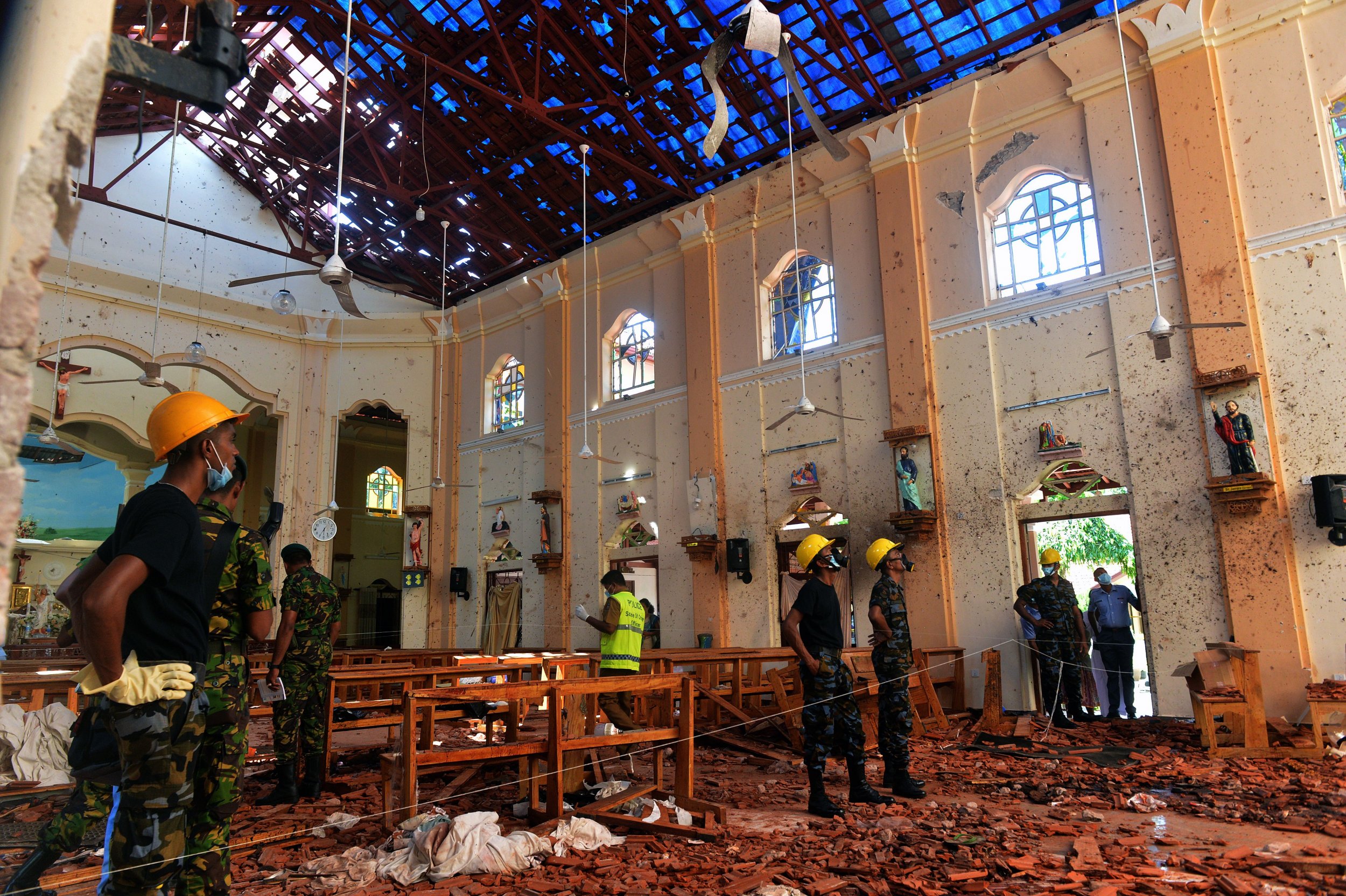 The Sri Lankan government said the Easter Sunday bombings that killed at least 290 people were carried out by an Islamist militant group with the assistance of an international network. The small, local extremist group, called National Thowheed Jamath, has been accused of committing the attacks on churches and hotels, which left a further 500 injured, although no group has yet come forward to claim responsibility.
Thirteen people have so far been arrested in connection with the attacks, which occurred in or around the capital of Columbo. According to Reuters, seven suicide bombers were responsible for the attacks, and it is likely they had help from international links.
"We do not believe these attacks were carried out by a group of people who were confined to this country," Health Minister and Cabinet spokesman Rajitha Senaratne said. "There was an international network without which these attacks could not have succeeded."
A statement from President Maithripala Sirisena's office said he would be seeking information on who was responsible for plotting the attacks. "The intelligence reports [indicate] that foreign terrorist organizations are behind the local terrorists. Therefore, the president is to seek the assistance of the foreign countries," a spokesperson said, reported the BBC.
National Thowheed Jamath is a relatively unknown group that has not been linked to any previous major attacks. However, the group's visibility increased in 2018, after its members were accused of vandalizing a number of Buddhist statues in the country.
Sri Lankan authorities also confirmed that they were warned about the possibility of attacks, and even had the names of potential suspects, two weeks before the deadly blasts occurred.
"On 9 April, the chief of national intelligence wrote a letter, and in this letter many of the names of the members of the terrorist organization were written down," Senaratne told a press conference, according to The Guardian. "The prime minister was not informed by these letters and revelations. We are not trying to evade responsibility, but these are the facts. We were surprised to see these reports."
Prime Minister Ranil Wickremesinghe, whom the president attempted to have fired from his position in October 2018, urged a review into what was done with the intelligence. "We must look into why adequate precautions were not taken. Neither I nor the ministers were kept informed," he said.
Cardinal Malcolm Ranjith, the archbishop of Colombo, said, "We placed our hands on our heads when we came to know that these deaths could have been avoided. Why this was not prevented?" reported Associated Press.