Fox News Legal Analyst Calls Ambassadors, Purple Heart Recipient and NSC Official 'Opinion Witnesses' in Trump Impeachment Inquiry
Fox News legal analyst Gregg Jarrett attempted to undermine the credibility of the witnesses who have testified in the impeachment inquiry against President Donald Trump, alleging they are just "opinion witnesses" and "notorious gossipers."
Despite Jarrett's assessment, several of the key witnesses were appointed by Trump to serve in their national security and diplomatic roles. Gordon Sondland, the U.S. ambassador to the European Union, even donated $1 million to Trump's inaugural committee. This week it was revealed that the diplomat had officially modified his previous testimony to congressional investigators to confirm that the administration had indeed pressured Ukraine to open an investigation against the president's domestic political rivals in exchange for the release of nearly $400 million in military aid.
But Jarrett argued on Fox & Friends on Thursday morning that these Trump officials can't be considered credible. "They're all opinion witnesses, offering their interpretations of a conversation they weren't privy to. They're all diplomats, and diplomats are notorious gossipers," he charged.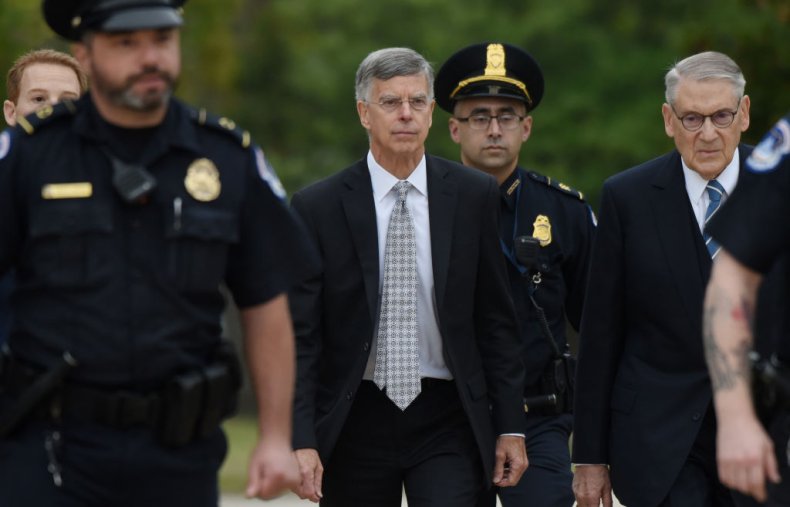 Besides Sondland, Lieutenant Colonel Alexander Vindman, who serves as a Ukraine expert on the National Security Council, and William Taylor, the top U.S. diplomat in Ukraine, are two other key witnesses to have testified. Vindman, a veteran of the Iraq War who received the Purple Heart after he was wounded, warned that Trump's efforts in Ukraine could "undermine U.S. national security." Taylor was the first to clearly detail to congressional investigators the quid pro quo involving the military aid.
During the segment, Jarrett was promoting his new book, Witch Hunt: The Story of the Greatest Mass Delusion in American Political History. Published last month, the book attempts to discredit the nearly 22-month-long investigation by special counsel Robert Mueller into Russian interference in the 2016 election and Russian ties to Trump's presidential campaign. Investigators concluded, as have other U.S. intelligence agencies, that Russia interfered in the election to benefit Trump and weaken his Democratic opponent, Hillary Clinton. However, the probe did not establish that there was a direct conspiracy between Trump's campaign and Russia.
Jarrett told the hosts of Fox & Friends that his book also explained how "Ukraine meddled into the 2016 election to hurt Trump and benefit Hillary Clinton." However, even former high-level Trump administration officials have publicly said this conspiracy theory is entirely false.
"It is completely debunked," Thomas Bossert, who served as Trump's first homeland security adviser, told ABC's George Stephanopoulos at the end of September. He pointed out that this fact had repeatedly been communicated to the president, but that Rudy Giuliani, the president's personal lawyer, had pushed the narrative and continues to do so.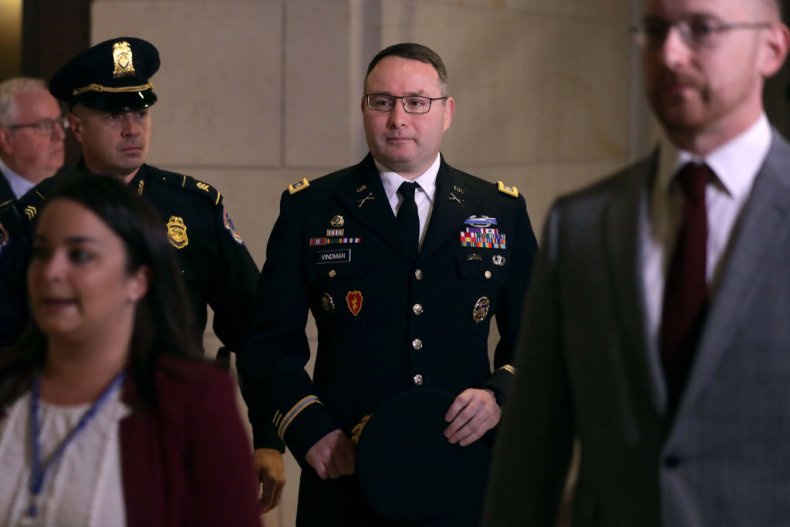 "I am deeply frustrated with what he [Giuliani] and the legal team is doing and repeating that debunked theory to the president. It sticks in his mind when he hears it over and over again, and for clarity here, George, let me just again repeat that it has no validity," Bossert asserted.
Trump's apparent belief in the conspiracy theory, as well as unsubstantiated claims that former Vice President Joe Biden acted corruptly to benefit his son Hunter's business dealings in Ukraine, is at the center of the impeachment inquiry embroiling the White House. The president, Giuliani and other administration officials repeatedly pressured Ukraine to investigate the allegations, which have been debunked, in an apparent bid to disparage Trump's political opponents. The White House also temporarily withheld the nearly $400 million in military aid to add additional pressure, according to multiple accounts.
Fox News Legal Analyst Calls Ambassadors, Purple Heart Recipient and NSC Official 'Opinion Witnesses' in Trump Impeachment Inquiry | U.S.