Fox News Receives Twice as Many Daily Republican Viewers as Newsmax, Poll Finds
About half of Republicans watch Fox News at least once a week and 27 percent tune in daily—that's about twice the share of GOP voters who are as dedicated to Newsmax.
GOP pollster Tony Fabrizio, whose firm conducted the latest survey of Republican Party news viewership, noted that Newsmax and OANN are "hot on Fox News' tail" in the post-President Donald Trump era. But despite the glowing endorsements from the former president and his supporters, the Boca Raton, Florida-based conservative network is still far behind Fox News. The survey conducted among 1,264 voters did find a sizable number of defections from the News Corporation-owned cable network, but a majority of Trump supporters, 54 percent, still say they watch Fox News at least once a week.
Fourteen percent of Republican Party voters said they no longer watch Fox News in the post-Trump era. About one-in-seven Republicans responded that they "used to watch, [but] don't watch anymore."
Despite the seemingly positive numbers for OANN and Newsmax, Fox News remains the "highest-rated network in both total day and primetime with total viewers," according to the most recent Nielsen Media Research data. Fox News Channel pulled in 1.3 million total day viewers, or 204,000 in the 25-54 demographic and 120,000 in the 18-49 category. These numbers dwarf those recorded by OANN, Newsmax or FNC's New York-based competitors, including CNN and MSNBC.
Thirteen percent of Republican respondents said they watch Newsmax every day, which is just under half the share who watch Fox News daily. Twenty-six percent of GOP voters in the survey said they watch Newsmax at least on a weekly basis.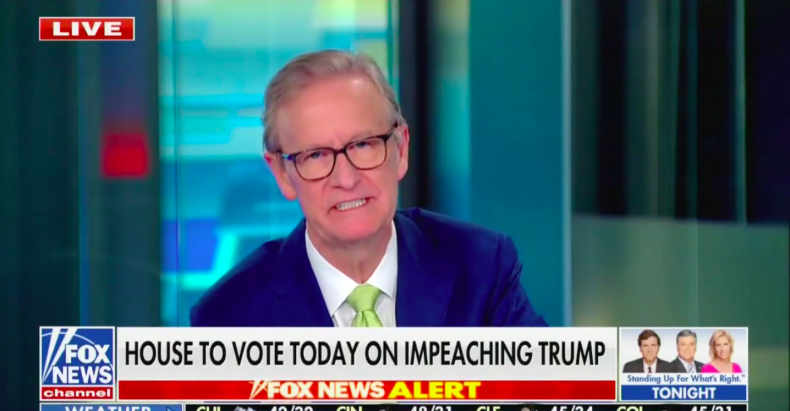 Fox News is still far and ahead the No. 1 news network among Republican Party voters, the survey released Tuesday found. Although ardent supporters of Trump have increasingly started watching OANN and Newsmax over the past year, many critics have called on cable providers to stop carrying all of them over "election misinformation" concerns.
The former president routinely picked fights with specific anchors and TV show hosts at Fox News throughout his presidency. As Newsweek reported in May 2019, his frequent Twitter criticism of Fox News Sunday anchor Chris Wallace sparked internal strife at the cable news network. Trump meanwhile lavished praise on hosts who did likewise for him including Laura Ingraham and Sean Hannity.
Fox News Channel's sister outlet, the Fox Business Network, is watched by 23 percent of GOP voters each week. That's about the same as the other New York City-based news networks of ABC News, CBS News and NBC News. OANN received about 19 percent of the viewership share among Republicans, according to the survey released by Fabrizio, Lee & Associates Tuesday. One outspoken Trump proponent at Fox Business, Lou Dobbs, was canceled by the network last month.
Speaking with the South Florida Sun Sentinel for an article published Tuesday, Newsmax CEO Chris Ruddy said longtime Republican viewers are leaving Fox News because it has become "old, stale and inconsistent."
Newsweek reached out to OANN representatives for reaction to the survey results Tuesday afternoon.