Fox News Stunned That Impeachment Witness Drank Water: 'Fish Are Not This Hydrated'
Fox News hosts were stunned last night as they mulled over footage of an impeachment inquiry witness drinking water.
Laura Ingraham and Fox News contributor Raymond Arroyo attacked State Department official George Kent for bringing a large water bottle to a testimony scheduled for several hours in a committee room near the Capitol yesterday.
The host of The Ingraham Angle said she thought Kent's bottle was an oxygen chamber while Arroyo called it a "water tower."
Their comments came during a show attacking the impeachment inquiry, with Ingraham using her opening monologue to call the first public hearings a "complete and utter disaster" for House Intelligence Committee Chairman Adam Schiff and other Democrats seeking to remove President Donald Trump from office.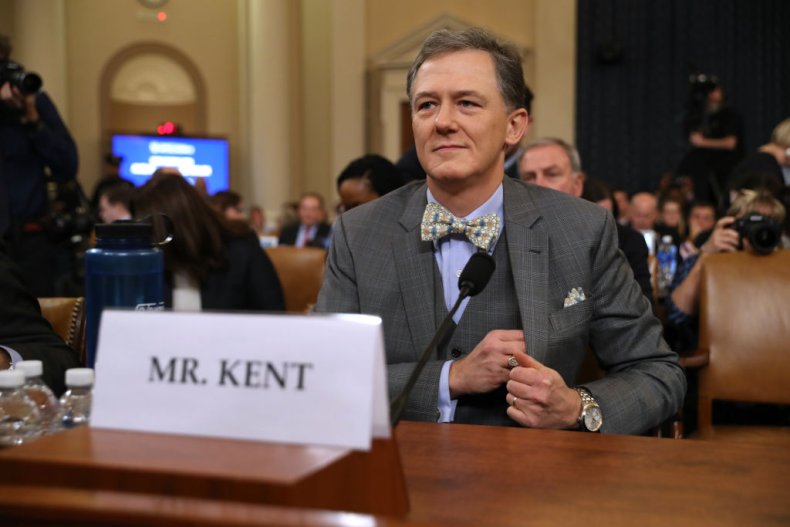 She also said the first two witnesses to give testimony in front of cameras, George Kent and the top U.S. diplomat in Ukraine Bill Taylor, were "Deep State Department" witnesses, seeking to smear their credibility.
Kicking off an attack on Kent's water bottle during The Ingraham Angle last night, Arroyo said: "He drank a lot of water Laura. I mean fish are not this hydrated."
"What is this?" Ingraham replied as footage of Kent drinking water was played. "Is he on the treadmill? What is this with the water bottle? Do you guys see that?"
"It's amazing," Arroyo said. "It was like a medical-sized water tower."
"I thought he had an oxygen chamber or something," Ingraham replied.
Fox News contributor Arroyo went on to compare the supposedly phenomenal water bottle to a "water silo."
Their attack on the impeachment witness and the public hearings yesterday was in keeping with coverage of the inquiry across most of the Fox network, and followed a tirade against Adam Schiff by Fox Business host Trish Regan on Tuesday night.
But there has not been unanimous criticism of the impeachment inquiry launched by the Democrat-led House in September among Fox hosts.
Fox News anchors Bret Baier and Chris Wallace called the testimony of Bill Taylor "compelling" and dismissed suggestions he was taking a "partisan position" on President Trump.
At the first public impeachment hearings on Wednesday, Taylor spoke to lawmakers about an "irregular" foreign policy channel involving Trump's personal lawyer Rudy Giuliani. The U.S. diplomat also claimed that U.S. Ambassador to the European Union Gordon Sondland told one of his staffers, following a phone call with the president, that Trump "cares more about the investigations of Biden" than other matters in Ukraine.
House Speaker Nancy Pelosi launched the ongoing impeachment inquiry on September 24 after a whistleblower complained about a July phone call between Trump and Ukrainian President Volodymyr Zelenskiy in which the U.S. president urged his counterpart to investigate former Vice President Joe Biden.
The next public impeachment hearing with former U.S. Ambassador to Ukraine Marie Yovanovitch is scheduled for Friday.