Video: Tucker Carlson Says People Don't Understand How 'George Soros Is Successfully Remaking This Country'
Fox News host Tucker Carlson took aim at billionaire philanthropist George Soros during his show on Monday night, accusing the political donor of using undemocratic means to reshape American society on the issue of justice reform.
Soros, 88, was born in Hungary and survived the Holocaust. He made his wealth in finance and has used much of it to support progressive and liberal causes, ranging from backing candidates with donations to putting money behind rights campaigns in authoritarian societies.
As such, he has become a totemic boogeyman figure for the right, a focus of consternation, anger, and often anti-Semitic hate, accused of buying power and influence, and undermining democracy.
"For many years, leftist billionaire George Soros has used his wealth to remake our society, American society," Carlson said during his show. "His latest area of focus is criminal justice. From Texas to Philadelphia [and] the state of Virginia, Soros has reportedly spent millions of dollars backing candidates for District Attorney, for prosecutor. Once elected, these candidates…have ended cash bail, treated felonies like misdemeanors, and sometimes ignored some crimes entirely."
The Fox host then focused on Philadelphia, Pennsylvania, where the Soros-backed Philadelphia Justice and Public Safety PAC got behind Larry Krasner in the 2017 race to be the city's district attorney, which he won and took office on January 1, 2018.
Krasner is a liberal former criminal defense lawyer who spent time as a public defender. As DA, he has relaxed sentencing guidelines and taken a softer approach on low-level crimes, such as marijuana possession. His office also no longer prosecutes sex workers, which it views as victims, and instead focuses on the "Johns."
Bill McSwain, U.S. Attorney for the Eastern District of Pennsylvania, is a critic of Krasner's, accusing him of weakness on crime. He is also critical of Soros-backed campaigns to back progressive candidates for prosecutor offices.
McSwain appeared on Carlson's show and said he thinks Philadelphia is "the laboratory where this experiment in Soros-funded prosecutors is playing out and now the returns are in, to a certain extent."
He claimed that most types of crime were on the rise in Philadelphia, including homicides and other violent crime as well as mid- and low-level criminality. McSwain also claimed that fewer victims are reporting lower level crimes because they no longer believe the DA will prosecute.
According to the 2018 crime report by the Philadelphia Police Department, homicides rose by 10 percent and aggravated assault with a gun incidents were up 5 percent on the year.
However, all other violent offenses, including rape, robbery, and aggravated assault, were in decline. The total number of all violence and property offenses was flat between 2017 and 2018.
"I shouldn't have to point out to a federal prosecutor that communities across the country are struggling to contain gun violence associated with the narcotics trade and 100% made possible by some of the weakest gun restrictions in the world," Jane Roh, communications director for Krasner, told Newsweek.
"It would be far more productive for our partners at the federal level to join local leaders like District Attorney Larry Krasner in standing up to the NRA and in fighting to save the lives of people struggling with addiction."
Roh also pointed out that total violent crime in Philadelphia is down by 4 percent since Krasner took office.
"What Mr. Soros I think wants to do is that he wants to implement his radical agenda and he realizes that he can't do that through the normal democratic process," McSwain said. "Normally, if you're going to try to get criminal justice reform you have to do it through the legislature.
"You have to get broad public support for the kind of changes that you want to want to institute. He's taking what I would describe as an illegitimate anti-democratic shortcut by trying to purchase DA elections and then, once the DA is in place, he or she doesn't enforce the law—and presto, you've got criminal justice reform," McSwain said.
Carlson said: "I think people don't really understand the degree to which George Soros is successfully remaking this country and they should understand…Soros has effectively intimidated people into not criticizing him. It's some kind of moral crime to call this to public attention, but it is in the public's interest to know, and so we are anyway."
The Open Society Foundations is Soros' philanthropic vehicle. He uses it to support causes and candidates all over the world.
According to its website: "The Open Society Foundations act as a global advocate for justice systems and policing that treat everyone equally, and which reduce unnecessary and punitive use of incarceration. In the United States, this mission is particularly vital.
"We support groups such as the ACLU and the Equal Justice Initiative that challenge a system that is overly reliant on prisons and which disproportionately prosecutes and punishes people of color—often because of the unequal application of anti-drug laws."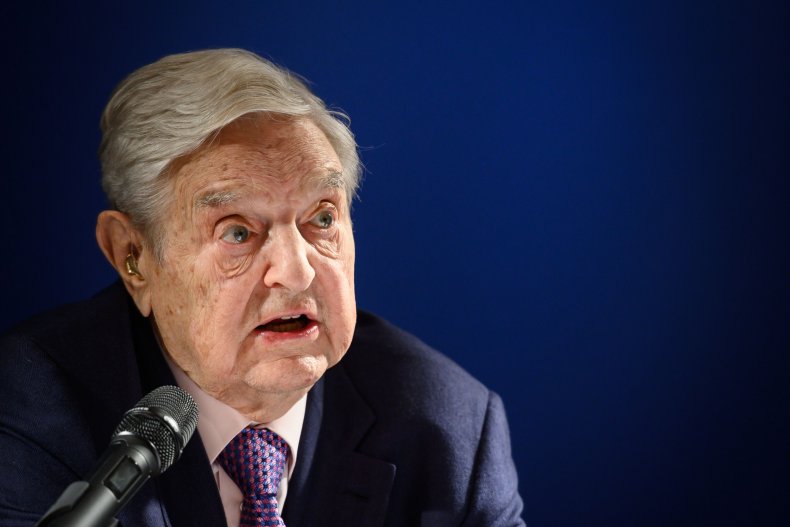 This article was updated with a comment by Jane Roh.