France vs. Belgium: Expert Predictions, Betting Odds, Preview for World Cup Semifinal Match
Just three matches remain in the 2018 World Cup, the first of which is scheduled to kick off on Tuesday when France is scheduled to take on Belgium in a highly anticipated semifinal matchup.
Both squads have earned their way to the semifinals, with a stellar Belgium knocking off the tournament favorite, Brazil, in its quarterfinal match. This tournament marks the culmination of a "golden generation" for the Belgians, featuring a roster replete with stars like Eden Hazard, Kevin De Bruyne and Romelu Lukaku.
"It's been two years to try and understand these footballers, the human beings behind the footballers, and to try and get a group that shared the same ambition, not just to use the national team to improve their brand," Belgian manager Roberto Martinez said in a news conference, via Reuters. "We've strived to be as good as we could be at the international level and it's taken us two years to get there. But there haven't been one or two secrets to make it work, it's been common sense. It's a group of people who share a vision of making Belgian football proud and achieving something important, and these players have done that."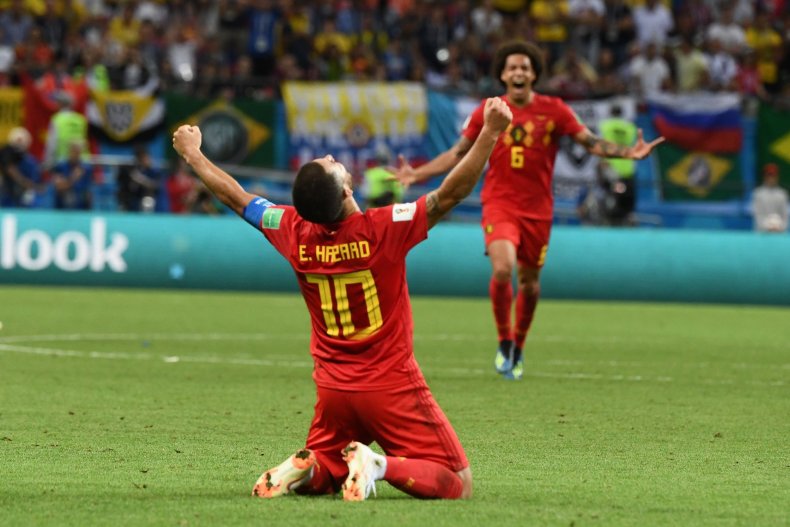 France also boasts a talented squad. It made short work of Uruguay in the quarterfinals, winning 2-0. France takes on its neighbors in Belgium, adding the weight of a rivalry to the already important match. Adding fuel to the rivalry flames is the fact that former French national team legend Thierry Henry serves as an assistant to Belgium's Martinez—meaning the French hero will likely be doing his best to make sure his home country loses.
"He gives his precise and important advice to the Belgians. For sure, I would rather him being with us and giving me the advice, but you can't be jealous, and it is not shocking me at all," said French forward Olivier Giroud, about Henry, reported Reuters. "I would be proud to show him that he picked the wrong side."
Oddsmakers widely consider France the favorite in the matchup. According to Odds Shark, oddsmaker Bovada had France's money-line odds at +150, while Belgium was at +200. The spread had France at -130, while Belgium was at +110. Of course, there are no guarantees in the World Cup, especially in 2018. As Newsweek previously wrote, it has been a tournament chock-full of favorites going down and underdogs rising.
Still, many experts seemed to believe the favorited France would come out victorious. BBC Sports' Mark Lawrenson predicted a 2-0 win for the French. The model from the data-centric website FiveThirtyEight seemingly predicted a tight matchup. It gave France a 52 percent chance of winning and Belgium a 48 percent chance. Sports Illustrated's Planet Fútbol predicted a 2-1 win for France. The Guardian's Martin Laurence seemingly went against the grain, however, and predicted a 2-1 win for Belgium.
This is the second time the Red Devils have reached the semifinals since 1986. For France, this is the sixth time it has made it to this stage—and it's the first since 2006.