More Trouble for Macron? France Sued for 'Crimes Against Humanity' at International Court
As French President Emmanuel Macron faces decreasing popularity and tens of thousands of protesters across his country, France is also being sued in the International Criminal Court for alleged "crimes against humanity."
The case has been brought by leaders of French Polynesia, citing nearly 200 nuclear tests France carried out in the South Pacific, causing thousands to become ill from radioactive fallout. Oscar Temaru, the French Polynesia opposition leader, announced Tuesday that he had filed the complaint with the international court, based in The Hague, Netherlands.
"It's with a great sense of duty and determination that we filed a complaint at the International Criminal Court on October 2 for crimes against humanity," Temaru, who is also the country's former president, said at the United Nations, Radio France Internationale (RFI) reported. "This case aims to hold all the living French presidents accountable for the nuclear tests against our country."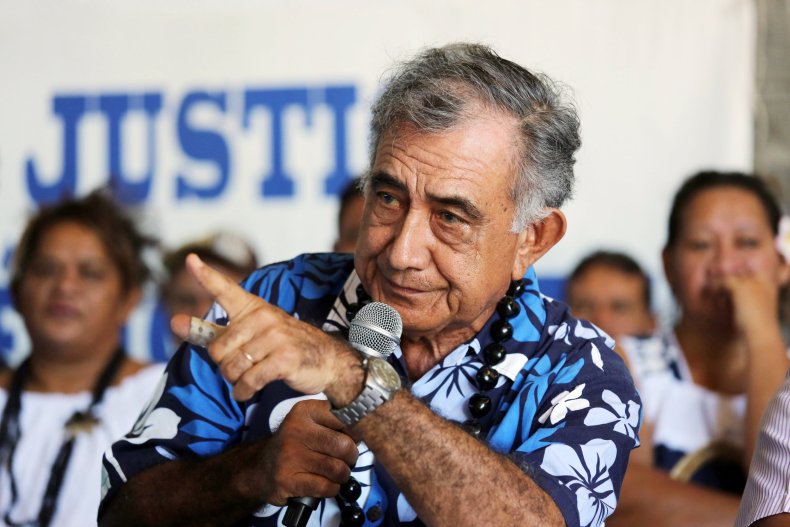 Although French Polynesia, which is still officially a collectivity of France, is now best known as a tourist destination, particularly the iconic island of Tahiti, it was once the principle location of France's nuclear tests. The country's Mururoa and Fangataufa atolls faced 193 such tests between the 1960s and the mid-1990s, according to France 24. In total, France carried out 210 tests, with the remainder taking place in Africa's Sahara desert.
About 150,000 civilians and military personnel were involved in the tests, and a large number later developed serious health problems as a result. Although about 1,000 people have officially filed complaints against the French government, only 20 have received any compensation.
Maxime Chan from Te Ora Naho, an organization for the protection of the environment in French Polynesia, told the U.N. that radioactive waste had also entered the ocean, violating international laws, German broadcaster Deutsche Welle reported. The activist explained that there have been at least 368 instances of radioactive fallout due to the nuclear tests.
"We see French nuclear tests as no less than the direct result of colonization," Temaru explained. He pointed out that the islands' inhabitants had no real say in whether or not the tests could move forward. "[There was the] direct threat of imposing military rule if we refused," he said.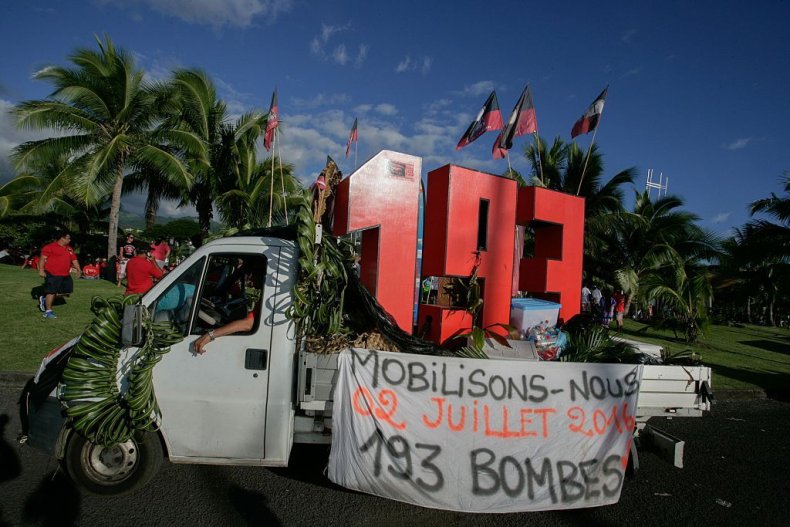 France had long denied any wrongdoing in conducting the tests, arguing that it had no bearing on health and the environment. It wasn't until 2010 that the country officially passed legislation allowing for compensation for veterans and civilians who suffered as a result of the experiments.
Macron, who took office in 2017, has shown greater willingness than his predecessors to openly address crimes committed under France's colonial rule. Last month, the 40-year-old president admitted that France had tortured and killed pro-independence activists during the Algerian Revolution.
Macron has also publicly spoken of his desire to address climate change concerns in French Polynesia, as well as stimulate economic development in the region.