Frank Ferrante's Groucho Is Still Dangerous and Funny After All These Years
Frank Ferrante has been playing Groucho Marx for more than 35 years, but he is much more than an impersonator. He is a serious actor and a true student of both the history of comedy and its performance. In conversation, he can just as easily drop in casual references to great and not-so-great comedians as he can to composers and pop culture icons. He talked with Newsweek about his show An Evening With Groucho, which has been directed for the stage and screen by Dreya Weber, the art of comedy and of course Groucho.
While his impersonation of Groucho is spot on, Ferrante is not really an impressionist, though he respects that art too. He told Newsweek, "I have such great respect for great impersonators, people like Frank Gorshin, John Byner and Marilyn Michaels, but I really am an actor first and a director, and a fan of Groucho's, too."
Ferrante's show An Evening With Groucho has been recorded and is playing on public television stations as Frank Ferrante's Groucho and is available for streaming on the PBS app. Viewers can check their local listings for the public television show. His history with Groucho goes way back to his teens. "Comedy," he told Newsweek, "is everything, and I have such a passion for it. It's what got me through life as a shy kid. I thought, Oh, there's another way to look at life. You don't have to play by their rules. You don't have to do what everyone else is doing." Fortunately, he said, "my parents indulged my obsession with comedians, particularly Groucho. I met him as a boy, when he was promoting his book The Groucho Phile in September 1976.
"I loved books, and my dad took the day off work to take me to see Groucho promoting The Groucho Phile at the Ambassador Hotel in L.A. So, we go down there at noon. No Groucho. We go in. Three hours later, Groucho shows up and he looks completely haggard. He just looks older than you can imagine. He's shuffling and he's glassy-eyed. He's got his beret, his glasses on and he looked like he was going to keel over. And there's a thousand people in this auditorium, mostly young people—college age and younger."
And he put on a show.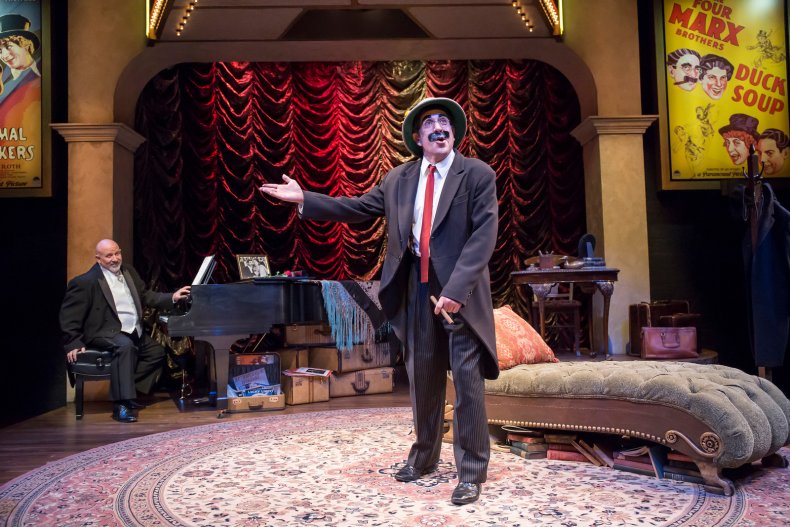 "Groucho gets to the podium. He was mumbling, 'Can you hear me? Can you hear me out there?' And we're all waiting for a punch line. No punch line. And then finally someone asked, 'Are you making any new Marx Brothers movies?' There's this long pause, and he goes, 'No, I'm answering stupid questions.' And I swear to God, it exploded. It was like a bomb had gone off. And then a woman asked, 'Groucho, what do you dream about?' He looked at her and said, 'Not you.'"
"So, I got to see my hero, and I was 13 years old. And 10 years later to that week, I was playing Groucho at age 85 at the Lucille Lortel Theatre in New York in Arthur Marx's Groucho: A Life in Revue. It's crazy. I mean, it was just kind of a meant-to-be scenario for me."
More Than a Wiggle and a Waggle
There is a lot to debunk about Groucho. In many ways, he has been reduced to a caricature: the painted-on mustache and eyebrows, glasses and a cigar. But, Ferrante told Newsweek, "there's so much to his persona. There's so much more to him than just the wiggle of the eyebrows and the waggle of a cigar. He's physical. He's verbal. He's a punster. He plays fey. His voice goes from falsetto to bass. He's got this great instrument. He's a satirist. He's a monster. He's a creature."
And, as with all the great comedians, there is Groucho's delivery, "The delivery alone," Ferrante said. "He could read the phone book and you'd laugh."
In his post–Marx Brothers incarnation, Groucho hosted—first on radio then on TV—You Bet Your Life, which was nominally a quiz show but really a comedy show. By today's standards its production values were no-rent. All it had was Groucho, and it was still must-see TV for its time.
"For 14 years, he did that show. From 1947 to 1961. Just one man sitting on a stool. That was it. It was his great brain. His son Arthur told me he used to keep a dictionary in his glove compartment. He never made it past the sixth grade. He was self-conscious about his lack of formal education. So, he was always working on language, on his vocabulary. He's a guy who was up on everything, on current events. He had multiple subscriptions to magazines. He was a sports fan. He loved gardening. And it's evident in his work and in just listening to him in conversation with Dick Cavett.
"Someone gave me all of Groucho's radio shows," Ferrante told Newsweek. "I would take these on long trips from town to town when I was performing one-nighters, and I would have an evening with Groucho, just listening to him. He's so fluid in his thinking and his style. It's very contemporary. And I was impressed with the fact that it's not dated."
In addition to comedy, Groucho was a real singer, Ferrante told Newsweek, "Groucho actually loved classical music and Gilbert and Sullivan. He popularized the bawdy 1939 song 'Lydia, the Tattooed Lady' by Yip Harburg and Harold Arlen of The Wizard of Oz fame. It's so fun to still hear people laugh at those lyrics."
A Dangerous Mind
All this might help explain why Groucho as much as any of the classic comedians of the 20th century still gets laughs. Ferrante says, "Groucho is dangerous still, and I love that. I love that people kind of gasp and laugh at that. You know, you don't want just chuckles when you're doing a show like this. You don't want applause.
"Groucho, to me, he's the national comedian. So, when I go over to London and the Brits go for it, that's thrilling. When I was in Australia, I was shaking before I did 60 towns there, all over the continent. And the first time I played those cities, I went. 'Wait a minute, what if I just think this is funny? What if this isn't funny? This seems so remote, so far away.'
"Then you realize it's not the case: They loved him. They still love him. His movies played constantly, like they did here in the U.S., in the '60s, '70s and '80s. And it was heartening to know that 'OK, this is working wherever I'm going.' It says a lot about him."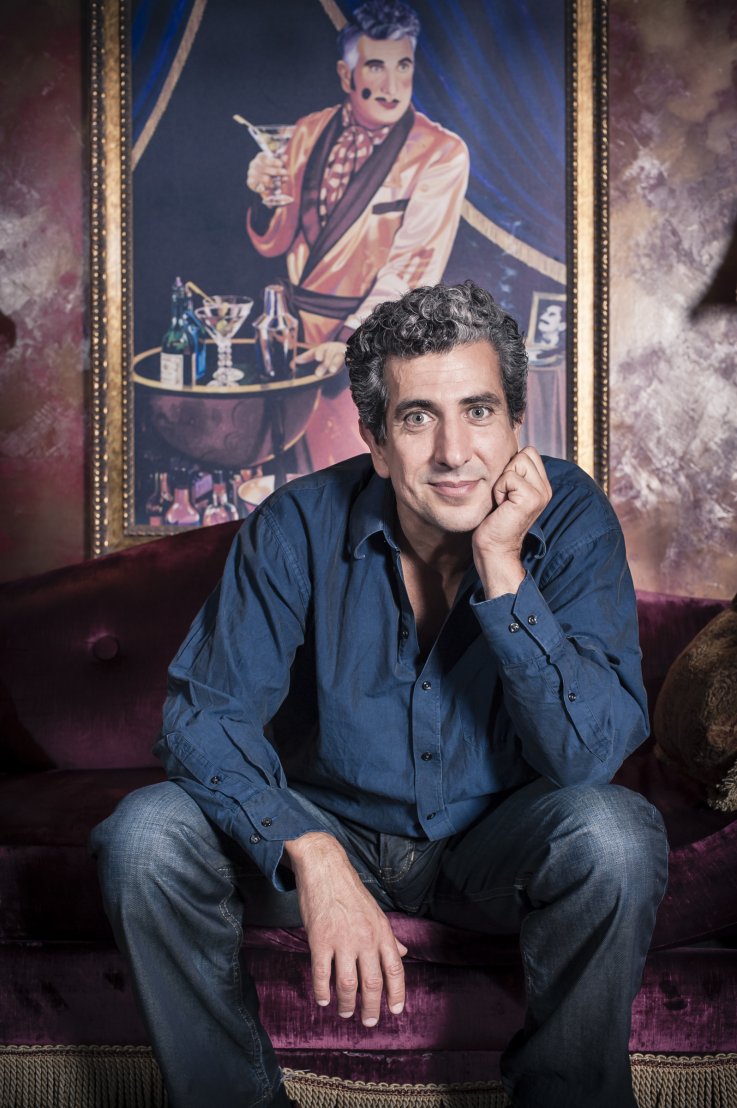 Frank Ferrante without the greasepaint: Great comedians are "dangerous. They're scary."
Ferrante talked about Billy Crystal in the current Broadway musical Mr. Saturday Night, whose character, he thought, "was partly based on people like Milton Berle and Jack Carter. I knew Milton Berle. I think I was the youngest member of Friars Club in Beverly Hills. He sponsored my membership. I went there the day after the 1994 Northridge earthquake, knowing that there would be no one there because of the earthquake—except for Milton who was there constantly. He was there, and I brought him a box of cigars: 200 bucks worth of cigars. I didn't have the money at the time, but I did it. I wanted to meet Uncle Miltie before he passed away.
"So that's what happened. He was the one who said, 'The median age of the Friars club is deceased.' But I saw him perform. It was a great gift someone gave me. He was in his 80s, and it was a lot like the Crystal character in Mr. Saturday Night in that he was a puncher. And for one moment, you can imagine what it must have been like seeing Berle as a nightclub comedian in 1937."
Those Old-Time Comedians
"I love studying those guys. And I've made a real study of all of them. I used to sit and talk with Milton Berle and Sid Caesar. I made sure I saw most of them before it was too late. George Burns—I remember saying to my father when I was 13 years old, 'I want to see George Burns before he dies.' Burns was 81, so he lived another 20 years. But I saw them. I saw Bob Hope. I saw Sid Caesar, Imogene Coca. It was remarkable. It was an education.
"So as someone who directs comedy and performs other comedies; and has played this role as a through line in my career since I was a boy, it's been really helpful to study the masters. So is Crystal channeling so many of his heroes, I have gathered.
"In a way, I feel like a bit of a vaudevillian: You can't let the audience win. You have to be on top of it. It's highly adrenalized work doing crowd work, and that's what I do in Groucho. I also have done another show for 20 years, called Teatro ZinZanni in which I came up with my own burlesque vaudeville character, The Caesar and I played 2,000 performances in Chicago and Seattle, San Francisco and Amsterdam. And that's a lot of crowd work as well. Between that role and the Groucho role and directing plays, you got to be on your toes. You have to be the one in charge. You're the one who has to own it."
Unsentimental Education
Ferrante told Newsweek, "People always ask: How do you learn those lines? How do you get good at it? How do you get better?
"I've done over 3,000 performances in the Groucho role to over 2,000 performances as the Caesar in Teatro ZinZanni. I've done hundreds of performances in other plays and musicals. So, it's probably 6,000, and I think that's what it takes to learn: I could just figure things out. And I'm still making modifications and corrections like, 'Oh, I pushed too hard or I didn't push hard enough; or I should have picked this word or I should have held for an extra beat.' Every performance is informing. And that never changes. That's also part of the job.
"If you direct really great actors and great designers and work with great playwrights, which I've had on a couple of occasions—that's also an education."
But connecting with Groucho, the man and the character changed Ferrante's life, emotionally and professionally, "Groucho was a catharsis. Groucho and the Marx Brothers were freedom. Groucho helped me get through life, and he helped me get a career in the theater. Because I loved what he was doing so much. I wanted to be in that world. I wanted to work in that field. It turned out that I got into plays in high school and in college. I studied theater, and it just kind of blew up for me. And that this show has been filmed now is like the culmination of thousands of performances and good times and bad times, and to quote Stephen Sondheim, I'm still here.
"In another show that I do, I play Groucho at age 15. And now I put greasepaint in my hair to darken it up. I never thought that day would come, but it's fun in a way. It's been a joy to grow into this guy because, I guess I'm maturing, But as I go through life, I'm taking the role with me, which is really interesting. To be able to just go through the journey with him and with this part is remarkable. I never thought I'd be doing it for so many years."
Getting to the Bottom of the Bottom Line
Seeing any great comedian, old or new, for Ferrante, brings on a certain exhilaration: "They're dangerous, they're scary. I felt that way about the Marx Brothers. The word exhilaration always comes to mind. That feeling of you can't catch your breath. I felt that way about Larry David when I watched Curb Your Enthusiasm. I can't believe some of the stuff that he does. It surprises you, and then you're cracked open as a viewer, and then you laugh hysterically. And it's so hard at my age to laugh, frankly, because we [comedians] break it down; we analyze it. So, when someone can make you laugh, that's a big deal, particularly if you're in the laugh-making profession.
"There is a mini-renaissance of Groucho happening right now, which is great. He still makes me laugh. I find myself still watching him on YouTube after I discovered him 50 years ago.
"Groucho would make fun of a beggar and a king. Nothing was sacred. That's what Groucho was about. That's what Gilbert Gottfried was about and what so many of the greatest are about. And I'd like to think that I evoke that spirit in the kind of stuff I do in this show. That's what I want. That's what makes it fun for me to do. Otherwise, I wouldn't be doing it. I've been really fortunate. Pretty much until the pandemic and all of it stopped, but it's come back again. And I think there's a reason why the Groucho show is embraced because he's just funny.
"And we want to laugh hard. Bottom line."
Frank Ferrante's Groucho is available for purchase at EveningWithGroucho.com. The DVD includes a 25-minute behind-the-scenes feature.