Evangelical businessman and anti-abortion figurehead Franklin Graham called the Supreme Court's leaked decision to overturn Roe v. Wade "an answer to many years of prayers."
In a leaked draft opinion by Justice Samuel Alito acquired by Politico on Monday, the court appeared to vote against long-established federal abortion rights established by Roe v. Wade in 1973 and upheld by Planned Parenthood v. Casey in 1992. If the opinion holds true when the Court rules on the case the draft pertains to, in which the state of Mississippi is attempting to ban almost all abortions after 15 weeks, abortion would instantly become illegal in at least 13 states.
Posting to Facebook on Monday night, Graham, son of televangelist Billy Graham, took a celebratory tone while sharing a link to the Politico story.
"Praise God!" his post began. "The Supreme Court has voted to overturn Roe v. Wade according Politico [sic], which received a supposedly leaked copy of the opinion draft. I don't know if this report is true, but if it is, it's an answer to many years of prayers."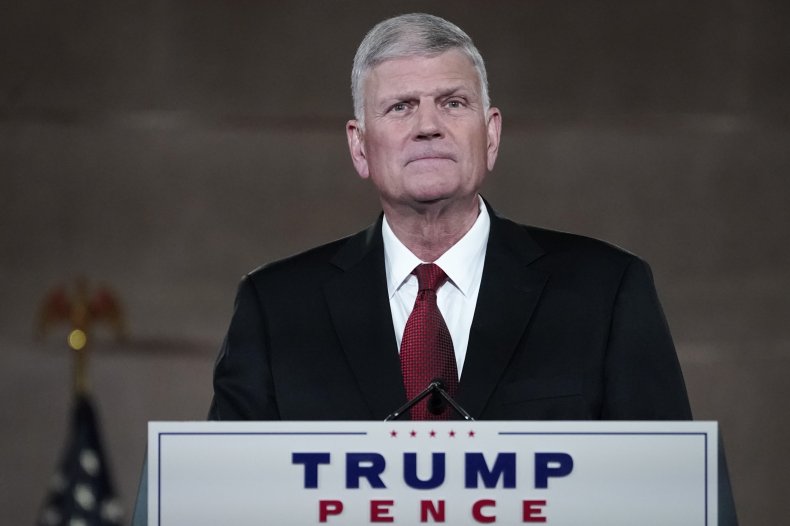 Over the years, Graham has heavily aligned himself with conservative political and social causes. He called former President Donald Trump a "vociferous evangelical ally" and later compared Republicans who voted to impeach him following January 6 to the biblical figure, Judas. He also previously shared the right-wing conspiracy that former President Barack Obama was born a Muslim and accused his administration of having ties to the Muslim Brotherhood, according to Mother Jones.
He has also spoken in favor of gay conversion therapy and praised Russian President Vladimir Putin's stances against LGBTQ rights. He currently heads his father's company, the Billy Graham Evangelistic Association, as CEO, and acts as president for the Samaritan's Purse humanitarian aid group, which has also courted controversy on several occasions.
Writing in the draft opinion, Alito asserted that the issue of abortion rights should be left to elected officials.
"We hold that Roe and Casey must be overruled," the draft obtained by Politico reads. "It is time to heed the Constitution and return the issue of abortion to the people's elected representatives."
Newsweek reached out to the Billy Graham Evangelistic Association.
In a response to Newsweek, the Religious Coalition for Reproductive Choice (RCRC), a religious group that advocates for abortion rights, denounced the use of religious grounds to legislate against abortion.
"If Roe v. Wade is overturned, it will not be because of prayer," Rev. Katey Zeh, CEO of the RCRC, said in a statement sent to Newsweek. "The movement to dismantle legal access to abortion care has always been steeped in a well-funded and organized white Christian nationalist agenda that seeks to destroy religious freedom and pluralism, to maintain political power, and to control our bodies, our lives, and our futures.
"As an ordained Baptist minister, I denounce the ways that my sacred tradition and scriptures have been distorted and turned into tools of oppression by the anti-abortion movement when in reality, they are rooted in our collective liberation."
Alito's draft also raised concern among LGBTQ communities, as it compared Roe v. Wade to other past decisions, including one, Obergefell v. Hodges, that legalized gay marriage. Such decisions, Alito wrote, were not "deeply rooted" in American history.
"Until the latter part of the 20th century, there was no support in American law for a constitutional right to obtain an abortion," the draft reads. "Zero. None. No state constitutional provision had recognized such a right."
Updated, 4:10 p.m., 5/9/2022: This story was updated with comment from the RCRC.