Evangelical Christian leader Franklin Graham strongly criticized President Joe Biden, saying that the commander in chief and Democrats are bringing the "onset of socialism" and that America does not need rebuilding.
Biden delivered an address to a joint-session of Congress on Wednesday to overview the accomplishment of his administration during his first 100 days in office. The president emphasized his goal of passing his multitrillion-dollar American Jobs Plan to fix the nation's crumbling infrastructure, while also unveiling an American Family Plan to provide money and support to people across the country. Republicans largely criticized Biden's proposals and his remarks, as did Graham in a Thursday Twitter thread.
"As President @JoeBiden was giving his speech last night, I couldn't help but think that the swamp has won. When @POTUS45 Trump came into office, he said he was going to drain the swamp. Well, sadly, it looks like the swamp rules," Graham, the CEO of the Billy Graham Evangelistic Association—named for his late father—and of international Christian relief organization Samaritan's Purse, wrote in the first of a series of tweets.
"@POTUS Biden & Democrats are proposing a once-in-a-lifetime spending frenzy for "rebuilding our nation." I've flown from coast to coast & driven from coast to coast, & I wasn't aware America needed rebuilding," he added. Graham went on to argue that if Americans want the country to prosper, "the best thing is for the government to stay out of the way."
The evangelical leader lamented what he views as "the onset of socialism, where those in leadership want to teach Americans to look to the government to meet their needs." Graham argued that the country "was built on hard work & sacrifice—& most importantly, by the grace and blessing of Almighty God," urging his followers to "pray."
Despite Graham's views, the American Society of Civil Engineers warned in early March that trillions of investment is needed to shore up the nation's crumbling infrastructure. The ASCE gave America's overall infrastructure a C-minus grade. While that's a slight improvement from the D grades U.S. infrastructure received from the professional body in the past, the organization estimated that the total investment gap has swelled to a needed $2.59 trillion over the next 10 years, while nearly $6 trillion is needed to fully repair America's broken infrastructure. Areas such as storm water infrastructure and transit received D grades.
In his Wednesday remarks, Biden characterized the proposed investment in jobs, infrastructure and families as necessary to address what Republicans and Democrats alike view as the growing threat from China and other rival nations.
"China and other countries are closing in fast. We have to develop and dominate the products and technologies of the future," Biden warned. Later the president said that the U.S. is "in competition with China and other countries to win the 21st century. We're at a great inflection point in history. We have to do more than just build back better—than just build back, we have to build back better."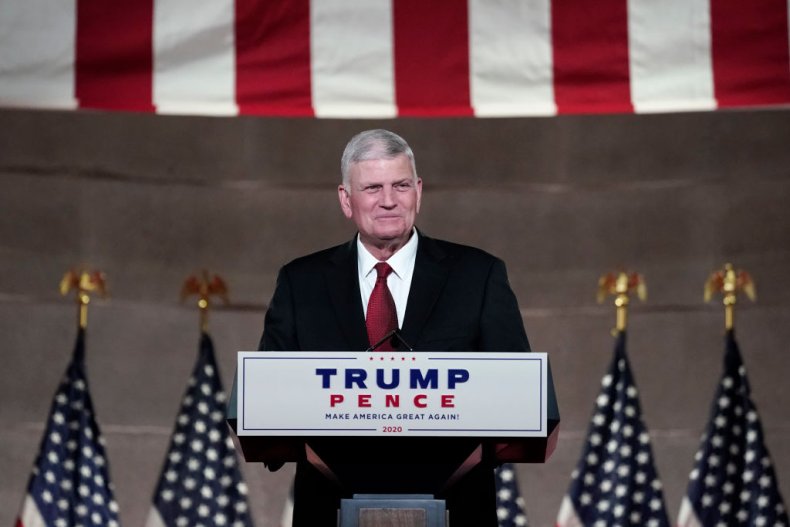 Graham, who supported former President Donald Trump, has long been critical of Democrats and has raised alarms about the Biden administration. Conservative evangelical Christians, and particularly white evangelicals, voted overwhelmingly for Trump in 2016 and again in 2020. Exit polls showed that about eight in 10 white evangelicals supported the president in both elections. The religious voters are largely animated by concerns about cultural issues, pushing back hard against women's reproductive rights, greater protections for the LGBTQ community and particularly transgender rights.
Press representatives for Graham told Newsweek that he is traveling and could not immediately respond to a request for further comment.