Video Shows John Kelly Was Wrong About Frederica Wilson Taking Credit for Funding FBI Facility
Congresswoman Frederica Wilson from Florida, who has been sparring with President Donald Trump, did not take credit at an event for securing the funding for an FBI facility, as Trump's Chief of Staff John Kelly had claimed on Thursday.
During the White House press briefing on Thursday, Kelly told reporters that Wilson had taken credit for funding the facility in Miramar, Florida, at its 2015 dedication ceremony.
Related: Kelly's 'Empty Barrel' Attack Was Racist, Wilson Says
"A congresswoman stood up, and in a long tradition of empty barrels making the most noise, stood up there and all of that and talked about how she was instrumental in getting the funding for that building, and how she took care of her constituents because she got the money, and she just called up President [Barack] Obama, and on that phone call, he gave the money, the $20 million, to build the building, and she sat down," he said. "And we were stunned, stunned that she had done it. Even for someone that is that empty a barrel, we were stunned."
But a video of the ceremony, which Florida's Sun Sentinel made available on Friday, appears to contradict Kelly's comments. In the video, Wilson said at the ceremony that the FBI had approached her office about naming the facility, and that with the help of then-House Speaker John Boehner she had presented legislation to finalize the naming. She said Obama had approved the legislation, but she did not speak about talking with Obama about funding the facility, as Kelly had claimed.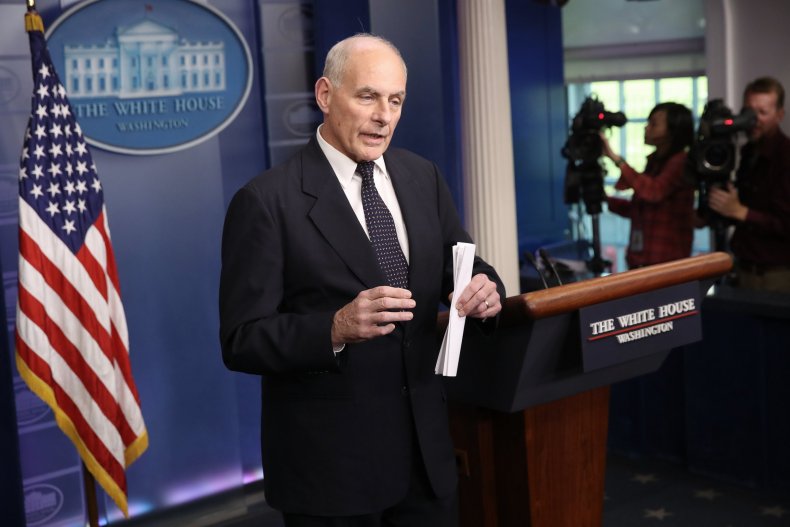 On Thursday, Wilson disputed Kelly's comments, telling CNN, "I was not even in Congress in 2009, when the money for the building was secured. So that's a lie. How dare he." The General Services Administration proposed the building as part of the 2010 budget.
Wilson has taken credit for naming the facility for Benjamin Grogan and Jerry Dove, FBI agents who died in a 1986 shootout. She told CNN on Thursday she secured those names for the building because then-FBI Director James Comey asked her to do it.
Wilson, a Democrat who represents Florida's 24th district, sponsored legislation around the naming and spoke on the House floor about it. "Rep. Wilson truly did the impossible, and we are eternally grateful," Comey said at the 2015 ceremony.
Responding to reports challenging Kelly's comments, White House Press Secretary Sarah Huckabee Sanders seemed to focus on the comments Wilson made in 2015 about Obama, and not the ones Kelly claimed she said about funding. "Gen. Kelly said he was 'stunned' that Rep. Wilson made comments at a building dedication honoring slain FBI agents about her own actions in Congress, including lobbying former President Obama on legislation," Sanders said. "As General Kelly pointed out, if you're able to make a sacred act like honoring American heroes about yourself, you're an empty barrel."
Kelly's comments about Wilson came after the congresswoman spoke about a phone call that Trump made to the widow of Sgt. La David T. Johnson, one of the American servicemen killed in Niger, Africa, on October 4. On Tuesday, Wilson told CNN that she was in a car with the widow, Myeshia Johnson, and that she overheard the president say that Sgt. Johnson "knew what he signed up for, but I guess it still hurts."
Wilson added later, "When she actually hung up the phone and she looked at me and said, 'He didn't even know his name.'" The mother of the fallen Special Forces member has confirmed the account.
Trump disputed the congresswoman's remarks, tweeting on Wednesday, "Democrat Congresswoman totally fabricated what I said to the wife of a soldier who died in action (and I have proof). Sad!" The president tweeted about her again after Kelly's comments, posting Thursday night, "The Fake News is going crazy with wacky Congresswoman Wilson(D), who was SECRETLY on a very personal call, and gave a total lie on content!"