Free Comic Book Day 2019: Store Locator and Every Comic Available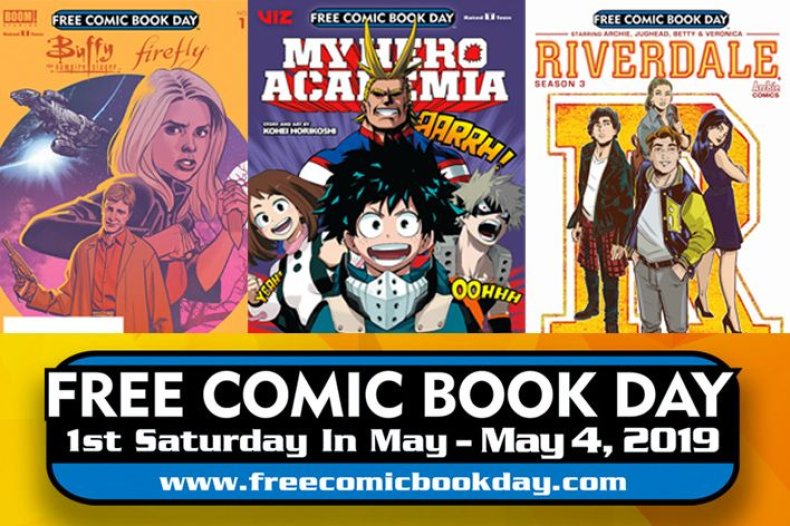 Free Comic Book Day is a celebration of the iconic American medium that millions of people read every day.
Started in 2002, Free Comic Book Day is a way for readers of all ages, no matter if you're a longtime reader or newbie, to congregate at your local comic book shop to experience what publishers have to offer.
Many times, the free comics are a peek into what that publisher has in store for its line of books for the rest of the year. Publishers like DC Comics, Marvel, Image and many more participate in Free Comic Book Day to spotlight their most-anticipated titles and events.
If you're looking to participate in Free Comic Book Day on May 4, here's all the information you'll need.
WHERE TO FIND FREE COMIC BOOK DAY STORES
Just about every comic book store will participate in Free Comic Book Day, but if you are looking for one in your area the official FCBD website has a store locator that will help readers find what they are looking for.
Enter your zip code and the store locator will find participating retailers near you.
WHAT'S FREE ON FREE COMIC BOOK DAY 2018?
Every year, publishers bring their A-game to their FCBD offerings. Some of the top talent in the industry are on display including Marvel's Jason Aaron ( Thor , the Avengers ) and DC's Brian Michael Bendis ( Young Justice , Scarlet ).
But if you're looking for something non-"Major 2" you can't go wrong with Boom! Studios' Welcome to the Whedonverse comic from Greg Pak and Jordie Bellaire with art by Ethan Young, Dan Mora and Serg Acuna, which brings stories from Buffy the Vampire Slayer and Firefly . If you were sad to see those series end, pick this up and see how the adventures of both shows continue.
If you're a fan of the Riverdale series on the CW, Archie Comics' Riverdale comic brings a never-before-seen tale set in the series canon.
Valiant Comics is preparing readers for its Bloodshot film in 2020 with a story from writer Tim Seely and Dan Abnett with art by Tomas Giorello and Juan Jose Ryp. Here's the synopsis for Valiant's Bloodshot FCBD story:
The 41st century dawns anew with a pulse-pounding prologue to Fallen World, a shocking new event series starring Rai - the formidable protector of a future Earth.
Participating Free Comic Book Day retailers generally allow one pick of a free comic book with no purchase necessary. Every store's policy is different, but it's customary to purchase something else if you'd like another Free Comic Book Day offering. Retailers usually have huge sales on trades and other books during Free Comic Book Day, so take advantage.
There are 51 free comics to choose from this Saturday. You can also check out previews of all the comics, here.
Are you excited for this year's Free Comic Book Day? What book are you looking to pick up on Saturday? Let us know in the comments section below.