'Free Guy' Cameos: The Secret Big Stars Who Appear in 'Free Guy'
Free Guy is full of video game moments which will act as perfect nostalgia for gamers. However, those outside of the gaming world need not worry as there are also plenty of movie star cameos to sink your teeth into.
Compared to some cameos, many of these are pretty well-concealed and some of the stars are even completely covered, so as to avoid their discovery.
However, others are incredibly obvious, earning extra laughs from the crowd.
Ahead are spoilers for Free Guy.
The Cameos In Free Guy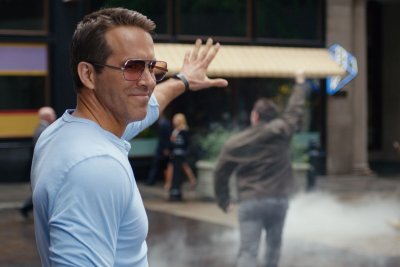 Before delving into those who are less noticeable, there are some pretty big names who appear in the movie whose presence is pretty obvious.
The first is Magic Mike himself: Channing Tatum.
Tatum is a player's avatar in the game Free City, with a slightly nerdy man living with his parents on the controls (played by Matty Cardarople).
The character is a high-ranking player and he has a huge mansion in the cliffs where he keeps cars parked in the living room, and a whole store of clips from the video game, which Blue Shirt Guy (Ryan Reynolds) needs to get his hands on to help Millie (Jodie Comer).
Of course, it would not be a Tatum cameo without some epic dancing, of which there is plenty.
Another cameo comes from Good Morning America's Lara Spencer, who is also the newscaster within Free City, telling the citizens about the exploits of the players within the game.
In the real world, the actions of Blue Shirt Guy become part of the social zeitgeist, with many big names talking about him and watching what he does.
One such moment which makes clear the level of notoriety Blue Shirt Guy is, is when he is the subject of a question of Jeopardy!, on which the late, great Alex Trebek appears in his final role.
Back in November 2020, Reynolds announced this cameo with a tweet in tribute to Trebek.
He wrote on Twitter: "Alex Trebek was kind enough to film a cameo for our film Free Guy last year despite his battle. He was gracious and funny. In addition to being curious, stalwart, generous, reassuring and of course, Canadian. We love you, Alex. And always will."
Speaking to E! News earlier this year, Reynolds said Trebek's cameo in the movie was "bittersweet" due to his passing.
Other examples of how Free City made a splash in the real world is through the gamer Youtubers who appear, talking about the way in which Blue Shirt Guy is proving to fans that injuring non-player characters (NPCs) is not necessary to earn points.
These Youtubers include Jacksepticeye, Pokimane, Ninja and DanTDM.
The final obvious cameo to note comes in a moment when numerous Disney franchises are namechecked.
When Guy is forced to fight a more muscular version of himself called Dude (played by Aaron Reed and Reynolds), he must use all the weapons in his arsenal to win.
His top picks include The Hulk's fist as a glove and a Star Wars lightsaber, as well as Captain America's shield to cover himself from the blows.
All of these items appear in other Disney-owned franchises, and as the world watches the livestream of their fight, Chris Evans also watches on, shocked that his gear is being used.
This cameo gained rapturous applause at the movie theater as music from The Avengers blasted from the speakers.
Other than these cameos, there are four big names who appear in Free Guy whose presence could easily be missed.
Their names appear in the credits and on a previous version of the Free Guy official website, they are listed as cast members.
These names are Tina Fey, John Krasinski, Dwayne Johnson and Hugh Jackman.
It is incredibly difficult to spot them, but their presence as sunglass-wearing players will make fans want to return to the film again to take it all in.
Free Guy is in movie theaters now.