Exclusive: French Montana, Global Citizen Plea for Better Health Care in African Countries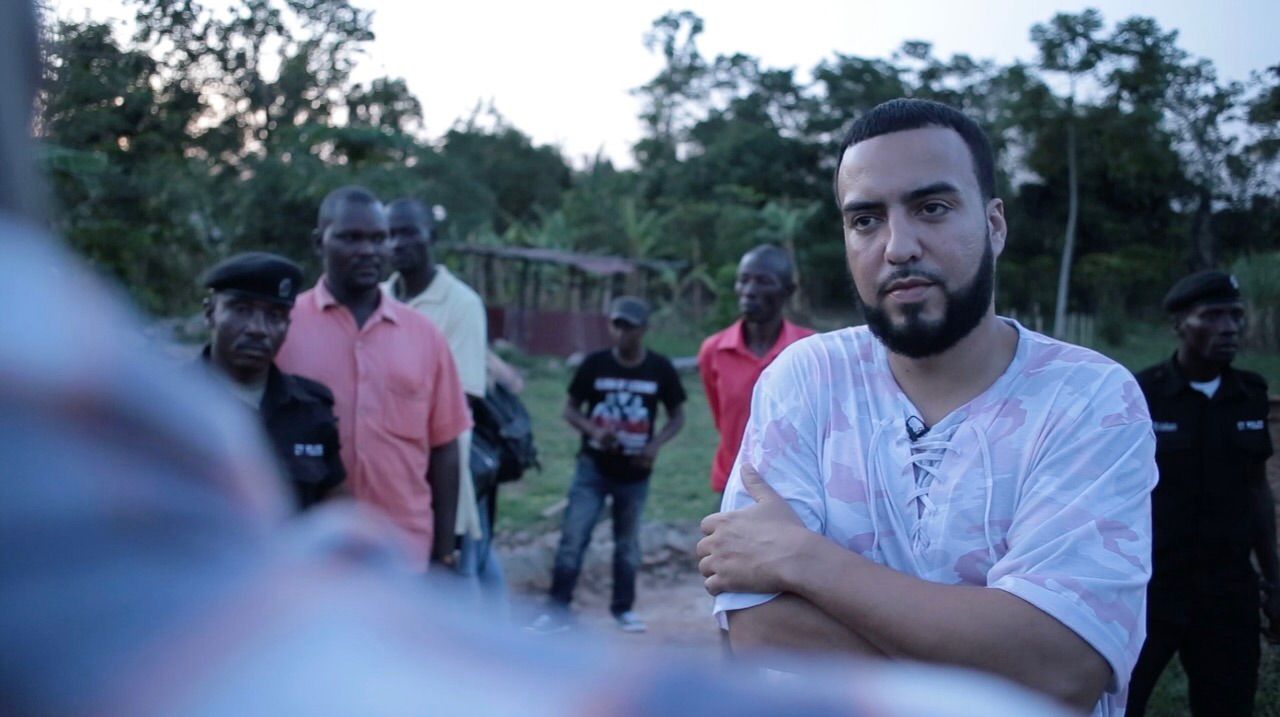 In February, while browsing YouTube, rapper French Montana came across the Triplets Ghetto Kids, a talented young dance group from Uganda. "No complaining or pain—just so much joy in the music and dancing," he told WorldStarHipHop.
Montana, inspired by videos of the dance troupe, decided to track them down and feature them in the music video for his new single "Unforgettable," a hip-hop track featuring Rae Sremmurd's Swae Lee that is climbing the Billboard Hot 100 and is on its way to becoming one of the defining songs of the summer. In March, Montana, 32, went to Kampala, the capital of Uganda, to shoot the visuals—prominently featuring the Triplets Ghetto Kids and other young people.
The clip exudes the optimism and joy of the children featured. But Montana saw another side to the country—many of the children living in poverty and without vital health care and vaccinations, as well as pregnant women forced to give birth on the side of the road because of the lack of services available. He says that at a local hospital there were only two rooms to service the 300,000 people that live locally and only one ambulance to serve the entire community.
"When I went to Uganda, I fell in love with the kids. A lot of people say 'happiness is within.' Those people are rich on the inside," Montana says in an interview with Newsweek to announce a new partnership with Global Citizen, the worldwide social action advocacy group committed to awareness and change for the most vulnerable affected by poverty. "I saw that people weren't able to help themselves as far as health."
Montana was born in Morocco in northern Africa, some 3,300 miles from Uganda—and spent the first 13 years of his life there before emigrating to the U.S. with his family. He says his father grew up in "a village just like" the place in Kampala where he shot the "Unforgettable" video; he, too, experienced life in such poor conditions. "I feel like every mother and child deserves the same care, whether they're from [the U.S.] or back home in the motherland. It made my heart heavy. I said that when I got back I'd do everything I can to help these mothers."
The rapper's efforts to help mothers, including expectant mothers, and children since returning to the U.S. began with the release of his "Unforgettable" video in April. Montana donated $100,000 of his own money to the Suubi Health Center in Budondo after visiting the maternity clinic and witnessing firsthand the shortage in medical equipment and supplies to treat women and children. And in collaboration with the charity Mama Hope, he launched a fundraising page to help raise more money to provide the health center with ambulances, incubators and a blood bank.
The campaign also sparked a viral trend to drive awareness to the fundraising component: the #UnforgettableDanceChallenge. Montana challenged his fans to create videos of themselves dancing to "Unforgettable," like the the dance troupe in his music video, share their clips on social media and issue a challenge to others to take part—like the ALS ice bucket challenge craze of 2014. Montana's publicist says there have been over 50,000 videos posted online in the last month.
Montana even drew on support from some famous friends. Diddy, Drake, Demi Lovato, Snoop Dogg and Kevin Hart have all appeared in videos dancing to the track.
"I feel like people like Snoop, Demi, they always will help as long as it's for a good cause," says Montana. "They found out that I put $100,000 in from my own pocket, not borrowed it from a company—things that I do come from me. You never know, sometimes people will borrow money from somewhere else. Once people know everything comes from your heart, they'll stand behind you."
The next phase in Montana's philanthropy is his partnership with Global Citizen. Together, they launched the #2BStrong petition Monday calling on the leaders of African countries to ensure mothers and children are given fundamental health care to prevent death during childbirth and treatable conditions such as pneumonia and diarrhoea that can be fatal for kids under five. According to Global Citizen, more than 800 women die because of pregnancy or childbirth-related causes each day, and one child out of five does not have access to vital vaccinations.
Related: John Legend on Donald Trump, celebrity politics and 'La La Land' white savior Backlash
Montana says he wants to meet with the president of Uganda, Yoweri Museveni, to encourage him to commit to the welfare of his people. "Everybody should be equal. The leaders should step up...I hope I raise awareness for them to step up. I feel like, if we don't [raise awareness], it'll only get worse."
The impact the #2BStrong petition has will unfold in the weeks and months to come, but in the immediate future, the rapper says, he hopes to bring the Triplets Ghetto Kids to the U.S. to tour with him.
Montana also wants to raise an additional $400,000 for the Suubi Health Center to complement the $100,000 he has already donated.
"I'm going to try everything in my power to make sure they [have it]," he said.