Fresno Congressman Criticizes Mitch McConnell Over 'Plague' of Gun Violence in U.S. Following Mass Shooting
Congressman Jim Costa has hit out at Senate Majority Leader Mitch McConnell over his failure to impose stricter gun control laws following a shooting in his California constituency of Fresno which left four people dead.
McConnell is once again receiving backlash in the wake of another mass shooting in the country after he blocked a Senate vote passed by the House in February which would require full background checks on all people trying to purchase a firearm.
At least two gunmen are accused of killing four men and injuring six others during an attack against mostly ethnic Hmong people at a family gathering attended by dozens on Sunday, November 17.
The Fresno County Sheriff's office confirmed that all four victims are men aged between 23 and 40, with two people still receiving treatment in hospital.
In a statement following the attack, Representative Costa said that "[it] saddens me once again" that a mass shooting has occurred in the U.S., this time in his own district.
"Our thoughts and prayers are with the victims and their families, but as a community and a country, thoughts and prayers are not enough," Costa added.
"We have passed meaningful bipartisan gun safety legislation this year in Congress that Senator Mitch McConnell refuses to bring up in the Senate.
"That legislation, combined with state and local efforts, would help make a difference. This plague of gun violence in our country, as we continue to witness, knows no boundaries. We must come together to bring rational and practical solutions to support our local communities throughout our nation."
Costa made a similar call for action while speaking on the House floor, but without mentioning McConnell.
"Our thoughts and prayers with the victims and their families are there. But as a community and a country, thoughts and prayers are just not enough," Costa said. "The daily tragedy of gun violence continues to inflict violence to individuals and neighborhoods across our country and that's a fact.
"The threat to public safety is not normal, nor should it be seemed as acceptable. It's unacceptable."
Former Congresswoman Gabrielle Giffords, who survived a 2011 assassination attempt against her in Arizona which went on to leave six people dead, also criticized McConnell following the Fresno shooting.
"We should refuse to live in a world where our children live in constant fear of gunfire. We should never accept this level of gun violence as normal. It's not. We don't have to live with this dominating our lives," she said.
"America has solved seemingly insurmountable problems before. We can do it again.
"Change starts with acknowledging that politicians in Washington have failed to protect us. Politicians like President Trump and Majority Leader Mitch McConnell have taken millions from the NRA while not even allowing a vote on gun safety legislation like the Bipartisan Background Checks Act.
"Americans are ready to vote in leaders next November who are already committed to making this a priority from day one. If Congress won't change, we'll change Congress."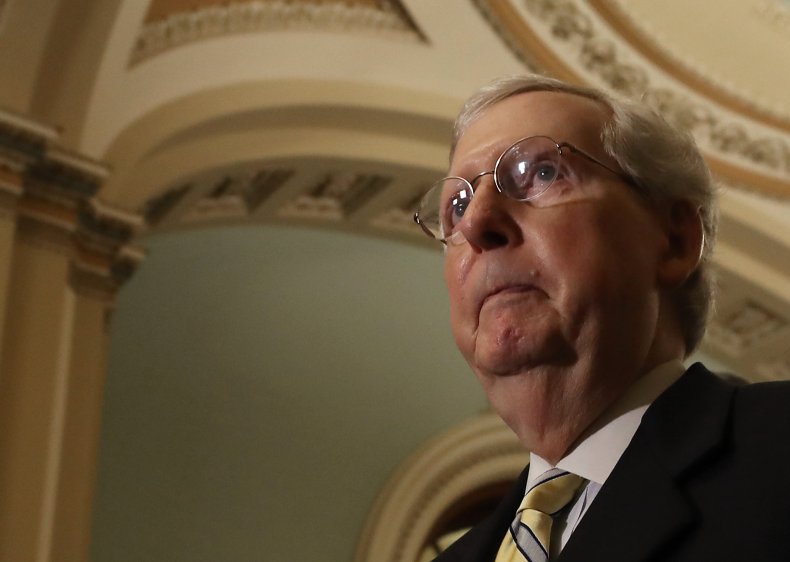 The attack in Fresno occurred just days after a 16-year-old opened fire at the Saugus High School in Santa Clarita, California, killing two people dead and leaving three others wounded.
Following the attack, McConnell trended on social media as thousands of people tweeted using #MassacreMitch to vent their frustration at the Senate Majority Leader for failing to act on gun legislation.
The exact same hashtag also trended on Twitter in August after two mass shootings occurred in the U.S. in the space of a matter of hours. At least 20 people were killed during the attack at a Walmart in El Paso, Texas, and a further nine people killed in a shooting around 13 hours later in Dayton, Ohio.
During a press conference, Fresno Police Deputy Chief Andrew Hall said the shooting which left four people dead "was not a random act."
Hall said: "It appears that this incident was a targeted act of violence against this residents." The deputy added that some people who were at the party may have been "involved in a disturbance earlier this week" without giving further details.
In a statement, Fresno Mayor Lee Brand said: "My prayers go out to the victims and their families, along with the promise that those responsible for this horrific crime will face the full force of justice. The City of Fresno will not tolerate this type of violence in any of our neighborhoods. We will add whatever resources that are necessary to find those responsible.
"This senseless tragedy does not define us—rather, our response and unity as a community will and I have complete confidence in our collective resolve."
The graphic below, provided by Statista, illustrates the number of people killed and injured by firearms in the U.S. in the last five years.