#MassacreMitch Trends As People Blame Mitch McConnell Blocking Gun Control Legislation for Mass Shootings: 'You Are Owned by the NRA'
Senate Majority Leader Mitch McConnell is receiving criticism in the wake of two mass shootings within less than 24 hours over his apparent failure to help impose stricter gun control laws.
More than 120,000 tweets have been sent using the #MassacreMitch hashtag after at least 20 people were killed at a Walmart in El Paso, Texas, and a further nine people killed in a shooting around 13 hours later in Dayton, Ohio.
Many Twitter users expressed their anger towards McConnell for blocking a Senate vote on a bill passed by the House of Representatives in February which would require full background checks to be run against every person who wishes to purchase a gun.
Others also accused McConnell of costing people's lives by pandering to the NRA due to the donations he and the Republican party receive from the lobbying group.
It is the second time in a matter of days that a McConnell-related hashtag has trended on Twitter. Tens of thousands of people used the "Moscow Mitch" hashtag after the Kentucky senator blocked a set of election security bills.
Several Democratic lawmakers and politicians are urging McConnell to call the Senate back for an emergency session so that the background check bill can be passed in a vote and move closer to becoming law.
Senator and 2020 presidential candidate, Elizabeth Warren, tweeted: "The House passed a bill more than 5 months ago to require basic background checks on gun sales—the very least we can do to keep our loved ones safe. How many more people need to die before @SenateMajLdr McConnell puts aside @NRA interests and gives that bill a vote?"
Fellow 2020 hopeful Bernie Sanders added: "Democrats, Republicans, Independents and even gun owners agree, ENOUGH is ENOUGH. It is time to stand up to the NRA and take action to make our communities safer from gun violence. Mitch McConnell, call the Senate back from recess now and pass gun safety legislation."
Rep. Tim Ryan said that the GOP "need to get their s*** together" with regards to gun legislation following the latest mass shooting in the U.S. "There is a bottleneck in the United States Senate with Mitch McConnell," he told MSNBC.
"We passed in the House of Representatives a few weeks back background checks, a basic step that 90 percent of the American people support. And the Republicans need to quite frankly, get their s*** together and stop pandering to the NRA, because people are getting killed.
"We have to put pressure on Mitch McConnell to start with the background check bill. We need an assault weapons ban, we need to study this as a public health crisis that it is," Ryan said.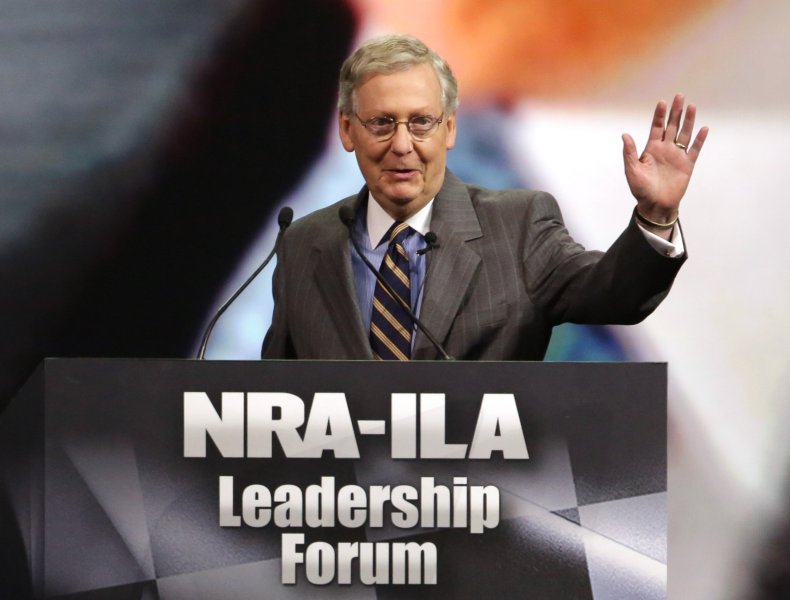 In a statement released after the Dayton massacre, House Speaker Nancy Pelosi said action needs to be taken to stop another family or community suffering "the pain and anguish of gun violence."
"We have a responsibility to the people we serve to act. The Republican Senate must stop their outrageous obstruction and join the House to put an end to the horror and bloodshed that gun violence inflicts every day in America. Enough is enough," Pelosi added.
A spokesperson for McConnell did not immediately respond to Newsweek's request for comment regarding the calls for an emergency session.
His team previously stated that the 77-year-old is currently recovering after suffering a fractured shoulder in a fall at his home. "He has been treated, released, and is working from home in Louisville," David Popp, Communications Director for McConnell, said in a statement.
"This afternoon he contacted Senators Cornyn and Portman to express his deepest sympathies for the people of El Paso and Dayton and discuss the senseless tragedies of this weekend."
The graphic below, provided by Statista, illustrates the number of people killed and injured by firearms in the U.S. in the last five years.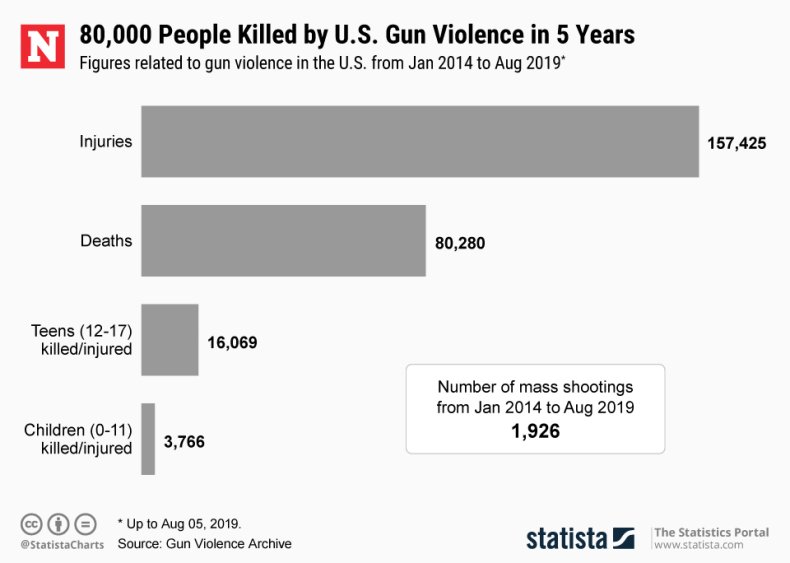 This article was updated to include an infographic.