'Frozen' Fan Spots X-Rated Moment in Disney Classic
Disney fans are in shock over a suggestive scene in Frozen in which Anna jokes "size doesn't matter," prompting people to say their childhood has been ruined.
Film student Kathy Martinez shared a snippet of the animated film to her TikTok page, kathy_martinez05, as part of her series "Childhood films filled with adult jokes."
She uploaded a clip showing Anna and Kristoff's sleigh ride through the snow, in which he grills the princess over her fiancé, Hans, to whom she became engaged earlier that day.
Kristoff rattles off a list of questions, asking exactly what Anna knows about her husband-to-be.
He asks her: "What's his last name? What's his favorite food? His best friend's name? Eye color?"
Anna replies: "Of the southern Isles. Sandwiches. John, probably. Dreamy."
Hans then asks, "Foot size?" to which a swooning Anna replies, "Foot size doesn't matter."
The seemingly innocent exchange is probably lost on children, but adults will understand the reference to the myth about shoe size and another part of the male anatomy.
Martinez, 22, from Los Angeles, told Newsweek that she watches movies for "homework."
She explained how the TikTok series stated, adding: "I started it off as a joke, not really thinking anyone would actually watch or pay attention to what I was showing, but many people found it entertaining so I kept going. So, watching movies has been like a full-time thing for me, and now being able to point out these jokes for those who haven't realized there are adult-targeted jokes in kid films whether they are a grown adult or even younger than myself.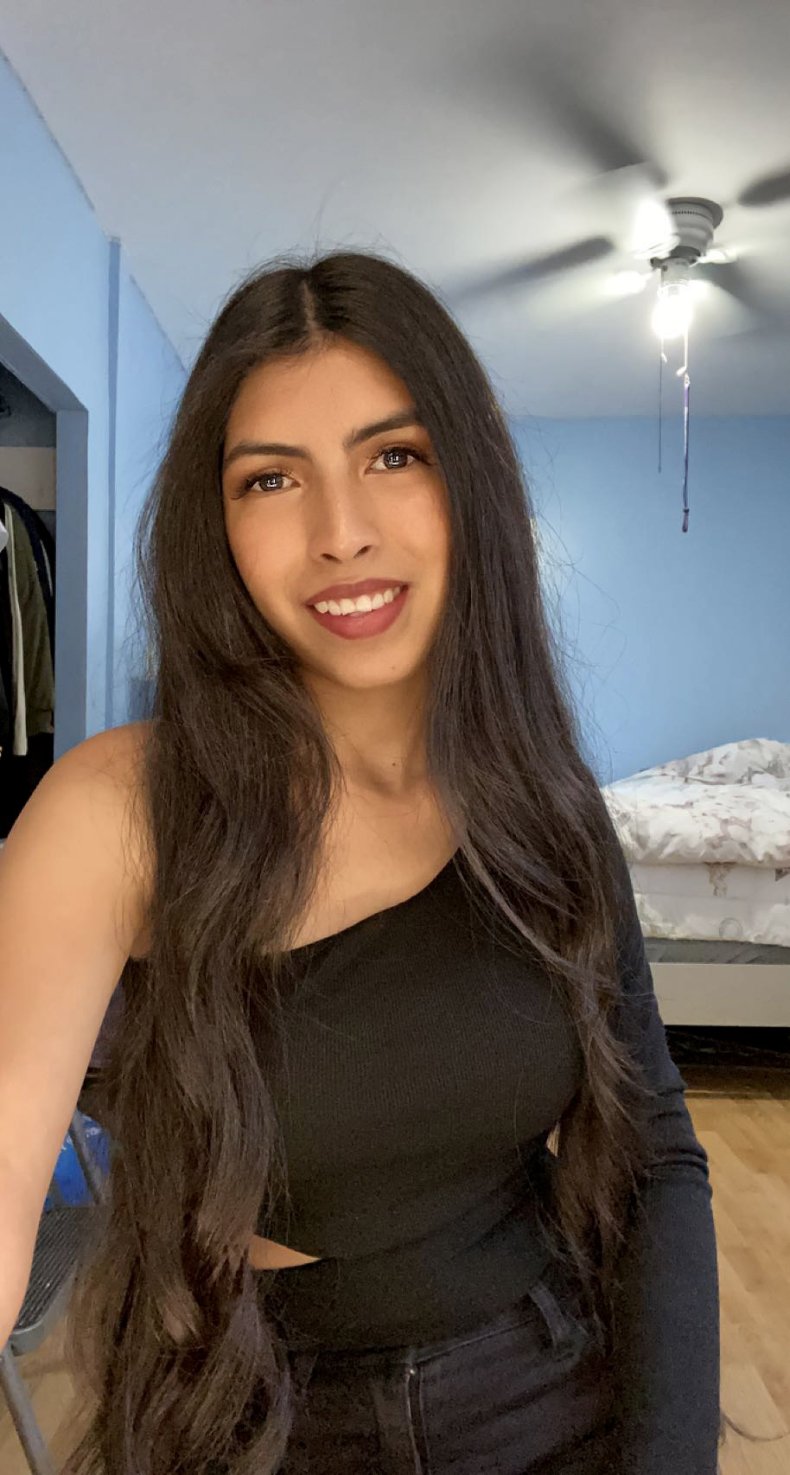 "None of these jokes have ruined any childhood films for me because I enjoy them so much more now as an adult. I was surprised as to how many movies are filled with adult jokes, but it just makes sense because even though these films are to keep children entertained, the companies that produce and create these films also want to keep the adults/parents entertained and engaged as well."
Hundreds of thousands of people have watched the clip since it was uploaded to TikTok in late April, and it was shared hundreds of times across Facebook, WhatsApp and Twitter.
Explaining the joke, commenter Abi Hugo said: "Everyone saying she says foot size... it's an innuendo."
Crazy siblings exclaimed: "Omg I never noticed this."
Stop it Get Some Help admitted: "As as kid I always thought it meant shoe size."
Alannah added: "This ruined my childhood."
It is not the only Frozen scene between the pair that has raised a few eyebrows. When they're getting into the sleigh, Hans tells Anna: "Hang on, we like to go fast."
Anna responds: "I like fast."
The innuendos return in the 2019 sequel, when Anna is chatting to Hans, who is in formalwear.
He tells her he will wear the fancy getup for "an hour," to which Anna responds: "That's OK. I prefer you in leather anyway."
These were also mentioned by Disney fans in the comments, with Anahi Zisneros saying: "Or the part where Kristoff say careful I go fast and she says I like fast."
Molly Osborne added: "What about Frozen 2 when she says she prefers him in leather. Sounds like bondage to me."
The much-loved film, released in 2013, tells the story of ice queen Elsa and her sister Anna, with adorable snowman Olaf and handsome Kristoff helping the kingdom of Arendelle.
Frozen picked up a slew of nominations and awards, including Academy Awards for best animated feature and best original song, and the Golden Globe for best animated feature film. It also won a Grammy and a BAFTA.
Update 05/20/21, 11:30 a.m ET: This article was updated to add comments from Kathy Martinez.