'Fuck Trump,' Alabama Player Bo Scarbrough Appears to Yell Before College Football Playoff National Championship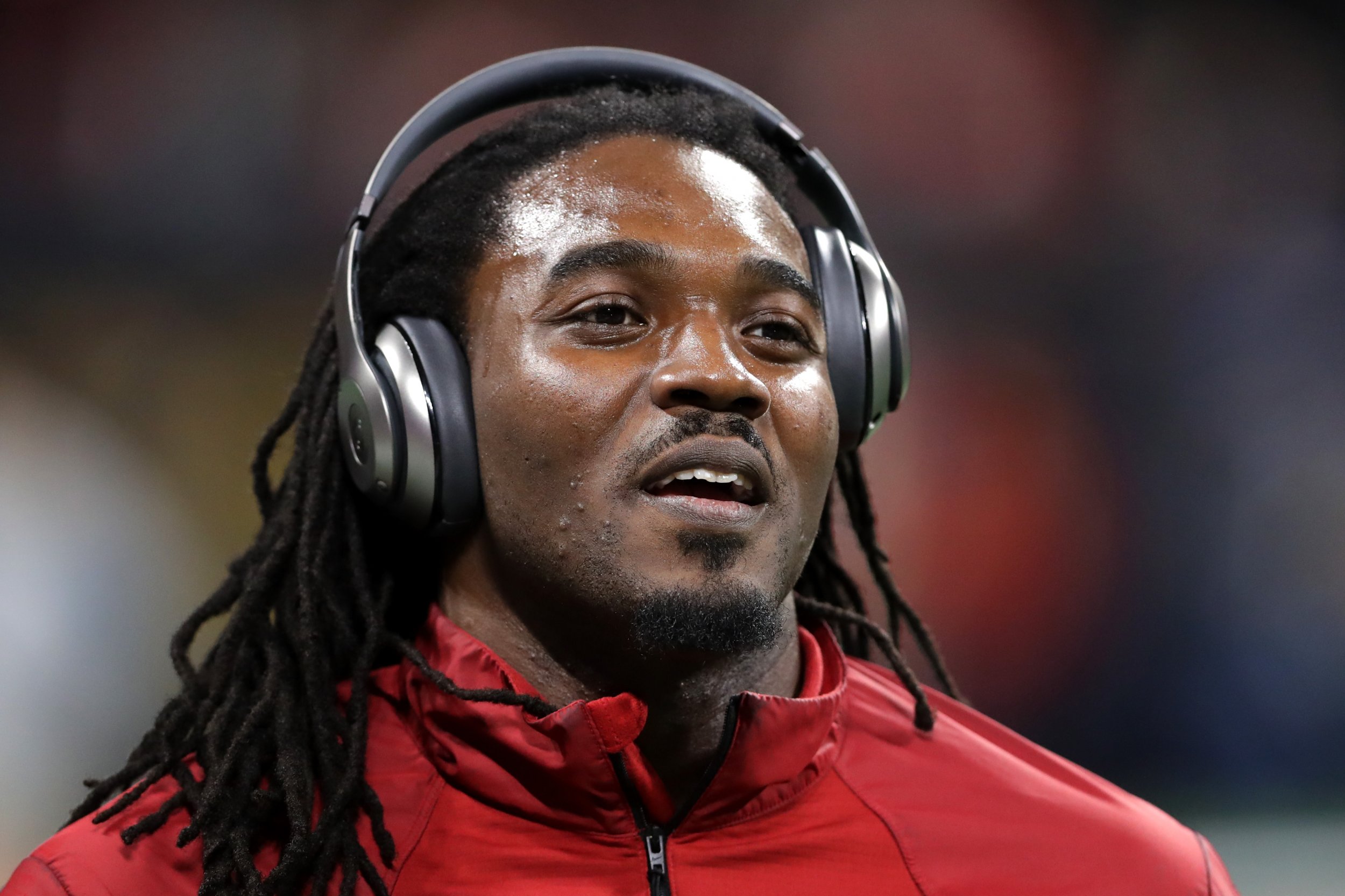 Updated: Alabama star running back Bo Scarbrough was seemingly caught by a camera yelling "Fuck Trump" in a hallway ahead the College Football Playoff National Championship Game Monday night.
President Donald Trump was set to take the field for the national anthem prior to the Alabama Crimson Tide and Georgia Bulldogs kicking off their title game in Atlanta. Video posted by Sporting News appeared to show Alabama's No. 9, Scarbrough, yelling the phrase in one of the tunnels under Mercedes-Benz Stadium.
The outburst from Scarbrough could perhaps cause controversy in Alabama, where some 63 percent of voters cast their ballot for Trump. But it might be less controversial than at this time last year. The Trump-backed Republican Roy Moore was defeated by Democrat Doug Jones in a special election for the state's second Senate seat in December. Jones was the first Democrat to win a Senate seat in Alabama in 25 years.
If Scarbrough was the one who shouted "Fuck Trump," he'd join numerous other people from the sports world who have also spoken out against the president, although perhaps not in as blunt terms and not on what seemed like it could have been a hot mic blunder. San Antonio Spurs coach Gregg Popovich, for instance, has routinely spoken out against Trump—noteworthy because Texas is a red state that went for Trump in 2016, and Pop normally keeps his opinions to himself. Leave it to Trump, though, to make Popovich come out of his shell.
"This man in the Oval Office is a soulless coward who thinks that he can only become large by belittling others," he said to The Nation in October after Trump claimed past presidents had not communicated with the families of fallen soldiers. "This has of course been a common practice of his, but to do it in this manner—and to lie about how previous presidents responded to the deaths of soldiers—is as low as it gets. We have a pathological liar in the White House, unfit intellectually, emotionally, and psychologically to hold this office, and the whole world knows it, especially those around him every day. The people who work with this president should be ashamed, because they know better than anyone just how unfit he is, and yet they choose to do nothing about it. This is their shame most of all."
Aside from Popovich, other famous stars like the NBA's LeBron James and Steph Curry have spoken out decisively against Trump. And there's the NFL, where countless players protested during the national anthem one week in September after the president slammed those who had been demonstrating against the oppression of black people in America.
Trump's appearance on the field at Monday's national championship game might not have gone exactly as he planned, either. After battling with NFL players routinely about respecting the anthem, it appeared to some observers like the president might have struggled with the lyrics to "The Star Spangled Banner" as he attempted to sing along.
Scarbrough later tweeted he said "Georgia," not Trump. "If y'all really listen I said Georgia smh about y'all people in this world," he wrote on Monday.
This story was updated to include a tweet by Scarbrough, where he clarified his statement.