Full List of 11 GOP Senators Who Voted Against Ukraine Aid
The U.S. Senate voted overwhelmingly to advance a new aid package for Ukraine worth around $40 billion on Monday after passage of the measure was delayed last week.
Senators voted 81 to 11 in favor of advancing Additional Ukraine Supplemental Appropriations Act of 2022, but this may be just the first of three procedural votes required.
All 11 senators who voted against advancing the aid package were Republicans, while a bipartisan group of eight senators were recorded as not voting on Monday.
The senators who voted no were: Marsha Blackburn of Tennessee, John Boozman of Arkansas, Mike Braun of Indiana, Mike Crapo of Idaho, Bill Hagerty of Tennessee, Josh Hawley of Missouri, Mike Lee of Utah, Cynthia Lummis of Wyoming, Roger Marshall of Kansas, Rand Paul of Kentucky and Tommy Tuberville of Alabama.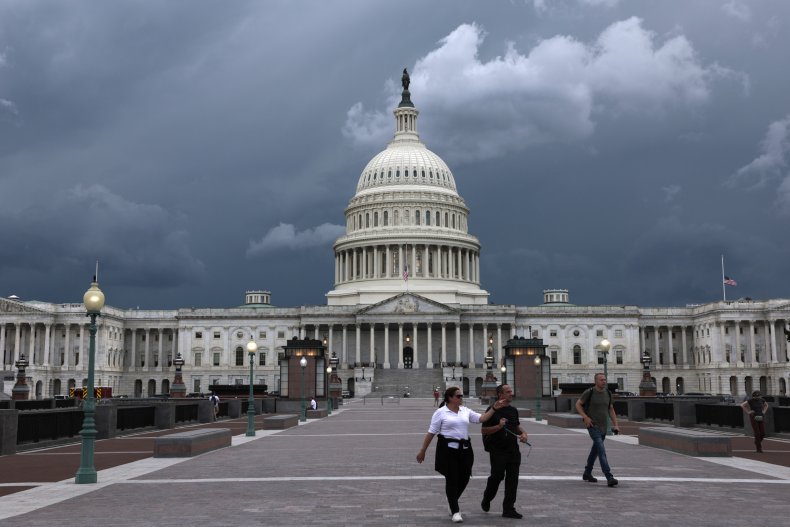 The aid package passed the House of Representatives with overwhelming bipartisan support on May 10 and was opposed by just 57 Republican members.
Senate Majority Leader Chuck Schumer (D-NY) and Senate Minority Leader Mitch McConnell had agreed to fast-track a vote on the package, but Senator Paul refused unanimous consent on May 12, single-handedly delaying the legislation's passage.
Paul sought a modification to the legislation that would see the inspector general for Afghanistan overseeing funds spent in Ukraine. Schumer refused to make that change and the aid package could not advance.
Instead, he went to a procedural vote that took place on Monday.
The senator retweeted an article on Monday about his previous opposition to the aid package.
Senator Hawley also took to Twitter on Monday to explain his vote against advancing the package. "Spending $40 billion on Ukraine aid—more than three times what all of Europe has spent combined—is not in America's interests," Hawley wrote.
"It neglects priorities at home (the border), allows Europe to freeload, short changes critical interests abroad and comes w/ no meaningful oversight," he went on.
"That's not isolationism. That's nationalism. It's about prioritizing American security and American interests," Hawley said.
According to the Ukraine Support Tracker from the Kiel Institute for the World Economy, total funding provided by European Union (EU) member states stood at €12.8 billion ($13.4 billion) as of May 2. That figures includes funds promised by EU institutions and the European Investment Bank.
On May 13, the EU announced another €500 million ($523 million) in military aid, bringing the bloc's total military aid to €2 billion (around $2.1 billion).
Hawley also appears to have been referring to remarks McConnell made following a visit to Ukraine on Sunday.
"There have always been isolationist voices in the Republican Party," McConnell said. "I think one of the lessons we learned in World War II is not standing up to aggression early is a huge mistake."
The day before the vote, Senator Hagerty spoke to Fox News' Sunday Morning Features about aid for Ukraine.
"I certainly don't have anything against the Ukrainians," Hagerty said. "We want to see them win, but pumping more aid into that country when we're not taking care of our own country—the best thing that Biden could do is stop the war that he's waged on American industry."
Senator Lee has introduced an amendment to the Ukraine aid package to "streamline and target aid to meet the needs on the ground in the conflict."
"Putin's aggression is indefensible, and we should look for appropriate ways to support Ukrainians in the noble defense of their homeland," Lee said in a press release on Monday.
"We must also make sure Congress maintains its constitutional role of directing engagement in conflict and ensure that we are not spending unnecessary funds while in a time of historic inflation and ballooning national debt. My amendment will ensure we can help our friends without compromising our constitutional or financial integrity," the senator said.
The $40 billion aid package is expected to be formally approved by the Senate later this week.