Russia Offers Ukrainians Cash to Blame Zelensky Troops for Destroyed Homes
Russia is reportedly offering to provide financial compensation to residents of the besieged city of Mariupol if they blame President Volodymyr Zelensky's military for destroyed housing or family deaths, an adviser to Mariupol Mayor Vadym Boychenko said Monday.
In Petro Andryushchenko's Telegram post, which he marked as a "warning" to the city at the top, he said Mariupol residents seeking the compensation must submit written statements saying Ukraine is responsible for the property destruction or the deaths of their family members. Residents of the city who leave out or refuse to include these statements will not receive any compensation, he said.
"When submitting a written statement, Mariupol residents must state that the property was 'destroyed by the Ukrainian military' and that relatives were 'killed by the Ukrainian army,'" Andryushchenko added.
The dire situation in Mariupol gained international attention after Russian forces began assaulting the city. They ultimately claimed they had full control of it, even as Ukrainian officials reported ongoing resistance at the city's Azovstal steel plant. Boychenko said last month that more than 10,000 city residents had died because of Russia's attacks, according to the Associated Press, and videos and other assessments have shown that Mariupol has experienced massive destruction.
The Economist, for example, reported that satellite images indicated that about 45 percent of the city's built-up area had been severely damaged.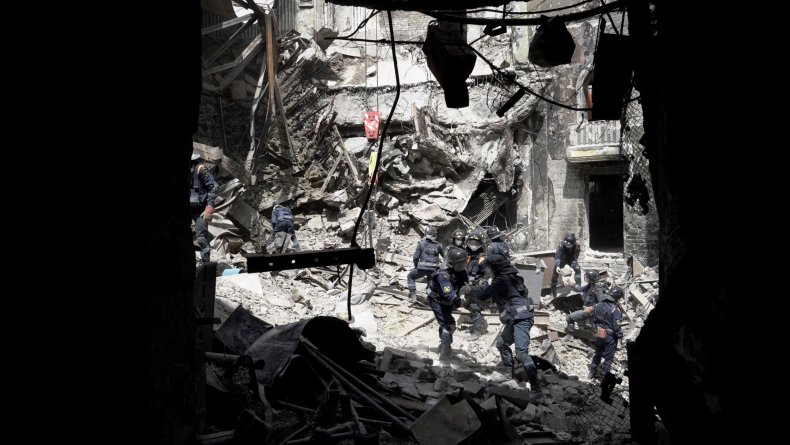 Mariupol, a strategic seaport along the Azov Sea, had a population of about 450,000 as of 2017, according to Data Commons.
Russia is offering the equivalent of about $6,000 to residents with destroyed housing and about $33,000 in compensation for a deceased family member, Andryushchenko said. He added that Russia is receiving "tens of thousands of handwritten written 'testimonies' about the 'atrocities of the Ukrainian army.'"
Andryushchenko wrote that he believes Russia will use those statements to "influence international opinion, including with wide publicity through the propaganda media channels that continue to operate in the EU."
He did not say in his post whether any Mariupol residents had begun receiving the financial compensation.
"In reality, such compensation is not possible. Russia alone must spend at least $2.5 billion to fulfill these promises to Mariupol residents," Andryushchenko said. It was not immediately clear how he arrived at the $2.5 billion figure.
Newsweek reached out to Russia's Foreign Ministry for confirmation of Andryushchenko's allegations.
Last week, as Russia was celebrating Victory Day on May 9, the Mariupol City Council released a statement saying that Russian forces marched through occupied areas of the city to commemorate the event "on the bones of Mariupol."
'Hundreds of citizens killed by the Russian army continue to be taken to the mass grave near the village of Vynohradne," the statement added.
Newsweek reached out to the defense ministries of Russia and Ukraine for further comment.