Russian Occupiers March Through Destroyed Mariupol to Mark Victory Day
Russian forces marched through occupied territories of Ukraine's port city of Mariupol, coinciding with Victory Day celebrations held across Russia to celebrate the Soviet Union's World War II triumph over Nazi Germany.
"The occupiers celebrate Victory Day on the bones of Mariupol. Hundreds of citizens killed by the Russian army continue to be taken to the mass grave near the village of Vynohradne," the Mariupol City Council said in a statement on the Telegram messaging app.
The shattered city of Mariupol was hit with relentless attacks by Russian forces since the early weeks of Russian President Vladimir Putin's invasion. Mariupol is a strategic port city on the Azov Sea that would create a land corridor from the eastern Donbas region, which borders Russia, to Crimea, which the Kremlin annexed from Ukraine in 2014.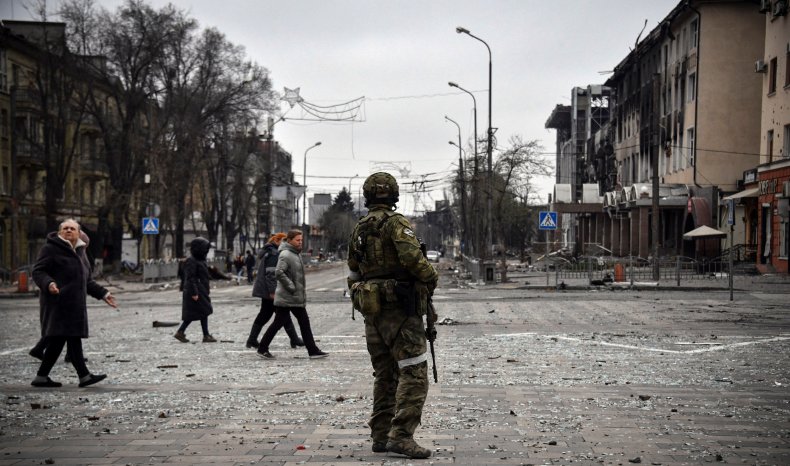 A video shared online by Petro Andriushchenko, adviser to the mayor of Mariupol, purported to show showed Denis Pushilin, the Putin-sponsored head of the self-proclaimed Donetsk People's Republic, marching through the city's streets holding the traditional orange and black ribbon of Saint George associated with the celebrations carried out to mark Victory Day.
The Mariupol City Council said Russians and "local collaborators" staged a procession with a 300-meter black and orange ribbon.
It comes after the Kremlin said on Friday that it didn't know whether a parade would be staged in Mariupol on May 9 to commemorate Russia's national holiday.
"The time will come to mark Victory Day in Mariupol," Kremlin spokesperson Dmitry Peskov told reporters during a press conference.
'Grotesque'
Days earlier, Andriushchenko said in a post on his Telegram channel that local officials had reason to believe Russian forces occupying the city had plans to dress up Ukrainian "prisoners of war" in military uniforms as part of a "grotesque" parade.
Andriushchenko said almost 2,000 Ukrainian men were being held by Russian forces in so-called "filtration camps"—described by officials as facilities where Russian forces detain captured citizens before sending them to remote Russian locations.
"These men are held there and they are told that they will be made to wear the Ukrainian [military] uniform and to participate in a so-called 'war prisoners parade' in Mariupol because they [the Russians] lack actual prisoners of war," the adviser said.
"It will be a grotesque crowd scene for another propaganda image," he added at the time.
He said Russian forces had been working to clear away rubble in preparation for events to mark Victory Day.
Newsweek was unable to independently verify these claims.
'Carnival'
"Mariupol. There is no parade, instead there is a carnival. 300 meters of striped rags were stretched on Nakhimova Avenue on the way to the Liberation Warriors Square," the mayor's office said of the procession held in the city Monday.
In an online press conference coinciding with Putin's Victory Day event in Moscow's Red Square, an intelligence officer of the Azov regiment in Mariupol's Azovstal steel works vowed Ukrainian forces wouldn't surrender amid intensifying attacks from Russian forces.
"Surrender is not an option because Russia is not interested in our lives," said Illia Samoilenko. "We are basically here dead men. Most of us know this and it's why we fight so fearlessly."
Russian troops breached the plant's defenses last week.
Newsweek has contacted Russia's Ministry of Foreign Affairs for comment.