Russian Ambassador Hit With Red Paint at Poland Victory Day Event
Russia's ambassador to Poland, Sergey Andreev, was hit with red paint at an annual Victory Day event commemorating the end of World War II, videos show.
In a protest against Russia's ongoing war against Ukraine, the diplomat and several bystanders were soaked with red paint as Andreev attempted to lay a wreath at the cemetery of Soviet soldiers in Warsaw.
A video taken shortly after the incident shows Andreev's face covered in the substance, and he can be seen attempting to wipe the liquid out of his eyes.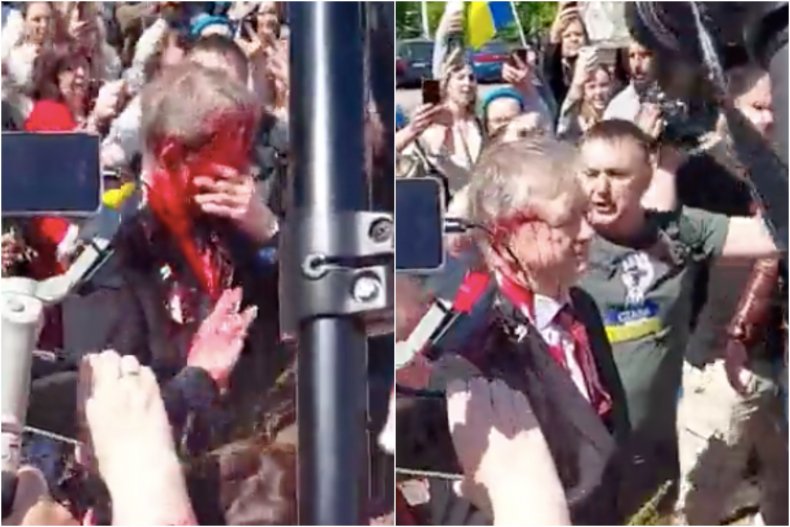 Andreev was blocked from laying the wreath, as onlookers blocked his way and shouted insults. The diplomat and his delegation were forced to leave the area, accompanied by police officers.
The incident happened as Russian President Vladimir Putin in his Victory Day speech before a military parade in Moscow's Red Square defended his invasion of Ukraine as the "only right solution," without mentioning the neighboring country by name.
On Saturday the diplomat told Sputnik news service that the Russian Embassy in Poland had limited the number of people invited to the Victory Day commemorations to just senior diplomatic personnel, amid rhetoric calling for violence against attendees.
"When the May 9 event at the cemetery was announced, the internet unleashed a torrent of calls for protest actions [against the Victory Day events], including physical violence on the part of various so-called activists," Andreev said.
Videos show that protesters carried Ukrainian flags and chanted "fascist" at the Russian ambassador. Others wore white sheets covered in a red substance that resembled blood.
It is unclear whether the individual who threw the paint at Andreev was detained.
The Russian embassy had originally hoped to organize a Victory Day march in Warsaw, coinciding with celebrations taking place across Russia, but the Polish foreign ministry "did not recommend" going through with the plans.
"The celebration of the aggressor" should be prohibited, the mayor of Warsaw Rafal Trzaskowski said.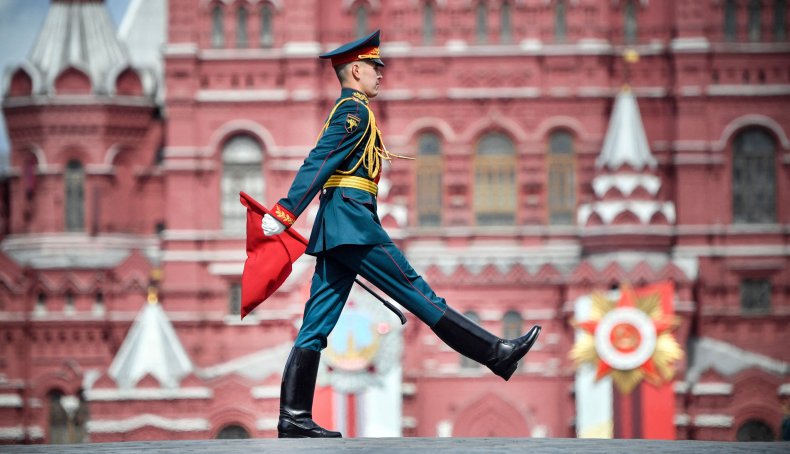 Poland's Deputy Foreign Affairs Minister Marcin Przydacz also said on social media that the country "did not plan to provide support to the embassy of the Russian Federation and will not provide such support."
Warsaw's mayor has the final say in the matter, said Przydacz.
In response, the Russian Embassy said in a statement on its official website that Russia "considers such understanding of our traditional Victory Day ceremonies absurd and unfounded."
Newsweek has contacted Russia's Embassy in Poland for comment.
Update 05/09/22, 8:07 a.m. ET: This article was updated with additional details and background information.