Russia Cancels Military Flyovers on Victory Day Amid 'Adverse Weather'
Russia's Victory Day military flyovers have been abruptly canceled in Moscow, and in at least two other major cities that were due to hold parades to commemorate the national holiday.
Kremlin spokesman Dmitry Peskov told reporters on Monday the air portion of Moscow's Victory Day parade in the city's Red Square had been canceled "due to the weather," Russia's state-run news agency TASS reported.
According to local weather forecasts, Russia's capital will see light rain showers and a moderate breeze until 7 p.m. local time.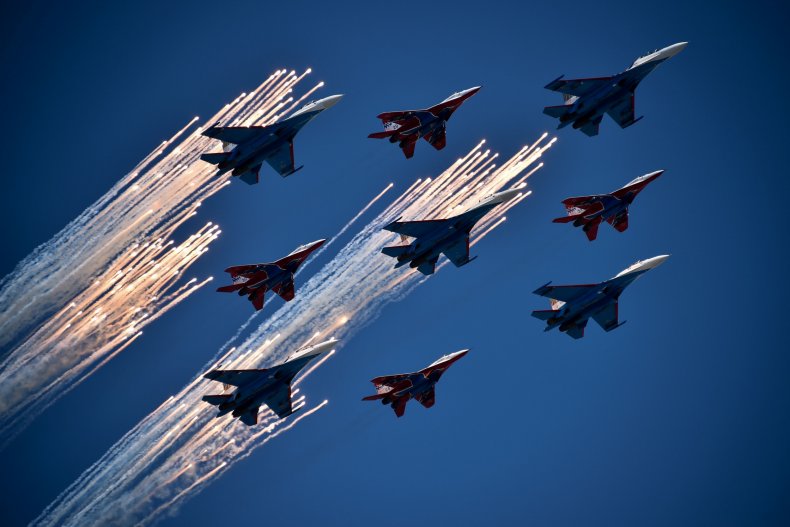 Just an hour earlier, officials said aerial demonstrations in Russia's fourth-largest city, Yekaterinburg, would also no longer be going ahead. No explanation was given for that sudden cancellation.
'Adverse Weather Conditions'
When pressed by local outlets, the press service of Yekaterinburg's Central Military District refused to comment.
Meanwhile, in Russian city of Novosibirsk, military flyovers were canceled in the city's Victory Day commemorations "due to adverse weather conditions at departure airfields."
Victory Day is Russia's annual commemoration of the end of World War II, known in Russia as the Great Patriotic War. It's typically marked with Russian President Vladimir Putin addressing crowds and a military parade at Moscow's Red Square.
Twenty-seven other Russian major cities are also expected to hold commemorative parades.
This year's celebrations have been notably scaled back compared with previous years, data published by Russia's Defense Ministry on Friday shows.
Experts linked the changes to losses sustained by Russia in the ongoing war with Ukraine.
The ministry said 129 units of military equipment will cross Red Square on May 9, while last year, 191 military vehicles took part.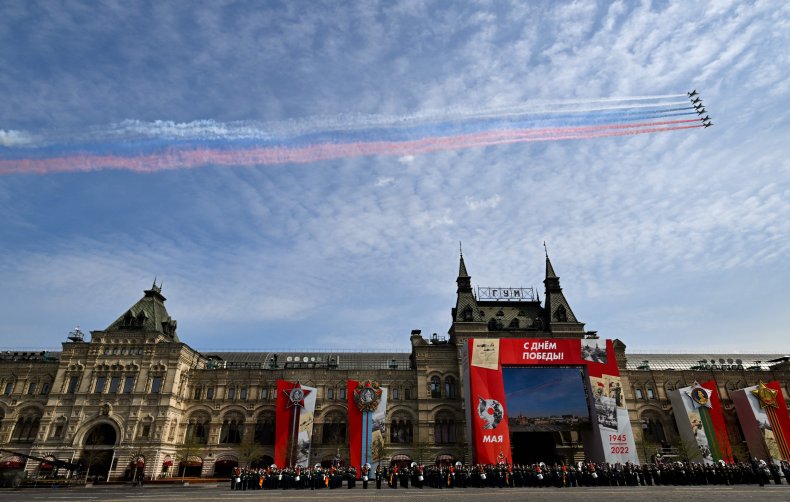 It said approximately 10,000 civilians will walk through Red Square during this year's parade, compared with 12,000 people who participated last year.
Russian state-run outlet RIA Novosti also cited the defense ministry as saying that more than 11,000 troops are set to take part in the day of national celebration, a small decrease on last year's celebration.
Some 77 aircraft and helicopters had also been expected to feature in Moscow's event.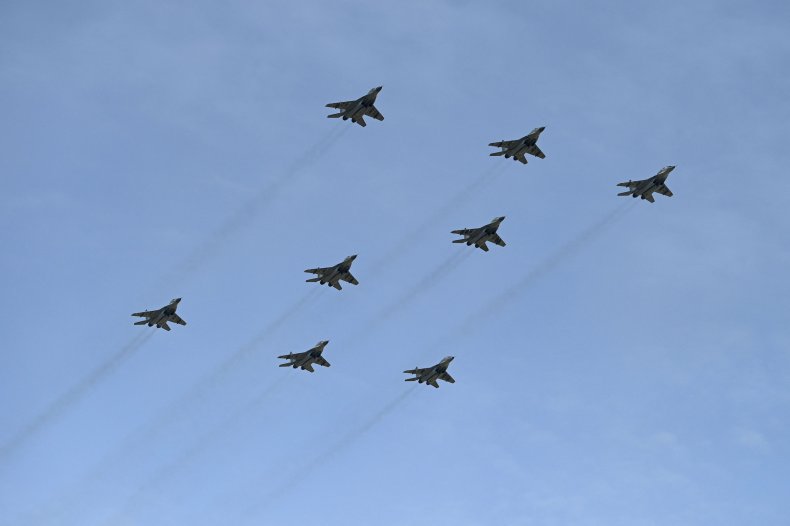 News of the cancelations in Moscow comes days after Russian Ministry of Defense said this year's parade in Moscow would feature a "doomsday" plane.
The ministry said on Friday that the Ilyushin Il-80, an airborne command plane designed to carry Putin and other top officials in the event of a nuclear war, would fly through the city's skies for the first time since 2010, according to Reuters.
Russia's final dress rehearsal on May 7 saw a group of fighter jets fly through Moscow in the shape of the letter "Z", a popular symbol of support for Putin's forces in Ukraine.
Newsweek contacted Russia's Ministry of Foreign Affairs for comment.
Update 05/09/22, 3:58 a.m. ET: This article was updated with additional details and background information.