Full List of 33 Democrats Who Voted to Overturn D.C. Crime Bill
The U.S. Senate on Wednesday voted to block a new criminal code for Washington D.C., overruling the capital's local lawmakers for the first time in more than three decades. Of the 81 who voted in favor, 31 were Democrats and two independents who vote with the Democratic caucus.
Those voting for the joint resolution disapproving of the proposed crime laws cited concerns about violent crime rates. The new code would have relaxed sentencing requirements for certain crimes and would have redefined some crimes.
The District of Columbia is governed under special rules designed to give Congress oversight on local matters, including the city's budget, which other authorities do not have. A vote on the joint resolution cleared the House of Representatives in February.
While local leaders and some senators stressed the importance of the city's autonomy—part of a long-running debate about whether the district should be granted statehood—many Democrats are wary of appearing soft on crime as Republicans target the subject ahead of an election year.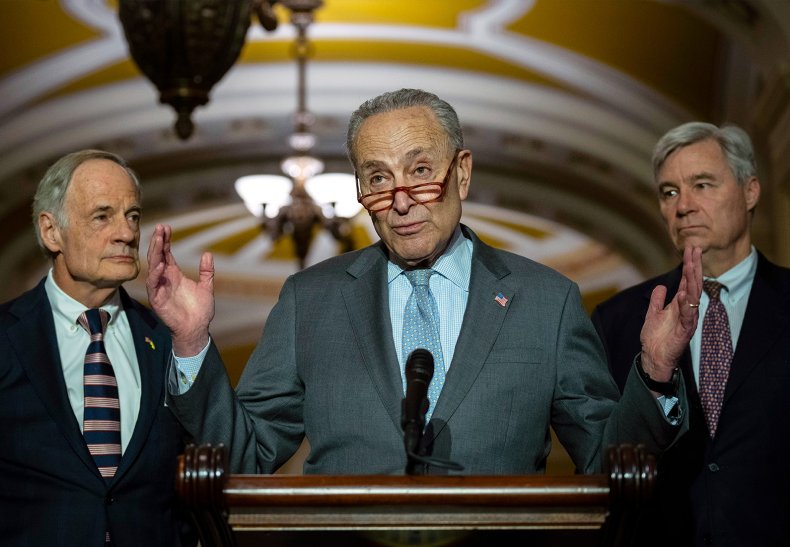 As Joe Biden is widely expected to announce a re-election campaign for 2024, Democratic senators who face tough elections next year in typically Republican-leaning states will not want to appear soft on crime.
The president said last week that he would sign the Republican-led resolution, which just 14 senators voted against. It marks a shift in the long-held Democratic position that the District of Columbia should be allowed to govern itself.
The Democrat senators who voted to overturn the D.C. crime bill were:
Tammy Baldwin, junior senator for Wisconsin
Michael Bennet, senior senator for Colorado
Richard Blumenthal, senior senator for Connecticut
Sherrod Brown, senior senator for Ohio
Maria Cantwell, junior senator for Washington state
Bob Casey, senior senator for Pennsylvania
Chris Coons, junior senator for Delaware
Catherine Cortez Masto, senior senator for Nevada
Kirsten Gillibrand, junior senator for New York, who ran in the Democratic primary for the 2020 presidential election
Maggie Hassan, junior senator for New Hampshire
Martin Heinrich, senior senator for New Mexico
John Hickenlooper, junior senator for Colorado, who as the Governor of Colorado ran a short-lived presidential primary campaign in 2020
Tim Kaine, junior senator for Virginia, who served as Hillary Clinton's running mate against Donald Trump and Mike Pence in 2016
Mark Kelly, junior senator for Arizona
Angus King, the independent junior senator for Maine, one of three who vote with the Democrats
Amy Klobuchar, senior senator for Minnesota, who ran in the 2020 Democratic presidential primary
Ben Ray Lujan, junior senator for New Mexico
Joe Manchin, senior senator for West Virginia
Bob Menendez, senior senator for New Jersey
Patty Murray, senior senator for Washington and president pro tempore
Jon Ossoff, senior senator for Georgia
Alex Padilla, junior senator for California
Gary Peters, junior senator for Michigan
Jacky Rosen, junior senator for Nevada
Brian Schatz, senior senator for Hawaii
Chuck Schumer, senior senator for New York and the Senate Majority Leader
Jeanne Shaheen, senior senator for New Hampshire
Kyrsten Sinema, the independent senior senator for Arizona, who votes with the Democrats
Tina Smith, junior senator for Minnesota
Debbie Stabenow, senior senator for Michigan
Jon Tester, senior senator for Montana
Mark Warner, senior senator for Virginia
Ron Wyden, senior senator for Oregon
Washington D.C.'s criminal code was originally written in 1901, and has since received only piecemeal updates, according to the capital's Criminal Code Reform Commission. It contains several arcane references, including the management of steamboats and regulation of livestock being taken through the city.
As such, local lawmakers had hoped to rewrite the criminal code for the 21st century. But since the Home Rule Act of 1973, D.C. laws are subject to a 60-day review period in which Congress or the president can override them.
While Congress has intervened in the city's budget in the intervening period, the formal disapproval process was last invoked in 1991.
The criminal law overhaul is not uncontroversial locally: despite being approved by the city council late in 2022, D.C.'s Democratic Mayor Muriel Bowser vetoed it in January, noting concerns about some of the proposals within the bill, but was overridden.
Several Democratic senators cited Bowser's issues with the bill as justification for their own disapproval.
"What we've heard from the mayor of D.C. is there's more work to be done," Stabenow said. Senators Kaine and Warner urged the mayor and council "to work together to create a safer city for all."
Violent crime had been slowly falling in the capital in recent decades, but the rate of homicides had risen for four consecutive years to 2021, before dropping slightly in 2022. There have so far been 40 homicides in 2023, according to Metropolitan Police Department statistics, putting it on track for a further rise this year.
The new criminal code would have gotten rid of mandatory minimum sentences for certain crimes, and would have reduced the maximum penalties that could be given for crimes such as burglary, carjacking and robbery.
In a statement released following the Senate vote, Brian Schwalb, D.C.'s attorney general, said it had been "taken by federal politicians elected hundreds of miles away, violating the basic principles of self-governance and the spirit of Home Rule.
"D.C. residents deserve better," he added. "We need statehood to prevent future interference."