John Fetterman's Team Lashes Out at Joe Biden
John Fetterman's team has said it's not happy with the way the Washington, D.C. crime bill has been handled by the Biden administration. The Pennsylvania Senator is the latest Democrat to side with Republicans in opposing the controversial criminal code overhaul.
After the Senate approved a Republican-led effort to block the District of Columbia crime bill on Wednesday, Fetterman's spokesperson Joe Calvello wrote in a statement to the HuffPost: "Look this has been mishandled at every turn—from the White House blindsiding House Dems with a bait and switch, to the D.C. Council trying some last-minute hijinks to pump the [brakes] on everything," he wrote.
"And if Republicans are finally ready to address crime instead of blow[ing] hot air, then John is ready to work with them. John supports D.C. statehood and self-governance. If he were here, he would vote accordingly," Calvello wrote.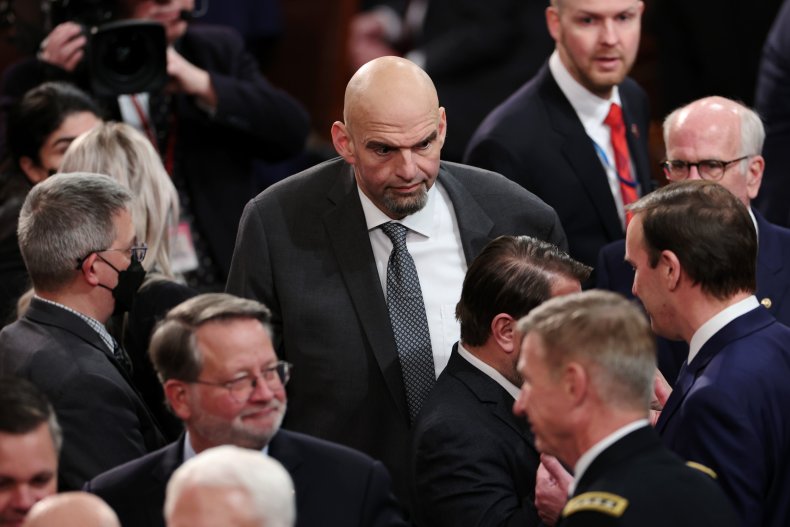 It was the first time since Fetterman's victory in the November midterms that the senator—or a spokesperson for him—spoke against the Biden administration. In October 2022, amid a barrage of criticism and concerns over Fetterman's health in the Pennsylvania Senate race, President Joe Biden spoke up in support of the Democrat candidate, saying Fetterman was "my kind of guy."
A total of 33 Democratic senators sided with Republicans in criticizing the crime bill as being too soft on offenders. It lowers penalties for some crimes like car-jacking and robbery. The Republican-sponsored bill blocking the bill—DC Revised Criminal Code Act of 2022—was passed by a vote of 81-14 on Wednesday. It had previously been approved by the Democratic-controlled city council.
The bill blocking the measure will now go to Biden's desk for his signature, and the president has said he would not veto it. His signature will prevent D.C.—which is not represented in Congress under the U.S. Constitution—from enacting the sentencing overhaul, the biggest revision of its criminal code in a century.
Biden said that his concern about softening sentences outweighed his opposition to Congress interfering in the affairs of D.C.
The debate around the bill has stirred a conversation about the autonomy of Washington, D.C. and revived calls to give the capital statehood.
Fetterman was not present for the vote in the Senate as he's being treated for his mental health. The 53-year-old senator sought treatment in February for clinical depression after publicly speaking about having experienced the disorder on and off throughout his life.
Fetterman suffered a debilitating stroke in May 2022 during the race for Pennsylvania's Senate seat. However, he defeated Republican candidate Dr Mehmet Oz in November.
On Monday, Fetterman's chief of staff Adam Jentleson tweeted that the senator is "well on his way to recovery" and "will be back soon."