The Full Story Behind Prince Harry's Comments Criticizing Royal Upbringings
Prince Harry told a podcast he experienced "genetic pain" due to his father's suffering—in a nod to a bombshell interview Prince Charles gave nearly 30 years go.
The Duke of Sussex told the Armchair Expert podcast he believed he was determined to break the cycle of royal trauma.
In comments that sparked a significant backlash in Britain, he indicated it may date back to the way Queen Elizabeth II and Prince Philip brought up Charles.
The prince told hosts Dax Shepard and Monica Padman: "There is no blame. I don't think we should be pointing the finger or blaming anybody, but certainly when it comes to parenting, if I've experienced some form of pain or suffering because of the pain or suffering that perhaps my father or my parents had suffered, I'm going to make sure I break that cycle so that I don't pass it on, basically.
"It's a lot of genetic pain and suffering that gets passed on anyway, so we as parents should be doing the most we can to try and say 'you know what, that happened to me, I'm going to make sure that doesn't happen to you.'"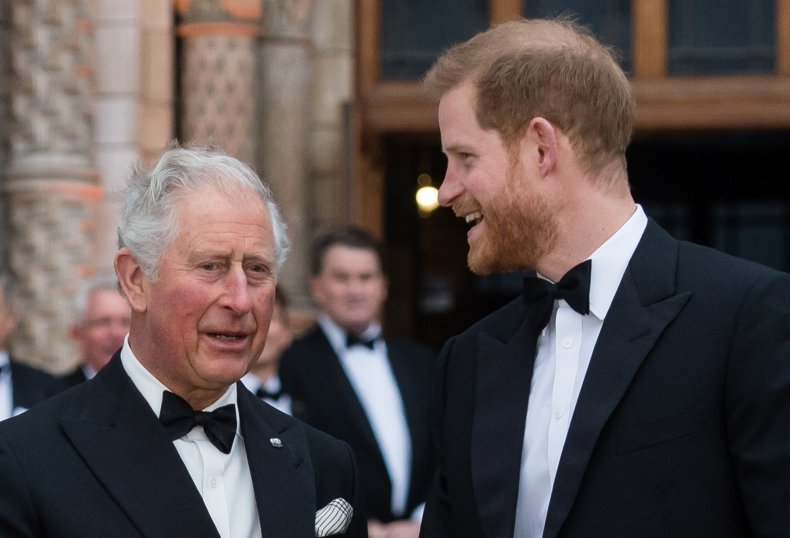 The prince has been pilloried in the U.K. press, with the Mail on Sunday quoting unnamed palace aides saying they felt "bewilderment and betrayal" and courtiers reportedly discussing whether Harry and Meghan should give up their titles.
The comments were described as a "bitter swipe" at Charles on the front page of The Sun while a doctor writing in Monday's Daily Mail suggests the prince may have had "too much" therapy.
However, the saga has echoes of a biography written about Prince Charles in 1994 by Jonathan Dimbleby.
While Prince Charles was not directly quoted, the acclaimed journalist described having candid conversations with him over many hours for The Prince of Wales: A Biography.
The outcome was a scathing assessment of his upbringing, in particular the way Prince Philip apparently doted on Princess Anne but ridiculed Charles.
Dimbleby wrote: "Indeed, he [Philip] often seemed intent not merely on correcting the prince but even mocking him as well, so that he seemed to be foolish and tongue-tied in front of friends as well as family.
"To their distress and embarrassment, the small boy was frequently brought to tears by the banter to which he was subjected and to which he could find no retort.
"On occasion, even his closest friends found the Duke's behaviour inexplicably harsh.
"One remembers that after a paternal reprimand at lunch, 'the tears welled into his eyes with a whole table full of people staying there.... And I thought how could you do that?'"
A "close relation" on "intimate terms" with Charles and Philip told the author the relationship was "very bullying... which had the effect of driving Charles more and more back into his shell."
Another unnamed source said: "Prince Philip did rather jump down his throat. Charles was frightened of him."
The criticism was not confined to Philip though, as the queen was presented as emotionally distant.
Dimbleby wrote: "Observing friends were also frustrated by the failure of the child's mother to intervene by protective word or gesture.
"She was not indifferent so much as detached, deciding that in domestic matters she would submit entirely to the father's will.
"It was the more perplexing because they otherwise had every reason to believe that both parents had a deep if inarticulate love for their son, and that this love was reciprocated."
Interestingly, from the perspective of Prince Harry's public comments, Dimbleby offers an explanation rooted in Prince Philip's upbringing.
Dimbleby wrote: "So witnessing this behavior, loyal friends drew the conclusion that Prince Philip hectored his son because it was the only means he knew to achieve his supreme objective—to mould the prince for kingship.
"Others sought further explanation in Prince Philip's own background.
"If he was overly severe or unduly irascible, they would say, those moods were to be seen in the context of the insecurity and resentment occasioned by the savage predicaments he had been obliged to face in his past life."
Prince Philip was born into the Greek royal family but fled when he was a child after they were blamed for a military disaster during a war with Turkey in the 1920s.
Philip's father was accused of treason and sentenced to death. The family fled to France.
But Philip's father disappeared to Monaco and his mother had a breakdown and was treated in a sanatorium in Switzerland, Dimbleby writes.
Philip himself was then brought up largely by his sisters before being passed around other relatives, finding his grounding in boarding school at Gordonstoun, in Scotland, and later in the Royal Navy.
Jo Coker, a counseling psychologist of the College of Sex and Relationship Therapy, told the Huffington Post: "There's growing evidence that there's possibly some genetic link to intergenerational trauma, but that's at a very early stage.
"I think Prince Harry may have just cottoned onto that term, but it's perhaps not a term we would tend to use."
She added: "Even with every intention to do things differently, people tend to repeat history, because that's the pattern that exists.
"It's a bit like when people who have a poor [romantic] relationship say: 'I'm never going to repeat a relationship like that again', and then they go on to have a relationship exactly like that again. We all tend to repeat patterns that have been set for us."
The timing of Prince Harry's comments is very close to Prince Philip's death on April 9 and hot on the heels of the Oprah Winfrey interview that accused the royals of racism.
Camilla Tominey, associate editor of the Daily Telegraph, told ITV's This Morning: "The suggestion he had to move to the U.S. to effectively save his children, I think is a bit insensitive when you consider the royals are only just coming to terms with their grief over the death of the Duke of Edinburgh."
One aspect of Prince Harry's lengthy public statement mourning the loss of his grandfather that caught the eye of many headline writers was his description of Philip as a "legend of banter."
It is unclear how Prince Charles will have received the remark as it was the "banter" from his father that Dimbleby's book said reduced him to tears.