'Furious': Internet Slams Woman Who Dropped Fake Baby in Prank on Sister
Commenters on a viral internet post were left stunned after one woman recounted the prank she played on her sister and brother-in-law.
In a Reddit post published on r/tifu, which stands for "Today, I F***ed Up," Redditor u/Awesome_possum90 (otherwise referred to as the original poster, or OP) said that her sister gave birth to a baby girl two months ago and explained how the infant became the center of a seemingly-sinister hoax.
Titled, "[Today I f***ed up] and ruined my sister's marriage over a prank," the viral post has received more than 12,000 votes and nearly 3,000 comments in the last 12 hours.
Writing that she had been helping out around her sister and brother-in-law's home, the original poster said her niece was fast asleep when she was asked to check on her. After confirming that the infant was still sleeping, the original poster also said that she "saw a nearby baby doll and got a wicked idea."
"I wrapped it up in blankets and took it back with me, rocking it the whole way," she wrote. "When I got back, my brother-in-law was walking across the room in my direction."
"We locked eyes and I said 'She's awake'...and then I dropped the doll," she added.
Despite expecting her brother-in-law to make a fool of himself attempting to catch the doll, the original poster said what happened next came as a complete shock.
"He instinctively shot out his foot like he was trying to catch a hacky sack and kicked the doll across the living room and into the windows that overlooked the backyard," she wrote. "My sister screamed and rushed to the doll while I laughed hysterically."
"[My sister] cradled the doll, now realizing that it was just a joke, but she still sobbed for a long time," she added. "She was so furious that she wouldn't speak to either of us."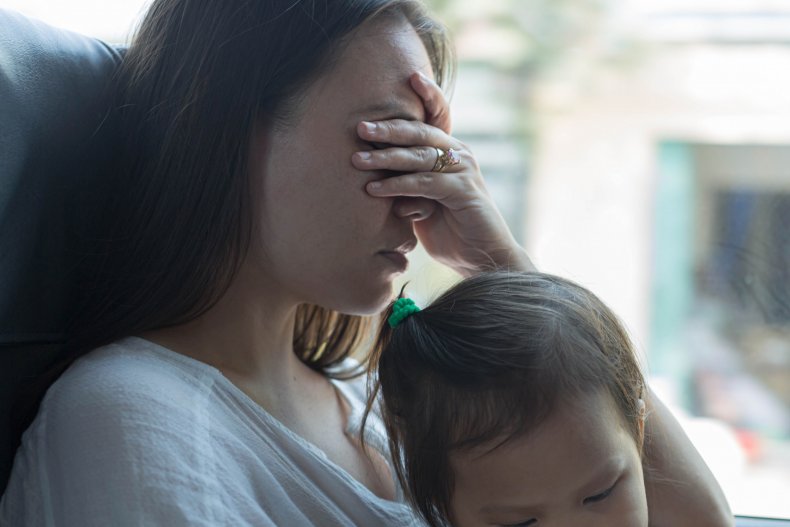 The following day, the original poster said she received a grim message from her sister.
"She did message me...saying that she is going to stay with our mom until she cools down but that I'm still not to go to her house for any reason," OP wrote.
"So yeah, she's still p***ed," she added. "At me for doing the prank in the first place and now she doesn't think my brother-in-law 'has it in him to be a good father.'"
For some, pranks are a beloved pastime. From shows like the Ashton Kutcher-created Punk'd to various YouTube, Instagram and TikTok accounts all dedicated to the art of practical jokes, it is abundantly clear that there is an audience for the world's pranksters.
However, unforeseen attempts at comedy can come with adverse consequences.
In January, Newsweek reported on a teenager who played a prank on his family's housekeeper by sneaking a piece of his mother's jewelry into her purse, staging a faux robbery. After finding the jewelry in the housekeeper's purse, the teen's mother nearly fired the woman before learning that it was her son who was responsible for the "cruel" hoax.
Earlier this month, a separate Reddit thread went viral after one man dumped freezing water on his sister-in-law's back, causing her to drop a birthday cake she worked tirelessly to complete and creating a massive rift between the the thread's author and their prankster brother.
And just last week, internet commenters stood in support of one woman who was forced to smash through a glass door after her boyfriend's father jokingly posed as a masked home invader.
In response to the original poster's viral Reddit thread, Redditors were relentless in their criticism of the prank she pulled on her sister and brother-in-law.
"You f****d up pretty bad," Redditor u/redbucket75 wrote in a comment which has received more than 8,000 votes.
"You REALLY [f****d up]," Redditor u/spontanexplosion added. "Never ever do such a joke about babies."
Redditor u/luis-mercado, whose comment has received nearly 2,000 votes, offered a similar response.
"OP, you are a f*****g idiot," they wrote.
In a separate, lengthier comment, Redditor u/Cluelessish pointed out the potentially-lasting effects of the original poster's prank.
"If this is true, your sister will never forget this," they wrote. "She thought she saw her baby die before her eyes."
"There is no situation where that would be remotely comical to a new mom who almost certainly is barely hanging on to sanity in her sleep-deprived brain fog. Zero," Redditor u/Rattimus wrote.
"You're an a**," they added. "Don't joke about people's kids, don't prank people about their kids."