Future Coronavirus Outbreaks Could Be Predicted Using Sewage Water, Scientists Say
A team of scientists in Israel are the latest to suggest future coronavirus outbreaks could be tracked using sewage water.
In a preliminary study, the team detailed a proof-of-concept method for finding the genetic material of the coronavirus which causes COVID-19, known as SARS-CoV-2, in sewage water. They also showed that levels of SARS-CoV-2 in wastewater reflected the severity of the outbreak in the area it came from.
Since the COVID-19 pandemic started late last year, over 16,000 people have been diagnosed with the disease in Israel, according to Johns Hopkins University. Worldwide, more than 3.7 million cases have been confirmed, 263,843 people have died, and over 1.2 million are known to have survived. The U.S. is the country with the most known cases at over 1.2 million, as the Statista graph below shows.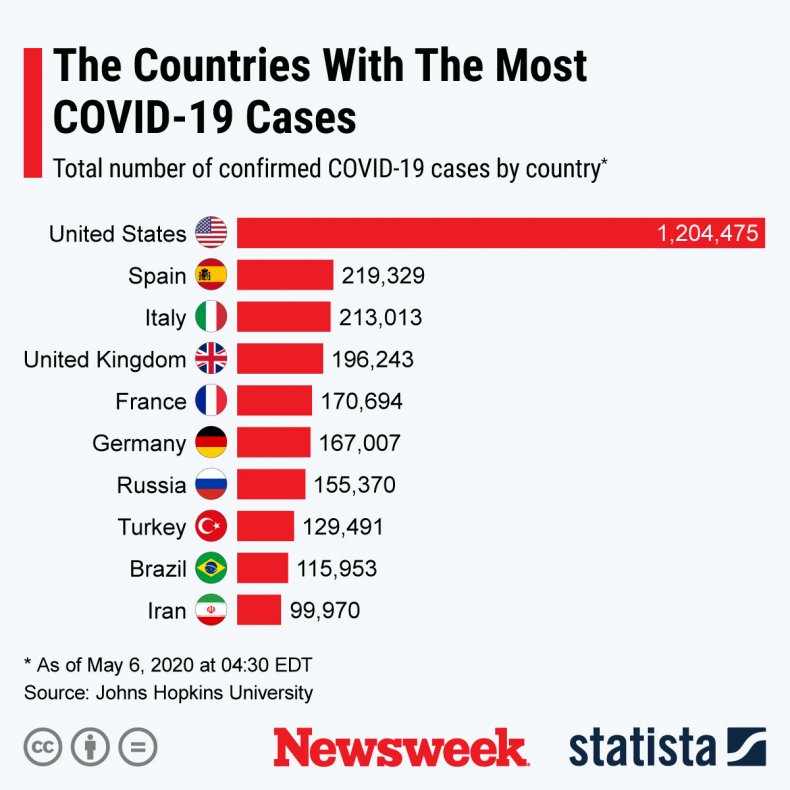 Building on evidence that SARS-CoV-2 can be shed in feces and detected in wastewater, the researchers carried out their study by collecting samples from wastewater treatment plants in four different locations in Israel, as well as raw sewage from different districts in Tel Aviv. They examined the samples to see if they contained SARS-CoV-2. The team also looked at data on the number of COVID-19 cases in each area.
In samples of sewage from the city of Bnei Brak, to the east of Tel Aviv, the team found concentrations of the virus' genetic material correlated with the "general" number of people who had tested positive for COVID-19 there. However, samples from the cities of Beer Sheva and Haifa were negative for SARS-CoV-2, "possibly related to the low proportion of infected people in these cities," the team wrote.
The researchers cautioned their work is "preliminary and ongoing."
The findings were submitted as a pre-print study to the website medRxiv meaning they haven't been through the rigorous peer review process required to publish in scientific journals. Scientists release studies in this way to spark debate on a topic.
Their work follows studies in countries including the U.S., France, the Netherlands and Australia, which similarly lead teams to conclude sewage could be used to track COVID-19 outbreaks.
Co-author Dr. Yakir Berchenko, a lecturer at the Ben-Gurion University of the Negev Department of Industrial Engineering and Management, told Newsweek he had previously worked to find and monitor levels of different contaminants in sewage, such as polio.
"Once you have a quantitative environmental surveillance method you can do unfathomable things with a simple dollop of sewage," he said.
"One, batch test an entire city and estimate how many people are infected there. Two, identify outbreaks quick and simple, perhaps without even any symptoms in the population. Three, if you come up empty-handed, i.e. your sewage sample contains no virus, you can provide a measure for your uncertainty regarding [the question] 'is the population disease free?'"
But Berchenko said the work is still in its calibration stage.
Co-author professor Ariel Kushmaro of the Department of Biotechnology Engineering at Ben-Gurion University, told Newsweek his team and wanted to use their expertise to help the COVID-19 pandemic as the bug spread to Israel. The project started towards the end of March and the beginning of April, and is still running.
Kushmaro said he and his colleagues were surprised that the virus' genetic material, or RNA, could be found for long periods of time in sewage, "and that using the right tools we can correlate the amounts with the numbers of infected people in a region."
The method is useful from an ethical standpoint, he argued, as it allows scientists and officials to follow infection outbreaks even if people won't or can't be tested and could "provide important information for decision makers with regards to lockdown or release measures."
"And since the virus is released in the feces but symptoms are visible only five days after infection, this allows us to know there is an infection even before symptoms become apparent," he said.
But the approach is limited to tracking populations and communities, not individuals, he said.
"In future research we will develop epidemiological models to test emerging viral infections including COVID 19 with the support of our platforms for identifying possible pathogens," Kushmaro said. "This technique will also enable us to follow SARS-COV-2 mutation rates and diversity in the different populations."
Noel McCarthy, professor of communicable disease epidemiology at Warwick Medical School who did not work on the paper, told Newsweek: "This study, by a reputable group with a solid basis in detecting other viruses in wastewater, adds credibility to the growing examples around the world of detection and measurement of the SARS-CoV-2 virus in wastewater."
McCarthy also praised the authors for sharing details of their methods, unlike some others. This is really useful in developing this area of work across the world," he said.
The technology has "huge potential" to be used alongside efforts to find cases and control the spread of the disease as it becomes more refined.
In countries like New Zealand, which is trying to eliminate the coronavirus, it could help officials monitor the outbreak and move past testing several thousand people every day, he said.
"It may detect outbreaks before they are clear from individual patient data when individual patient testing is not very intense. This requires ongoing sampling and rapid testing of samples on a substantial scale," said McCarthy.
If it is shown to work in smaller population, it could also be used, for example, to ensure a COVID-19-free hospital stays as such.
However, McCarthy said the study was limited for a number of reasons.
"The claims for levels of virus in sewage mapping to levels of infection in humans are based on only three data points and so [are] very preliminary. However they echo the results from a larger dataset in France and so suggest that this method can estimate the amount of infection in a population rather than just presence and absence," he said.
McCarthy said: "Several negative samples from relatively large populations show that sensitivity is limited. These populations may have little infection but almost certainly have some infected people. This incomplete and uncertain sensitivity means that the meaning of negative results is uncertain and should not offer false reassurance."
As the virus is shed in feces for long periods, McCarthy argued the technique can't be used to show drops in transmission or quickly reflect if inventions are working.