Gabby Petito Claims Brian Laundrie Cut Her In New Bodycam Video
Dramatic new bodycam footage has shown the moment Gabby Petito told Moab police her partner Brian Laundrie hit her, before revising her statement and saying she attacked him first.
Petito is seen in the clip shot on August 12 detailing a physical fight with Laundrie, who remains the center of a manhunt.
The newly-released footage from a camera attached to a second officer's body has detailed new information.
An officer approaches a white van being driven by Laundrie and is heard in the video asking: "And he hit you though? We just want to know the truth."
Petito replies: "I guess, I guess, yeah", before adding, "but I hit him first."
She then claims Laundrie grabbed her face but states he did not punch or hit her.
Petito said: "He didn't like hit me in the face. He didn't, like, punch me in the face or anything."
The officer then asks: "Did he slap your face, or what?"
She answers while touching her cheek: "Well he like, grabbed me with his nail, and I guess that is why it looks, I definitely have a cut right here. I can feel it, when I touch it, it burns."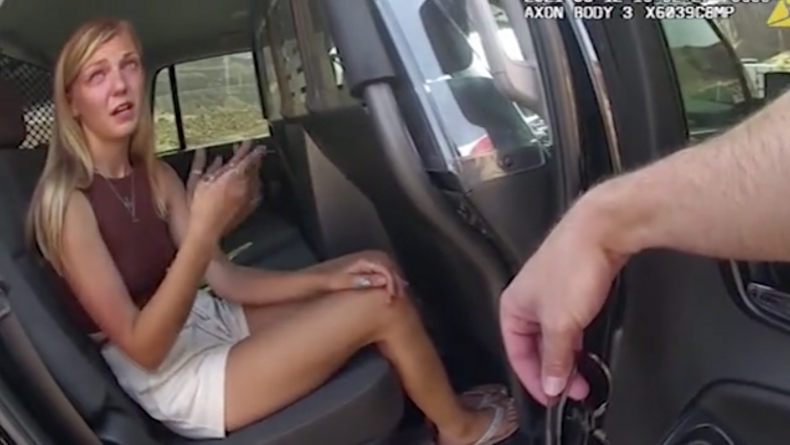 The two Moab police officers were also reportedly accompanied at the scene by two Park Rangers, whose own bodycam videos have not yet been released.
Newsweek has contacted Moab police for comment.
In another section of the 110-second-long clip, Petito says: "He got really frustrated with me, and he locked me out of the car and told me to go take a breather, but I didn't want to take a breather. And I wanted to get going. We're out of water."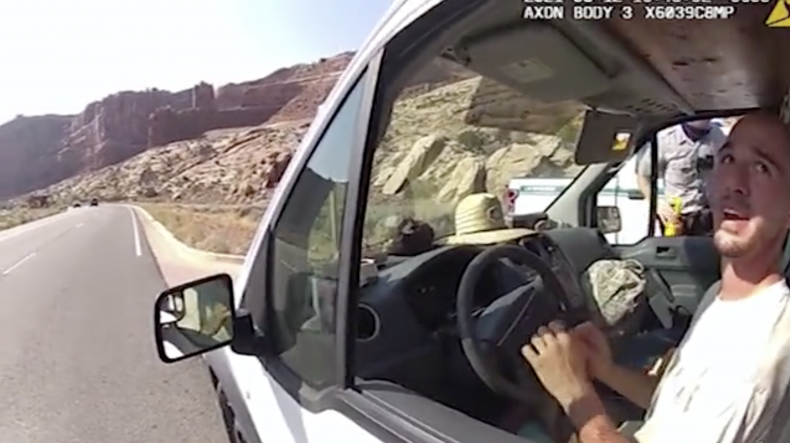 Laundrie, however, informs the police officer he simply pushed her away.
He said: "I don't want to try to defend myself by saying anything here, but I pushed her away.
"She gets really worked up, and when she does she swings and she had her cell phone in her hand. So I was just trying to push her away."
Laundrie is then seen looking through the passenger door window and asks whether officers "are talking to my fiancee."
Petito's body was discovered approximately one month later after Laundrie returned home from their camper van holiday alone.
As the search for Laundrie continues, Donald Trump Jr. has announced his confidence reality TV personality Dog the Bounty Hunter can find the missing 23-year-old.
And a man bearing a remarkable resemblance to Brian Laundrie has taken to social media in an attempt to clear his name.