Gabby Petito's Father Shares Advice to Idaho Victims' Families
The bereaved dad of murdered Gabby Petito has spoken out to offer words of comfort and advice to the families of the slain Idaho students who were killed by an intruder as they slept.
Joe Petito, whose daughter was just 22 when she was killed as she traveled around the country with her boyfriend, Brian Laundrie, is sadly able to understand better than most the grief of the parents whose children were also in their early 20s when their lives were tragically stolen.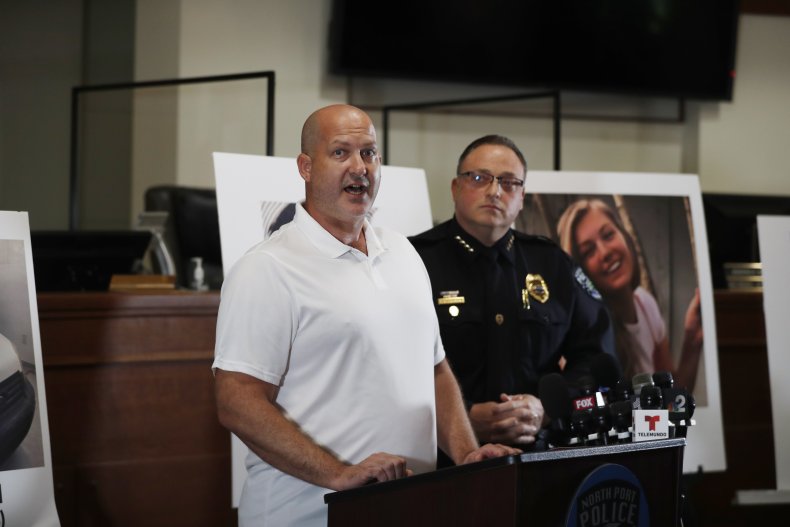 The bereaved dad made the comments on the Banfield show on NewsNation on Monday night. He was appearing on the program to discuss his support for a campaign designed to help protect victims of domestic violence, when he was asked about the murders in Idaho.
Four students— Kaylee Goncalves, 21, Madison Mogen, 21, Xana Kernodle, 20, and Ethan Chapin, 20—were stabbed to death in their beds last November in the college town of Moscow. Suspect Bryan Kohberger, then a 28-year-old Ph.D. student at Washington State University, was later arrested and is now set to stand trial accused of committing the atrocity.
When asked what he would say to the bereaved relatives in that case, Petito sighed heavily and replied that having people to talk to and setting up a "great support network" were key. He explained that he relied on his wife, Tara Petito, his ex-wife Nichole Schmidt (Gabby's mom) and her husband Jim Schmidt. It has previously been revealed that the two couples moved in together with their other children as they mourned their loss together.
Host Brian Entin had begun his line of questioning by saying: "I've covered a lot of tragedies lately, including what happened in Idaho, among a bunch of others unfortunately, and I just always think of you guys and what you went through and how you've kind of come out of it on the other side... I know that doesn't make the pain go away, but [you're] trying to help others with the work you're doing. And I know you talk to these other families. What do you say to these other families that go through these sorts of things?"
Joe Petito told Entin: "I'm fortunate – I have a great support system with Tara, Niki, Jim, friends, and family as well. But we talk all the time, and that is really important. And we try to stress that to people that we talk to, making sure that they're not alone and that they have the support and all the stuff that they need to navigate through these waters." He seemed lost for words for a moment as he sighed and shook his head. "These are, you know, painful, hard ways to navigate... So when you have a group of people [that] gather, holding each other up, that helps a tremendous amount." He then paid tribute to his own support network calling them "top-notch amazing."
Newsweek has reached out to Petito by email for further information and comment.
After discussing the Idaho case briefly, Petito and Entin then went on to discuss Bill 117, which has now made its way through the Utah legislature, and will require police in the state to complete a "lethality assessment form" when dealing with domestic violence cases. A series of questions must be asked about the aggressor in order to determine the risk of death for the victim that officers are dealing with in each situation.
Questions that need to be asked include whether the aggressor has threatened to kill the victim previously, if weapons have ever been used during attacks, as well as finding out crucial information about the attacker, such as whether they control the victims' lives and have ever been suicidal themselves.
When asked whether he thought his daughter may still be alive today if such a bill had existed before her death, he said: "We do feel that way." He added that he hopes one day to see the initiative rolled out across the rest of the U.S.
Police body-worn camera footage revealed that officers had interviewed Gabby Petito during her trip with Laundrie after witnesses claimed they had seen her being beaten by him. But the officers involved opted not to arrest Laundrie and seemed to take Gabby Petito's word for it when she claimed the incident was her fault and she was the one who instigated the violence. Her family is currently suing the Moab Police Department in Utah for the way they handled the interaction.
They are also suing Laundrie's parents, alleging they knew where her body was buried and had failed to disclose that information. Laundrie, 23, was the key suspect in Gabby Petitio's murder, but he went on the run and killed himself before he could face justice in a trial.