Gabby Petito's Family Claims Brian Laundrie's Parents Knew Where Body Was
Gabby Petito's family filed an amended lawsuit claiming that Brian Laundrie's parents knew the location of Petito's body and refused to disclose this information.
The lawsuit against Chris and Roberta Laundrie was initially filed in March, but Judge Hunter W. Carroll noted that the case "perceived procedural deficiency" and so amendments had to be made, WFLA reported on Friday.
The updated lawsuit alleged that Laundrie's parents were on vacation with their son before he died when they knew that he murdered his 22-year-old fiancée.
The Laundrie family was reportedly vacationing with Brian in early September at the Fort DeSoto campground in Florida after he returned home without Petito.
The amended lawsuit also alleged that Laundrie's parents tried to help their son flee the U.S., according to the suit.
"While Gabrielle Petito's family was suffering, the Laundrie family went on vacation to Fort DeSoto Park on September 6-7, 2021. They went on vacation knowing that Laundrie had murdered Gabrielle Petito, it is believed that they knew where her body was located, and further knew that Gabrielle Petito's parents were attempting to locate her," Petito's family claimed in the lawsuit, according to WFLA.
However, the Laundrie family lawyer Steven Bertolino called these claims "baseless."
"The allegations in the amended complaint may now conform to proper pleadings but they do not give rise to liability under the law," Bertonlino wrote to Newsweek. "Thus we are still confident the court will dismiss the action."
The Petito family's complaint, however, lacked evidence to back those claims, but the family lawyer Pat Reilly previously told WFLA "If we didn't believe it was true, we wouldn't have put them in the complaint."
Part of the lawsuit was also revised to mention that the Laundrie family was aware of the Petito family's pain experienced through their daughter's disappearance.
"Christopher Laundrie and [Roberta] Laundrie knew of the mental suffering and anguish of Joseph Petito and Nichole Schmidt in not knowing the well-being or location of their daughter, and further knew that such mental suffering and anguish increased each day that Gabrielle Petito was missing," the updated lawsuit read, according to WFLA.
"Christopher Laundrie and Roberta Laundrie further knew that they could prevent such additional mental suffering and anguish of Joseph Petito and Nichole Schmidt by disclosing what they knew about the well-being and location of the remains of Gabrielle Petito, yet they repeatedly refused to do so. In doing so, Christopher Laundrie and Roberta Laundrie acted with malice or great indifference to the rights of Joseph Petito and Nichole Schmidt," the lawsuit continued.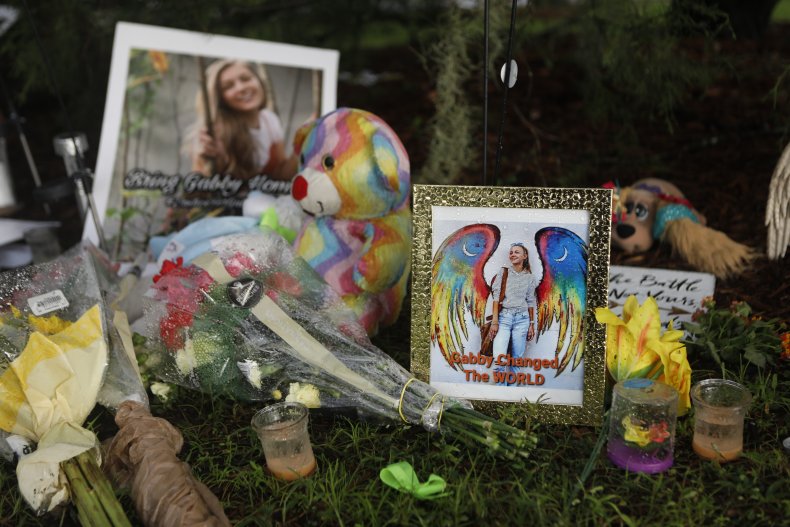 A person of interest in Petito's murder, Laundrie disappeared a few days after his fiancée's remains were found in Wyoming on September 19.
He allegedly went on a hike and never returned which prompted a large-scale search that included his parents who told law enforcement about the areas that he usually visited.
A backpack and a notepad that belonged to Brian were found on the same day his body was discovered near Florida's Carlton Reserve.
Laundrie and his fiancée were together on a cross-country trip that lasted for months before Petito was reported missing on September 11. The police said she died of strangulation and the coroner noted that she died three to four weeks before her body was found.
The suspicion around the Laundrie family started when they continued to remain silent after Petito was found dead, Bertolino previously argued that those were his instructions and that they were acting accordingly.