The search for Gabby Petito continues—as does a separate search for fiancée, Brian Laundrie, thousands of miles away. On Saturday, the Denver FBI announced it has extended the search for Petito to Grand Teton National Park in Wyoming.
Petito, 22, is believed to have gone missing while visiting the park with Laundrie in August. She was first reported missing on September 11.
She was reportedly last seen on August 24 at the Fairfield Inn & Suites in Salt Lake City. The couple had been making their way from Utah's Arches National Park to Grand Teton. It was during this trip that she was last in contact with her family via Facetime on August 25.
The FBI confirmed the extension of the search via Twitter on Saturday. The bureau also urged the public to "maintain distance from any law enforcement personnel, equipment, vehicles, and their related activity" while the investigation is being conducted.
"The #FBI and our partners at the National Park Service, Teton County Sheriff's Office & Jackson Police Department are currently conducting ground surveys in areas of Grand Teton National Park that are relevant to the investigation into Gabrielle Petito's disappearance," the tweet reads.
Grand Teton National Park covers around 310,000 acres in northwest Wyoming.
Meanwhile, the search continues for Laundrie, 23, in North Port, Florida. His family reported him missing in the town on Friday. Since then, dozens of FBI agents, police officers and others have been canvassing the Carlton Reserve, which spans over 24,000 acres in Venice, Florida.
Speaking to Fox News reporters, a man who lives near Carlton Reserve said that its waters are full of alligators.
"There's just so much area here," the man can be heard to say in a video posted to Twitter, in response to a question about the challenges facing law enforcement in its search for Laundrie. Shortly after this, he points out an alligator visible in a nearby body of water.
Police have been bringing search dogs and amphibious swamp buggies to aid in their search of Carlton Reserve.
While Laundrie's condition remains unknown, Petito's family have said they believe he is "hiding" to evade law enforcement and is not missing in the same way that their daughter is believed to be.
"Brian is not missing, he is hiding. Gabby is missing," the family said through the law office representing them.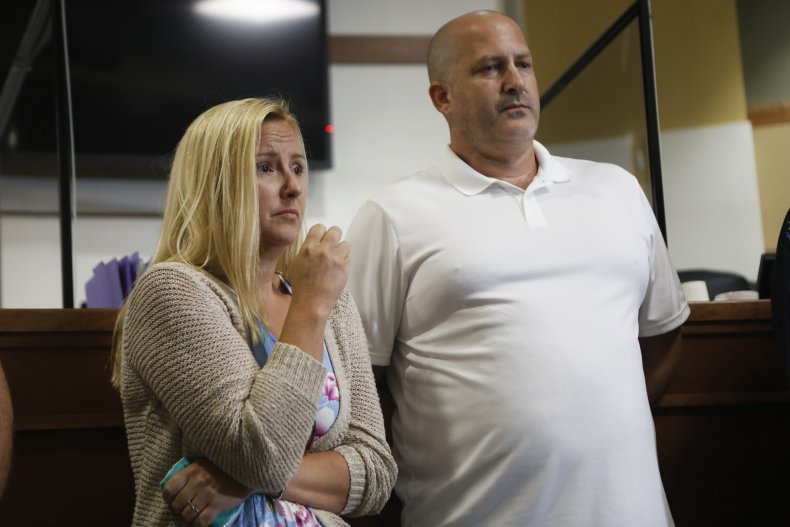 Earlier this week, the Moab City Police Department in Utah released body-cam footage from an interaction with the couple on August 12. Officers had been responding to an altercation between the two, with Petito claiming that Laundrie had locked her out of their van and told her to calm down. The two were advised to "stay away from each other" for the remainder of that night.
Petito had been active prior to her disappearance as a travel YouTuber working in the "van life" genre.