'Game of Thrones' Brienne of Tarth Actor on Fulfilling Her Oath to Catelyn Stark and Epic Fight Scene with Arya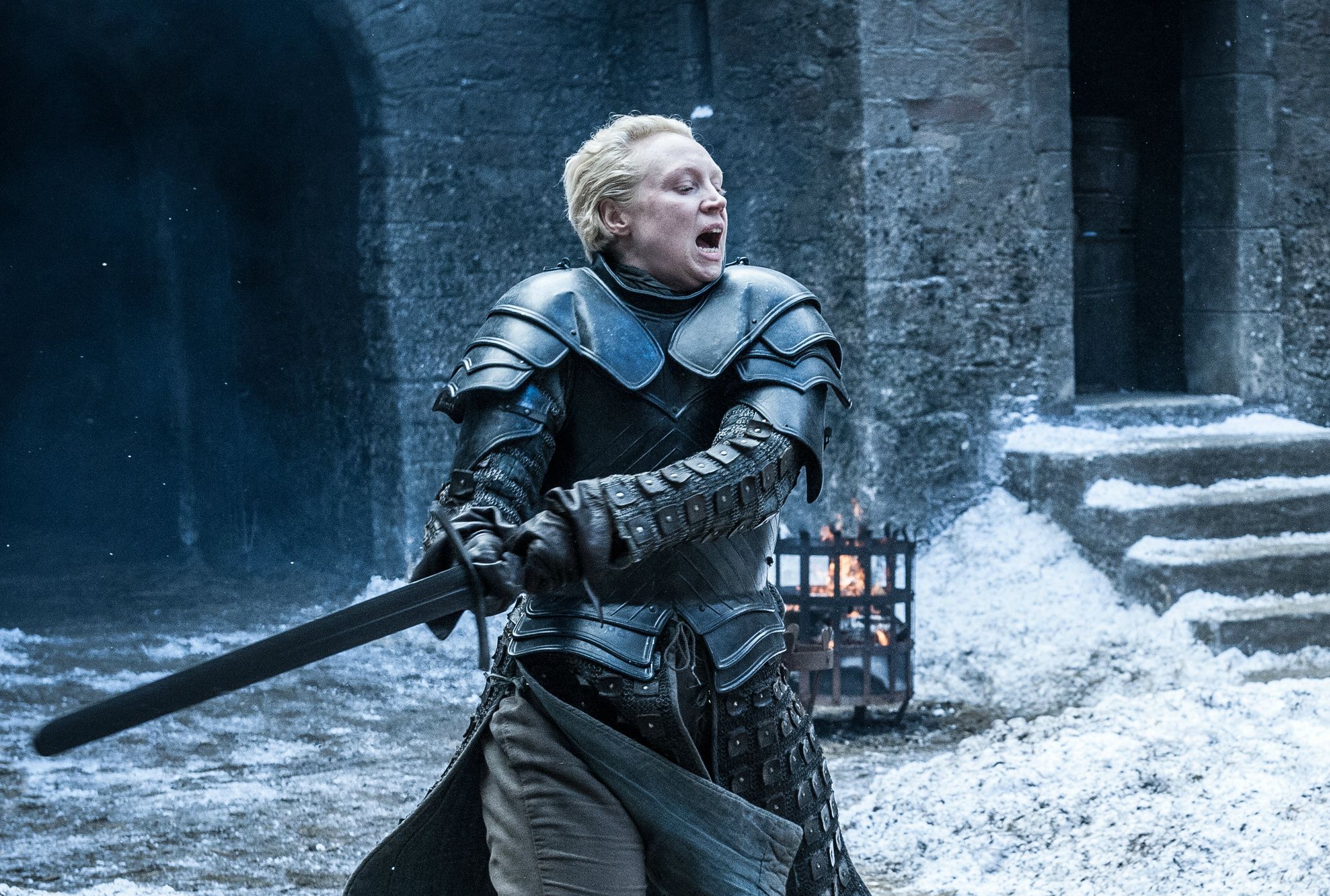 Sunday's Game of Thrones not only featured one of its biggest—and most fiery (thanks, Drogon)—battle scenes in the show's seven-season history, but an equally compelling fight between Arya Stark (Maisie Williams), newly returned to her home of Winterfell, and Brienne of Tarth (Gwendoline Christie), one of the most legendary swordsmen in all the Seven Kingdoms.
In the friendly test of strength and skill, Arya showed Brienne and her onlooking sister, Sansa (Sophie Turner), that she isn't the same little girl who fled Winterfell in Season 1. The young assassin capably held her own against Brienne, strike for strike, proving herself to be just as formidable.
Sunday's episode, "The Spoils of War," marked a new chapter for Arya, now home with her sister and her brother Bran (Isaac Hempstead Wright). For Brienne, too, it was a seminal episode, as it marked the culmination of a seasons-long story arc.
Related: Things You Missed In "The Spoils Of War"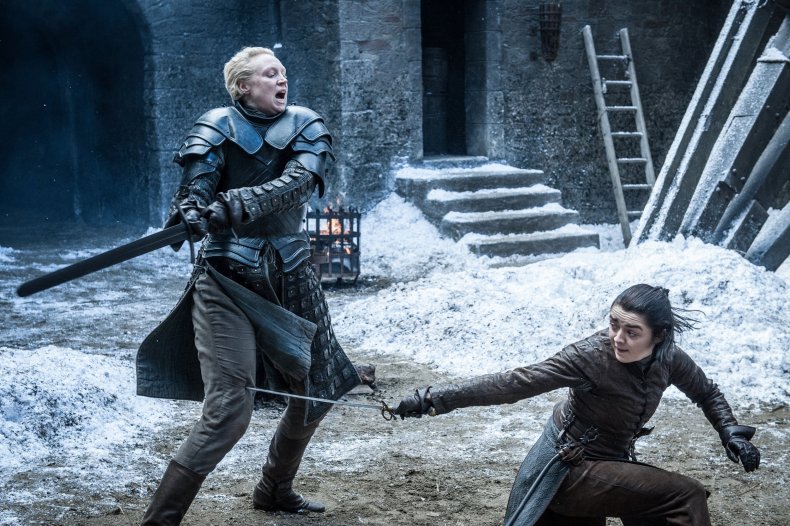 When Brienne was introduced back in Season 2, she pledged her allegiance to Stark matriarch Catelyn Stark—after the death of her liege Renly Baratheon—and made a promise to Catelyn that she would bring the Stark girls home. She maintained her vow to Catelyn even after Catelyn's death in Season 3's infamous Red Wedding. As Brienne's squire Podrick pointed out in Sunday's episode, Brienne's vow has been fulfilled.
Gwendoline Christie recently reflected on this turning point in Brienne's GoT story and what it means to her to fulfil her vow.
"Brienne's mother died when she was young, so she's never had this mother figure in her life," the actor tells Newsweek. "So she meets this incredible woman and develops a deep love and respect for her. She wants to honor Catelyn and the oath that she's made. Brienne is an intensely loyal and consistent person."
As for the fight sequence between Brienne and Arya, Christie says it signals an evolution of her relationship with the youngest Stark daughter. As a result of their fight, the characters develop "a deep respect and pure love." (This is the "deep alliance" Christie teased in her interview with Newsweek in our July 21 issue.)
"It took months of training. We did all of it [ourselves] and filmed it over two days," Christie says. "The pair of them are matched in skill, and it reaches a climax whereby it's a total stalemate. We don't want to kill each other. It's a total display of those two characters' skills. It's quite spectacular—you see the meeting of two warriors."
With Brienne's vow to her mother figure fulfilled, Christie teases that Brienne may take on a similar role going forward with Arya and Sansa.
Related: Gwendoline Christie On Brienne Of Tarth's fate And Her Many Suitors
"Brienne's mission changes," Christie says. "When Catelyn Stark is killed, she promises to return the Stark girls to their home. She carries that more fervently with her than ever when Catelyn is killed. It explores what it is to be a mother, what it is to be a guardian, the integrity of relationships.
"She's spent so many years thinking about Sansa and Arya, and where they might be, and how she can help them, how she can return them home. The deep guilt and pain and regret she feels for somehow not being able to protect both of them from the horrors of the world that they've seen."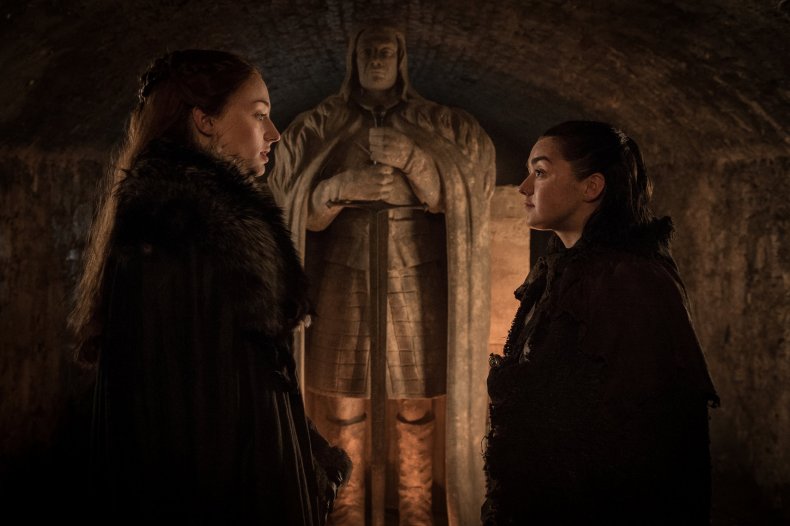 Seeing how Arya has changed so dramatically since she was last in Winterfell, "you also see Brienne start to entertain something she hasn't thought about before, which is, have these two girls turned out the best way, and what can be done to help them?" says Christie.
Brienne has always been a dutiful sworn sword to Renly and then Catelyn, but now she is "carving out" her own identity and questioning what is happening around her. "It results in a change in her—her ability to think for herself and not just guard, not just protect, but to start to have an opinion and formulate [ideas].
"Like we saw last season in the tent with Jaime Lannister, she put forward her strategy, and she asked Jaime to work with her on her strategy and he agrees. So we start to see a developing reflective mind, an intelligent mind."
Game of Thrones airs Sundays at 9 p.m. on HBO.
For more Game of Thrones coverage on Newsweek, click here.