'Game of Thrones' Season 7, Episode 4: Things You Missed in 'The Spoils of War'—'Chaos is a Ladder,' Explained
"Dracarys." One way to even the odds when you're losing the war for Westeros? Bring in a badass dragon to immolate Queen Cersei's troops with just one breath.
Sunday's Game of Thrones, "The Spoils of War," finally drew Cersei (Lena Headey) and Daenerys Targaryen (Emilia Clarke) closer to an eventual showdown when Dany flew to the Reach on dragon back and ambushed the queen's brother/lover Jaime Lannister (Nikolaj Coster-Waldau) and the Lannister army. This is after Cersei gained an advantage over Dany in the previous two episodes. "Enough with the clever plans," said Dany this episode, dispensing with the war room plan she had devised with Tyrion Lannister (Peter Dinklage) and thrusting herself straight onto the battlefield.
Also in Sunday's episode: Arya Stark (Maisie Williams) returned home to Winterfell and reunited with sister Sansa (Sophie Turner) and brother Bran (Isaac Hempstead Wright), who gets creepier by the episode. Arya also showed Sansa and Brienne of Tarth (Gwendoline Christie) what she's been up to since she was last in Winterfell in Season 1. In a bout of sparring with Brienne, Arya more than held her own against the most famous female warrior in the Seven Kingdoms. Cersei paid back the Iron Bank of Braavos in one installment—thanks to the bank of Lady Olenna, whom she had killed last episode. And Dany and Jon Snow (Kit Harington) enjoyed an art exhibition in the caves of Dragonstone, where the Children of the Forest once made drawings about the threat of the White Walkers.
Major plot points aside, here are the things you might have missed:
That looks familiar
The symbolism etched into the cave walls at Dragonstone castle will probably seem familiar if you're a diehard GoT fan. That's because we've seen some of these patterns before, dating back to the very first episode of the show.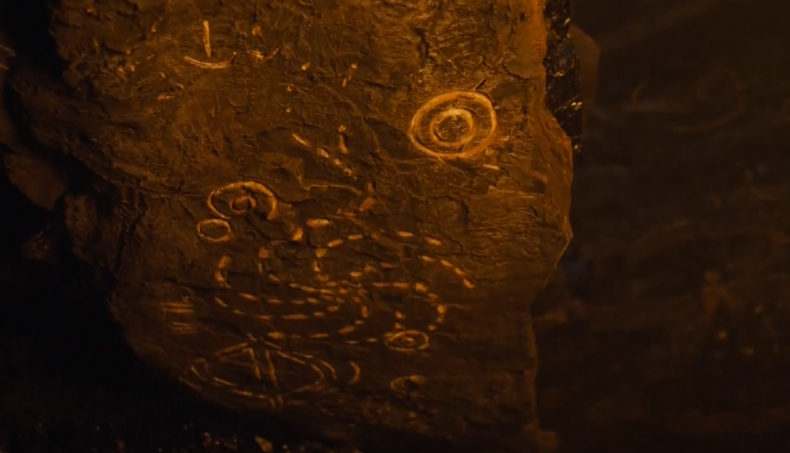 In that episode in 2011, one of the first things we saw was an array of body parts placed in a circle with a line running through it. This was done by the White Walkers.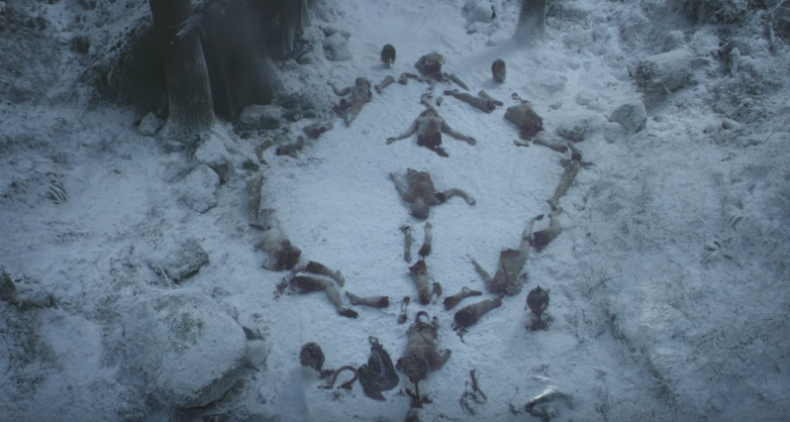 And in Season 3, an array of horse parts were arranged into a spiral shape.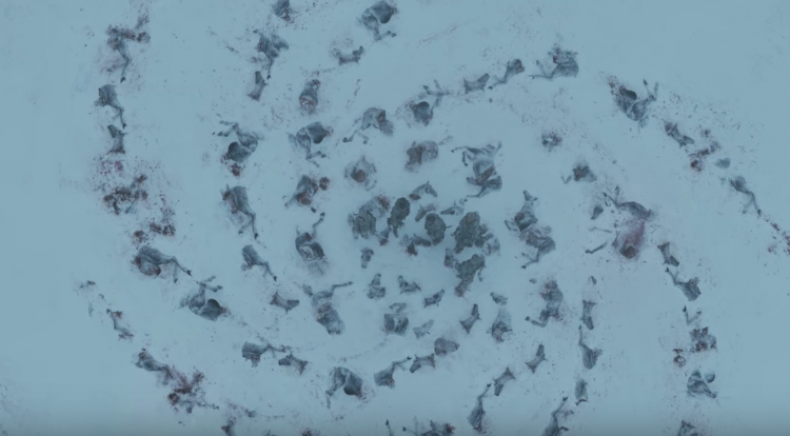 The drawings on the walls of the cave, Jon told Dany, were created a very long time ago by the Children of the Forest. The symbols clearly have some sort of significance in their culture—and the White Walkers appear to have appropriated it for their own means.
In a behind-the-scenes video for "The Spoils of War," showrunner David Benioff explained, "These are patterns that have mystical significance for the Children of the Forest. We're not sure what they signify. But spiral patterns are important in a lot of different cultures in our world, so it makes sense they would be important in this world as well."
Littlefinger, Bran's onto you
Bran Stark has been super weird this season since his transformation into the Three-Eyed Raven. But the all-seeing, all-knowing, last-surviving Stark son beat Petyr Baelish, aka Littlefinger (Aidan Gillen), at his own political game in "The Spoils of War."
Littlefinger tried to win over Bran, like he had previously done with Sansa, by giving him the very Valyrian steel dagger that was used in an attempt on his life back in Season 1. But Bran basically let Littlefinger know he knows what a dastardly schemer he is, by echoing a private conversation Littlefinger had with Varys (Conleth Hill) in Season 3.
"Chaos is a ladder," Bran said, in what is becoming his signature creepy, monotone voice. Littlefinger's face quickly changed from his usual smarmy smirk to a look of disbelief and shock.
"Chaos is a ladder" is a speech Littlefinger gave Varys in Season 3 episode "The Climb," explaining how he opportunistically used the chaotic fight for the Iron Throne—with all its different claimants past and present—to improve his own reputation, status and wealth.
He said:
Chaos isn't a pit. Chaos is a ladder. Many who try to climb it fail, and never get to try again. The fall breaks them. And some are given a chance to climb, but refuse. They cling to the realm, or love, or the gods…illusions. Only the ladder is real. The climb is all there is. But they'll never know this. Not until it's too late.
Quoting his famous line back to him is Bran's way of indicating that he knows that Littlefinger isn't to be trusted. While Littlefinger has pledged to Sansa and House Stark at the moment, his allegiances switch all too easily. Watch your back, Baelish.
Another celebrity cameo
Have we all forgiven (and forgotten) Ed Sheeran's odd cameo in the first episode of Season 7 yet?
In Sunday's GoT, New York Mets pitcher Noah Syndergaard made an appearance during the epic battle scene between Dany's Dothraki army and the Lannister troops.
Syndergaard played a Lannister soldier with pretty fantastic aim, as he took out one of the Dothraki with a spear:
Syndergaard tweeted about the appearance:
The baseball player filmed his cameo in Spain last November. In April, he confirmed to Sports Illustrated he'd be playing a "Lannister general."
The six-foot sportsman even took his parents to the set with him because his mom got him into GoT. Now that's a pretty great way to repay her.
Related: A guide to Season 7's celebrity cameos
Who saved Jaime?
The Bronn (Jerome Flynn) and Jaime bromance is one for the ages, folks. Though it wasn't entirely obvious from the closing moments of the episode who saved Jaime from near-certain roasting by Drogon, freezing in on the moment, it's clear it was Bronn who leapt off his horse and pushed Jaime into the water.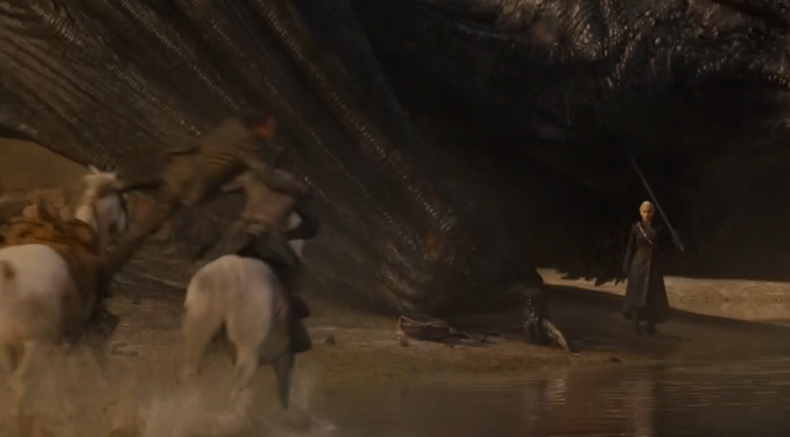 Moments earlier, we saw Bronn eyeing a dismounted white horse after Drogon set alight the scorpion, dragon-injuring weapon, and in this frame, it appears to be the same white horse we saw earlier.
Jaime is going to owe Bronn two castles at this rate.
Game of Thrones airs Sundays at 9 p.m. on HBO.
For more Game of Thrones coverage on Newsweek, click here.