'Game of Thrones' Finally Gives Fans Some Satisfaction: Inside the Big Reunion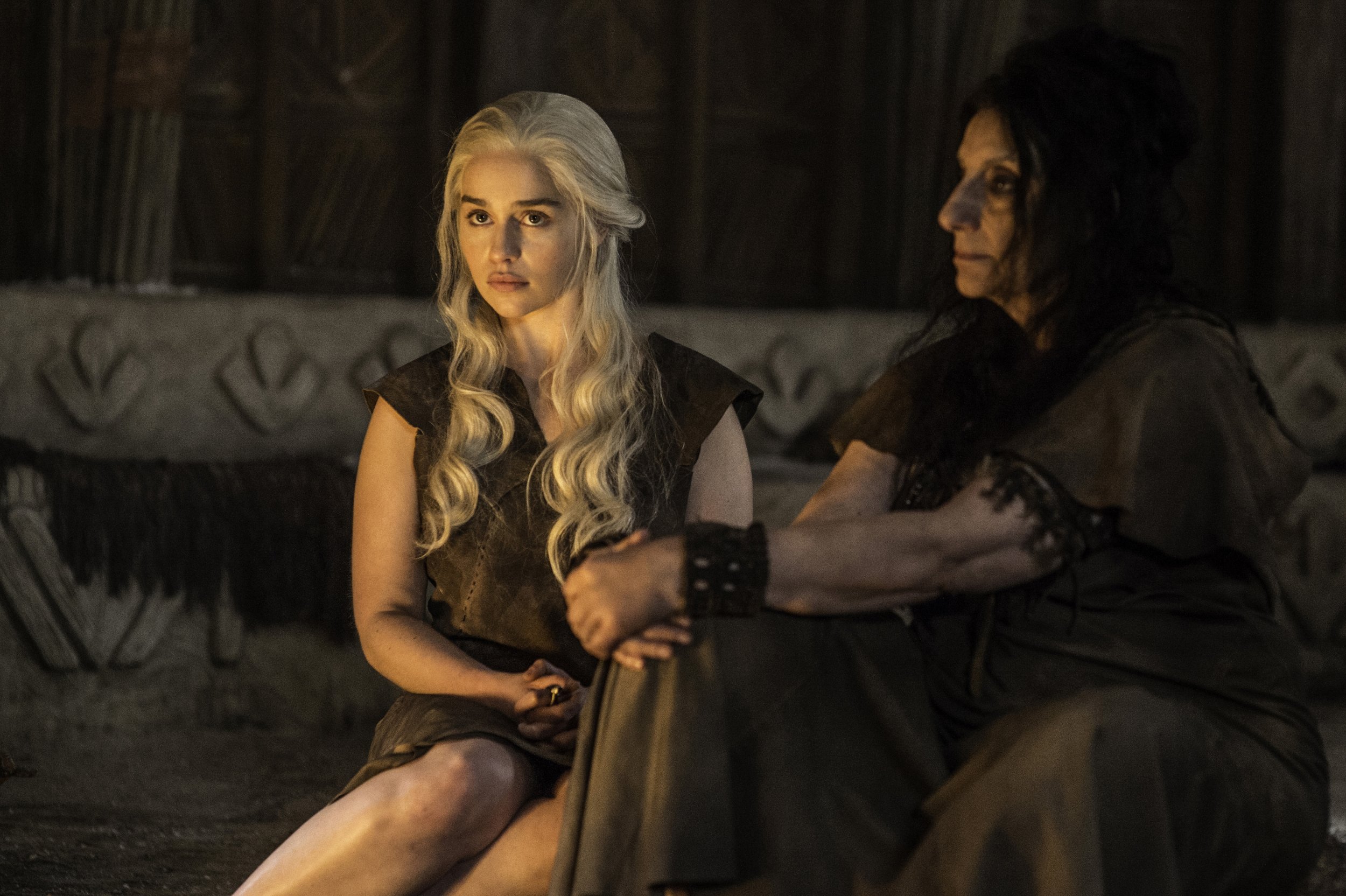 Wait, is this actually Game of Thrones? Sunday's fourth episode of season six, "Book of the Stranger," was—gasp—muted in tragedy (unless your name is Osha) for once. Instead, there were multiple payoffs for fans as finally viewers got to see a Stark family reunion and Daenerys Targaryen emerged as the fearless heroine we all knew she could be.
But first: the Stark family is back together. Two of them, anyway. (RIP Ned, Catelyn, Robb, Talisa and unborn baby Stark.) After spending the better part of six seasons away from his family, the newly revived Jon Snow got a welcome visitor at Castle Black when his half-sister Sansa Stark turned up. Finally, Brienne of Tarth—who vowed to protect Sansa in the season premiere—managed to make good on one of her promises. Sansa and Jon's reunion was, as you can imagine, tearful—and not just for them, but the audience, too.
Not since the third season, when Arya Stark was so close and yet so far from mother Catelyn and brother Robb Stark as they were slaughtered at the Red Wedding, have viewers been this close to a reunion for Winterfell's first family. And in Sunday's episode it happened. At last. No trickery. No sudden deaths. Just plain old gratification. And as viewers of Game of Thrones will know, gratification for fan favorites is hard to come by.
Within the show, Jon and Sansa have a strong family connection but this scene is, it turns out, only the second time in six years that actors Kit Harington and Sophie Turner have shared the screen together. The family being torn apart and going their separate ways in the first season meant she, Harington and even Arya Stark actor Maisie Williams have had filmed very little together.
"I'm most excited for the fact I get to see Kit and get to act with him," Turner told Entertainment Weekly of the show's family reunion. "Kit is one of my best mates and we had just one scene together in the pilot, where we're waiting on the king. It's like working with an older brother. I've watched his work over the past four years and I think he's amazing. He's so focused and dedicated."
Now let us pray that they can help Arya—sorry, we mean No One, reclaim her identity in Braavos.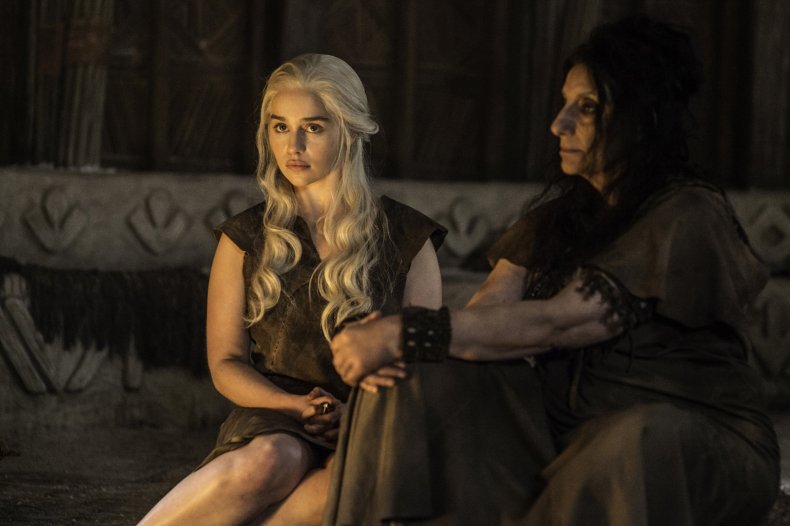 Of course, Game of Thrones wouldn't be the show that it is if there wasn't a spanner thrown into the works. Sansa and Jon's happy reunion turned sour as the siblings clashed over their next move. Sansa, now more steely following her forced marriage to, and abuse at the hands of, Ramsay Bolton, wants Jon to command his Night's Watch and wildling army to help the Starks reclaim Winterfell. Meanwhile, Jon, with his second lease on life, just wants to retire to a beach somewhere.
That is until he receives a letter from his dearest brother-in-law, Ramsay Bolton. He knows that Sansa has sought shelter at Castle Black following her escape from Winterfell and he wants her back. He even taunts Jon and Sansa that their youngest brother, Rickon, "is in my dungeon." (Welp. Poor Rickon.) As scornful letters go, Ramsay may be Westeros' answer to Shakespeare.
The scene is one that fans have long been waiting for. In George R.R. Martin's saga, the letter Jon receives is referred to by fans as the "Pink Letter" or " Bastard Letter." The Lord Commander receives it before he is murdered by the Night's Watch mutineers—an event that has come and gone in the show.
While the previous three episodes in season six have very much been about the present, and coming to terms with Jon Snow's return, episode four is the first in the season that really drives the plot forward and prepares viewers for the season's finale. The season appears to be heading towards a war between Ramsay and Jon dubbed the "Battle of the Bastards." Reports from the Game of Thrones set suggest it will take place in the ninth episode and thousands of cast members were used. You'll recall that producers David Benioff and D.B. Weiss have teased season six will feature the show's biggest battle scene yet. The jigsaw pieces are starting to fit together.
Girl on fire
Twitter exploded with comparisons between Daenerys Targaryen and Carrie White on Sunday night, and with good reason. "Book of the Stranger" was Daenerys' "Carrie at the prom" moment as she broke free of the shackles of her Dothraki captors and yet again defied anyone that dare put her in a box. Over the last six seasons we've seen the Khaleesi overcome her male oppressors time and time again—a testament to the show's writing of strong-willed female characters. She did it in season one when her brother Viserys tried to use her as a political pawn, she did it in season two when she was chained in the House of the Undying, and again in season five when confronted by motley crowds in the fighting pit.
The Targaryens have long been hinted at having special powers that make them so kindred with their dragons. Daenerys, of course, emerged from the flames unscathed when she birthed her dragons at the end of season one. But her abilities have remained dormant since—until now. Daenerys burned down the Vaes Dothrak convent for widows, where she had been captive, and was completely unharmed. Where previously fans have criticized her relying so heavily on her dragons to help her out of a jam, here the Khaleesi showed she is a heroine in her own right. And that will come in handy as the show continues. For a character so often underestimated, Daenerys always has an ace in the hole—and that could help her win the Iron Throne when all is said and done.
Of course, the other big talking point in this scene is naked Emilia Clarke. And the actor wants you to know that it is all her: "That ain't no body double," she tells Entertainment Weekly. "This is all me, all proud, all strong. I'm just feeling genuinely happy I said 'yes.'"
For Clarke, appearing in a nude scene, and taking pride in it, is one way to put paid to speculation of her alleged reticience to bare all on-screen. Former Game of Thrones actor Oona Chaplin sparked debate in 2013 when she said one of her female co-stars refused to appear naked—and many fans assumed it was Clarke. The actor also denied on Instagram a tabloid report that she refused to do sex scenes in 2015.
Taking a cue from Daenerys' fireproof attitude, Clarke said: "How many times has [Daario Naharis actor] Michiel Huisman been asked about the fact he's taken his clothes off a bunch? Is that even a discussion? No. So I'm doing it this year and people can talk about it and I'm ready to answer any questions about it, basically."
Now that's a mic drop moment.
With so much to cheer about in one episode, we're almost uneasy thinking about how Game of Thrones will bring us crashing down to earth next week.