'Game of Thrones': Is This Proof the Hound Is Alive?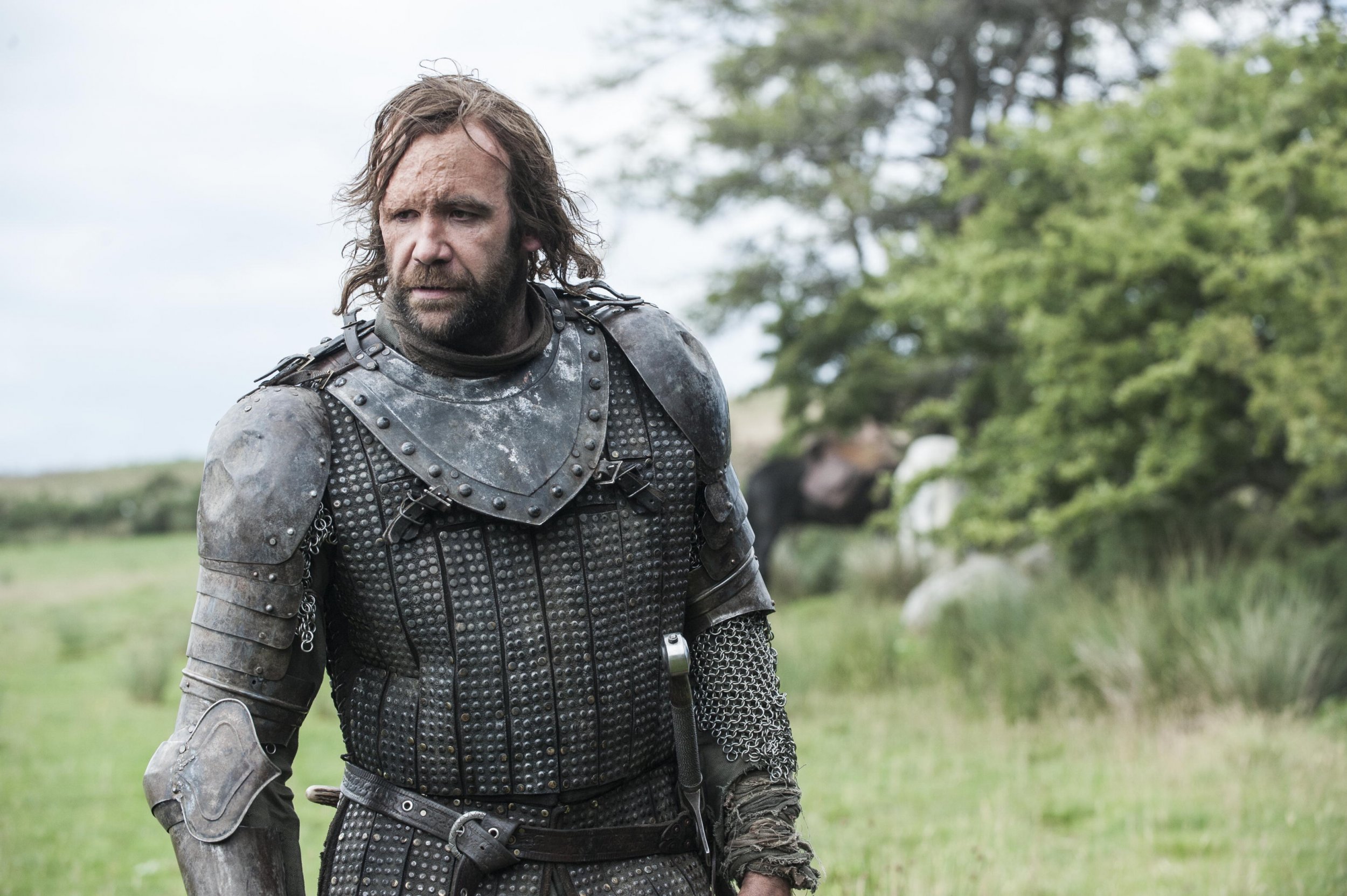 Updated | Game of Thrones fans have spent the last year pondering the fate of one character, Jon Snow, but as the premiere of Season 6 on April 24 draws closer there is ever-growing proof that we haven't yet seen the last of another beloved character: Sandor Clegane—or, as he's better known, the Hound.
The last viewers saw of Rory McCann's alter-ego was nearly two years ago in the finale of Season 4 when he was left for dead by Arya Stark. To recap, our foul-mouthed antihero had previously kidnapped the young Stark in a bid to hold her ransom but ended up forming an unlikely friendship with her instead. By the end of the show's fourth season in 2014, the loyal soldier Brienne of Tarth discovered the pair and tried to make good on her promise to the girl's late mother, Catelyn Stark, that she would find and protect Arya and her sister, Sansa. A bloody sword fight ensued and the Hound was left to bleed out. He died. Never to be seen again. Or so we were led to believe.
While the life, death and possible resurrection of Jon Snow has been at the forefront of GOT fans' minds, let's take a look at the evidence that suggests he might not be the only one returning from beyond the grave:
The Hound "Died" Off-Screen
A pretty tell-tale sign that the Hound isn't as dead is the fact he didn't immediately succumb to his injuries at the hands of Brienne onscreen. Nor did Arya stick around long enough to see him die at the end of Season 4.
If it didn't happen onscreen, did it happen at all? On the other side of the coin, let's be honest, this is Game of Thrones—would it really matter if it did happen onscreen?
Ian McShane Basically Confirmed It
You know who won't be invited to the Season 6 premiere party? Ian McShane. The Deadwood actor will appear in a small role in the upcoming season. That would usually be all the information we receive about a guest star—but not McShane.
In November 2015, he told Pop Goes the News some crucial information about his role on the show: he's playing someone that brings back a character previously thought dead. Then earlier this month, speaking on BBC Breakfast, he went on to reveal his character is an "ex-warrior who becomes a peacenik."
A quick look at a casting breakdown for Season 6 and fans have speculated McShane's character is the one described as "a man in his 40s or 50s. A gruff ex-soldier who found religion. Now a no-nonsense rural priest who ministers to the poor of the countryside. He's a salt-of-the-earth man who has weathered many battles." For fans of George R. R. Martin's A Song of Ice and Fire novels, that is a close enough description to a character called the Elder Brother, first introduced in the fourth book, A Feast for Crows. The Elder Brother is the leader of a religiously devout community on the Quiet Isle and among his congregation is a rather interesting chap.
In the novel, the Elder Brother meets Brienne, who has given up her efforts to help Arya and is now searching for Sansa, on the Quiet Isle. He informs her the Hound is dead and that he buried the body himself. Oh really? Readers have inferred that another character described in the background of the scene—a gravedigger with a Herculean build, covering his scarred face with a scarf—sounds pretty familiar indeed.
If McShane is indeed playing the Elder Brother, and it certainly sounds like he is, and his spoiler about bringing a dead character back to life holds weight, then it's likely we'll be seeing our favorite Clegane brother again.
Rory McCann Seen on Set?
Convinced yet? If you need further proof—Hound actor Rory McCann was reportedly seen on the set of Season 6 in Belfast, Northern Ireland, in August 2015 and stayed at a local hotel HBO uses to house cast and crew.
Since leaving Game of Thrones in 2014, McCann has only added two new credits to his IMDB page: a role in Michael Fassbender movie Slow West, released in 2015, and a four-episode stint in a BBC drama called Banished that aired in March 2015.
That would certainly leave the actor's schedule open for the summer of 2015 when GOT went back into production.
The Mountain Lives
If there's one thing Game of Thrones has taught us it's that the Cleganes are a wily bunch.
The Hound's brother, Gregor Clegane, aka the Mountain, managed to defy death in Season 5, so who's to say the resurrection gene doesn't run in the family?
Although he emerged victorious in his battle with Oberyn Martell in Season 4, the Mountain didn't come out of the fight unharmed. He spent the conclusion of the fourth season, and the majority of Season 5, in nefarious maester Qyburn's makeshift laboratory teetering on the edge of death.
Qyburn's experimenting on the near-dead giant seemingly brought him back to life as by the end of Season 5, he was back on his feet protecting Cersei Lannister—albeit looking freakishly red-eyed and his skin a shade of blue.
While the Hound may not have had Qyburn performing all manner of voodoo on him, it makes sense he would be as strong and resilient as his big brother. Particularly if he were found and nursed back to health by the Elder Brother—assuming that is who McShane is playing—and his monastery, then surely he has a fighting chance?
Now that McShane has felt the full force of GOT's fans wrath, we'll just have to wait patiently for another 40 days to find out.
Game of Thrones Season 6 premieres on April 24 on HBO in the U.S. and April 25 on Sky Atlantic in the U.K.
Correction: An earlier version of this story incorrectly stated that the Hound's real name is Gregor Cregane. The Hound is, in fact, Gregor's brother, Sandor.