'Game of Thrones' Season 6 Premiere: Our Burning Questions About Jon Snow, Melisandre and More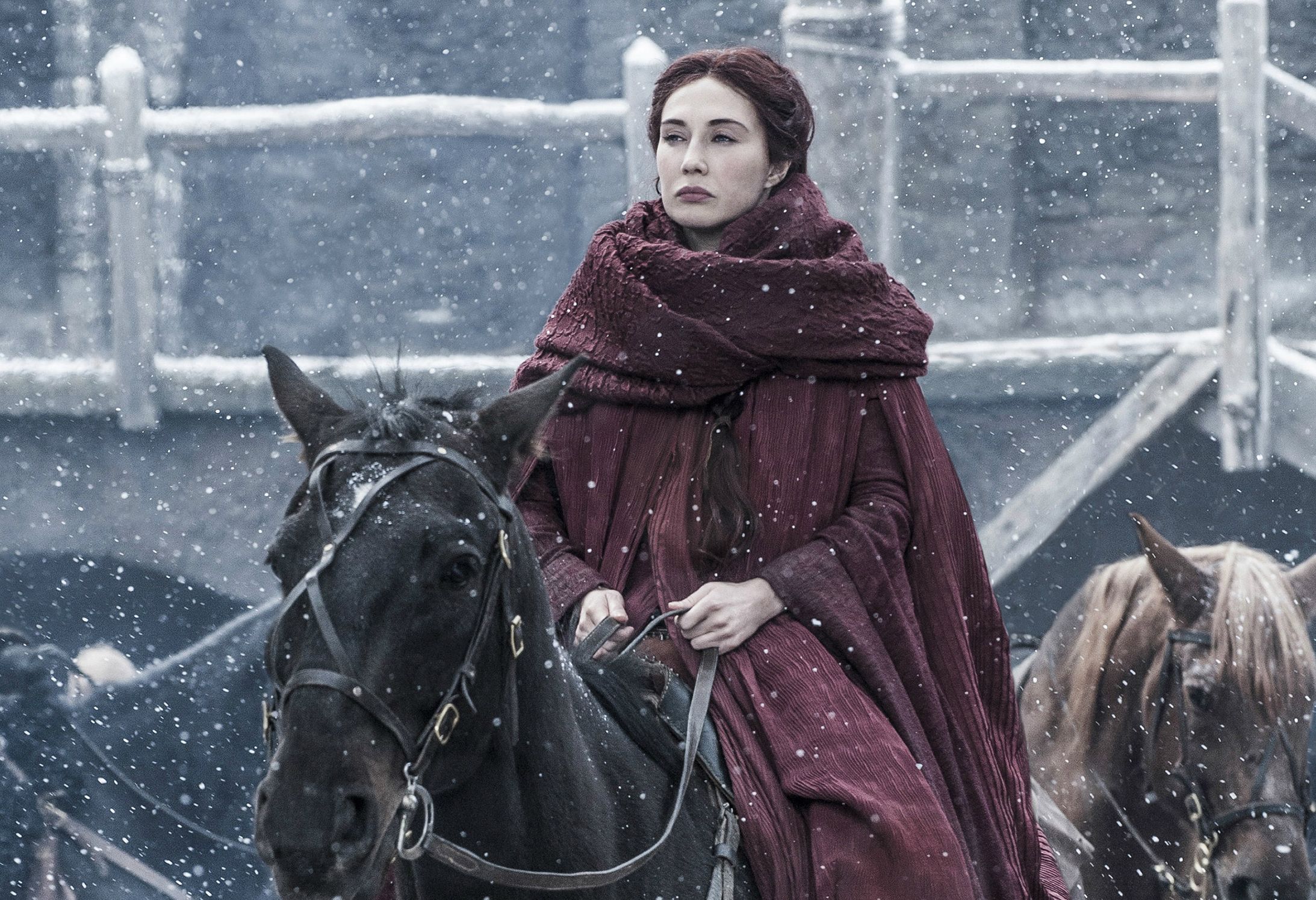 Westeros watchers, the wait is over: Game of Thrones returned to our screens on Sunday night and finally allayed our year-long agony over Jon Snow's fate.
Of course, it's not quite as simple as a miraculous resurrection and if the season six premiere is anything to go by, it'll be a few weeks yet before we get some payoff to this story arc.
Away from Snow's final resting place at Castle Black, there was also plenty to talk about as Sansa Stark and Theon Greyjoy finally evaded the villainous Ramsay Bolton; a blind Arya Stark tried her best to channel Daredevil; and Cersei Lannister learned about her daughter Myrcella's murder.
Here are the questions we're asking after Sunday's season premiere.
Is Melisandre just an opportunist?
Sure, the season premiere was titled The Red Woman, but little was seen of the red priestess for much of the episode—until the very end when Melisandre revealed her true age. After removing a necklace from around her neck, the mystical character was shown to be much, much older.
Of course, this leads one to wonder just how much of Melisandre's powers are drawn from her jewelry? Over the last few seasons we've seen her boast of her magical prowess—but without her amulet, is she just a mere mortal?
Actor Carice van Houten told Entertainment Weekly: "I was really happy when I read that we were going to reveal that this year. I don't think a lot of people will see that coming. It makes her immediately more vulnerable, but also more wise and even more mysterious. There's also a vulnerability in her age."
Fans hoping she might save Jon Snow from death may be in for a huge letdown.
Will Brienne and Sansa find Arya next?
Finally. Brienne of Tarth has managed to fulfil at least part of her mission that she first set out on two seasons ago—find and protect Sansa and Arya Stark. After turning down her service last season, Sansa, now on the run from husband dearest Ramsay Bolton, at last accepted Brienne's help.
With an actual warrior princess now protecting her, will they team up to find the other missing Stark? Arya could probably use the help, you know, on account of being blind now and everything.
Who rules Dorne now?
The season six premiere upped the Game of Thrones death toll by three in just a single episode. Dead Prince Oberyn's lover Ellaria Sand and daughter Tyene killed Dornish leader Prince Doran, his son Trystane and loyal guard Hotah. Is this a revolution to take the throne?
With Doran about to discover that she had Cersei Lannister's daughter Myrcella killed, Ellaria struck first.
Ellaria is nothing if not power hungry and with her deadly Sand Snake assassins behind her, the Dornish throne is hers for the taking. That, of course, sets her up as a power player going forward. Cersei, watch out.
Speaking of Cersei, has she lost her edge?
Learning about her daughter's death, you might expect Cersei to scream, shout and holler in grief. It was just two seasons ago she lost her son, the evil Joffrey. Now she's down to one child.
Instead, the queen regent, usually so vicious and vengeful, showed a vulnerable moment of contemplation. "I don't know where she came from," she said of Myrcella. "She was nothing like me. No meanness, no jealousy—just good. I thought if I could make something so good, so pure, maybe I'm not a monster."
Maybe that walk of shame in season five has softened the evil queen?
Jon Snow is going to be resurrected at some point, right?
Thrones fans hoping for answers to "Is Jon Snow really dead?" will be bitterly disappointed by the premiere. Yes, he is really, really dead. Guarded by Ser Davos Seaworth, as we've previously seen in the trailer, Snow's death has divided the Night's Watch between those pro-Snow and those who disagreed with his leadership as Lord Commander.
Ser Alliser Thorne, the Night's Watch's deviously cunning second-in-command, doesn't feel any remorse in ordering Snow's death. In fact, he feels perfectly justified, reasoning that Snow was threatening the Watch from within by embracing the Wildlings. You can almost— almost —see where he's coming from.
Ultimately, though, it looks like Game of Thrones will be playing the long game with Jon Snow. That means a lot more of Kit Harington laying perfectly still on an uncomfortable stone table.
Did Melisandre foreshadow a huge spoiler?
Perhaps the biggest and most important scene in the entire season premiere? A fleeting moment in which Melisandre, seeing Jon Snow dead, says: "I saw him in the flames fighting at Winterfell." She's positively confused by his death. He wasn't supposed to die yet.
Online theorists have suggested there will be a huge battle later in the season for battle of Winterfell between a resurrected Jon Snow and Ramsay Bolton, whose army has usurped the Stark territory. It has been dubbed the "Battle of the Bastards"—a reference to both Snow and Bolton being illegitimate children—and could be the finale of season six.
And back in March, some eagle-eyed fans thought they saw Snow in a battle scene in the first trailer.
On the other hand, Melisandre has seen many things in the flames that haven't come true. Sorry, Stannis.