'Game of Thrones' Season 7, Episode 2: Watch Teaser Trailer for 'Stormborn'—Arya and Nymeria Reunited?
Game of Thrones Season 7—or, as I like to call it, "How to take Westeros in six easy steps"—is wasting no time getting to the heart of the action, as seen in the teaser trailer for Episode Two, titled "Stormborn."
At the end of Sunday's season premiere "Dragonstone," Daenerys Targaryen (Emilia Clarke) landed in Westeros and took over her old family stronghold, Dragonstone. In the war room of the castle, she and Tyrion Lannister (Peter Dinklage) eyed the stone map of Westeros and Dany asks: "Shall we begin?"
In the teaser for Episode 2, strategizing is well underway at Dragonstone. "We could take King's Landing now," says Yara Greyjoy (Gemma Whelan). True, Dany has the most formidable army of our three suitors for the Iron Throne: Not only does she have her Unsullied army, but her Dothraki army, the Greyjoys and their fleet and support from the Martell-Sand clan and the Tyrells. Oh, and she also has three fire-breathing dragons ready to strike at her will.
News of the Mother of Dragons's return to Westeros—which she fled as a baby during Robert's Rebellion—has spread through the Seven Kingdoms, too, it seems. In Winterfell, Jon Snow (Kit Harington) is being advised that "a Targaryen cannot be trusted." This suggests that Jon is considering a pact with Dany, perhaps to get his hands on the dragonglass that we discovered in "Dragonstone" exists underground at the Targaryen homeland.
Related: 'Game of Thrones:' Things You Missed in 'Dragonstone'
Meanwhile in King's Landing, somewhat ironically, Cersei (Lena Headey) warns her advisers that "the Mad King's daughter will destroy the realm." Those are bold words from someone who blew up the Great Sept of Baelor and everyone in it last season.
"Stormborn" looks like it'll be a Dany-centric episode as the Khaleesi prepares to strike. But there's also a few other tidbits of note in the teaser: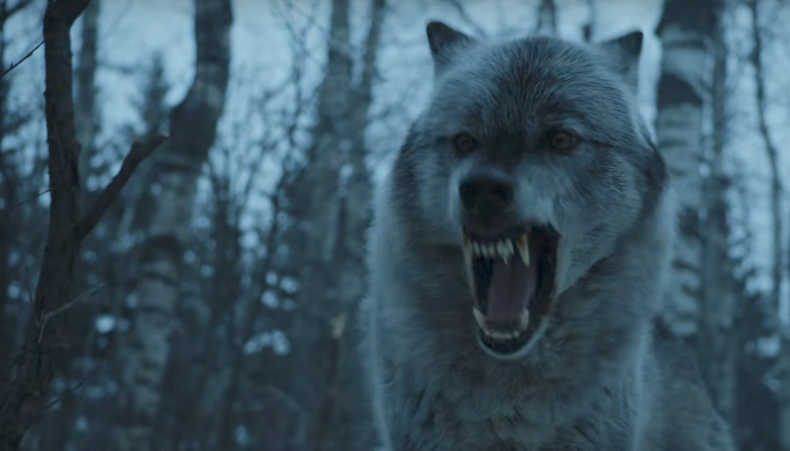 Is this Nymeria, Arya Stark's (Maisie Williams) long lost direwolf, last seen in Season 1? Rumors suggest that Nymeria and Arya will be reunited this season. Notice that Arya appears on screen right after what I assume is Nymeria.
Also, Yara romance alert! It looks like the new alliance between the Sands, Greyjoys, Tyrells and Targaryens comes with extra perks. There's a fleeting glimpse of Yara and Ellaria Sand (Indira Varma) kissing.
Finally, it looks like Littlefinger's (Aidan Gillen) scheming will start to unravel in "Stormborn." At the end of the teaser, he's seen pressed up against the wall. That footage seemingly correlates to a brief moment in the first trailer for GoT Season 7 released in May, in which Jon Snow slams him against a wall. The slippery Lord Baelish has been whispering in Sansa Stark's (Sophie Turner) ear, trying to create distrust between her and Jon—but Jon is no fool.
Game of Thrones airs Sundays at 9 p.m. on HBO.