GameStop Falls 31% as Robinhood and Amateur Traders Continue Battle
Robinhood continued to limit trading Monday in short-squeeze candidates like GameStop after a group of amateur traders last week beat hedge funds at their own game by driving the stock to new highs.
The trading app had placed limits on 50 stocks, but on Monday lifted restrictions except on GameStop, AMC, Blackberry, Express, Genius Brands, Koss, Naked Brand and Nokia. Customers seeking to buy shares in those companies now are limited to buying one share of GameStop and five options.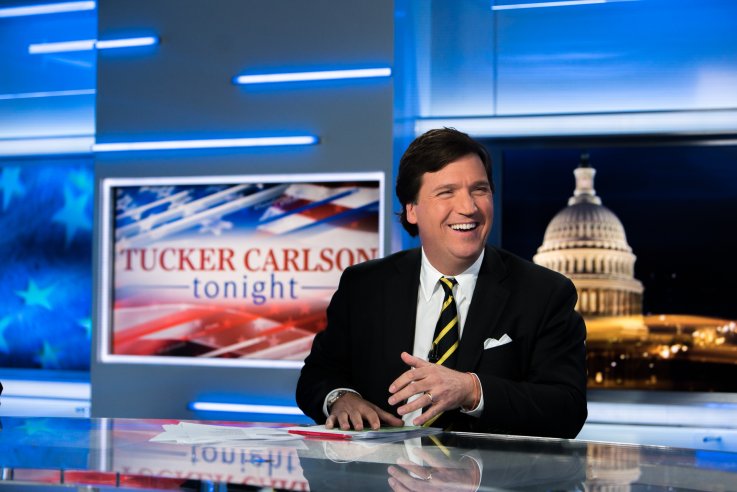 Fox News Tucker Carlson. On Thursday, the host was very critical of the Robinhood stock-trading app, which is a Fox News advertiser.
Courtesy of Fox News
A stock option gives an individual the right to buy or sell a stock at an agreed upon price on a certain date, but it's not an obligation to do either.
"These limits may be subject to change throughout the day." Robinhood said.
Individuals who bought late in the rally and hold GameStop's shares too long risk losing all or most of their investment. J.P. Morgan listed 45 stocks that could be vulnerable to similar trading spikes, including restaurant chain Cheesecake Factory and clothing subscription service Stitch Fix.
However, Robinhood isn't the only game in town for retail investors. Acorns, E*Trade, M1 Finance, Charles Schwab, TD Ameritrade and Vanguard also offer free or low-cost trades.
Amateur traders last week used Reddit's WallSreetBets to coordinate buying GameStop's shares, sending the price up about 400% last week and closing January up about 1,625%. Robinhood Market has raised $3.4 billion to help it meet trading requirements stemming from the recent trading frenzy in GameStop and other stocks.
Short selling has been blamed for many of Wall Street's problems since the 1929 market crash that led to the Great Depression. To short a stock, the investor sells borrowed shares and hopes to make a profit by replacing them at a lower price.
Retail investors, or those who buy and sell on their own, purchased large amounts of GameStop's shares, driving up the daily trading volume and squeezing short-sellers by bidding up the stock's price.
The higher price forced some short-sellers to close their positions by buying back at a higher price the shares they had shorted. Such action can further drive a stock's price higher.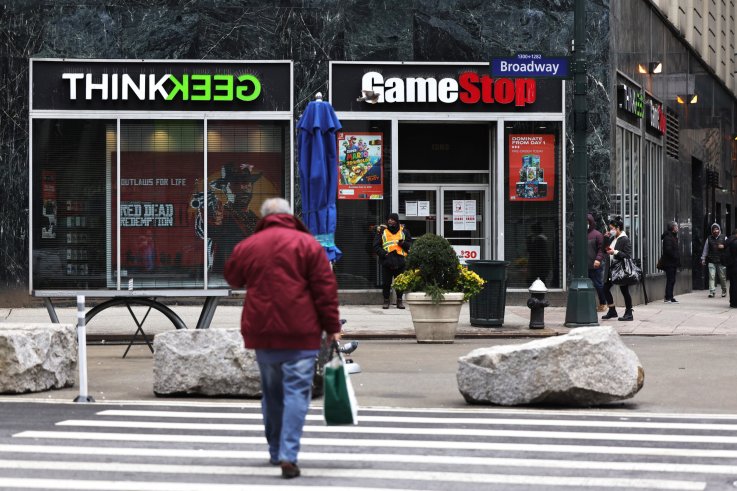 People walk past a GameStop store in Midtown Manhattan on January 27, 2021 in New York City.
Michael M. Santiago/Getty
The amateur traders did nothing illegal, but their action has raised concerns among regulators and sparked calls for hearings in Congress and the possible imposition of new taxes on trading.
In a statement, the U.S. Securities and Exchange Commission said it will "closely review" actions "that may disadvantage investors" and will work with other regulators and stock exchanges "to ensure that regulated entities uphold their obligations to protect investors and to identify and pursue potential wrongdoing."
GameStop's wild ride has also attracted the attention of members of Congress, the White House and the attorney general of the state of New York. In Washington, the House Financial Services Committee and the Senate Banking Committee plan to hold hearings on the matter.
Both Republicans and Democrats have called for hearings, including Senator Pat Toomey (R-Pa.), Senator Elizabeth Warren (D-Mass.) and Representative Alexandria Ocasio-Cortez (D-N.Y.).
Representative Ro Khanna, (D-Calif.), tweeted, "We need an investigation into Robinhood App's decision and who influenced that. And this shows the need for a financial transaction tax on hedge fund shorting and SEC regulation on short selling practices."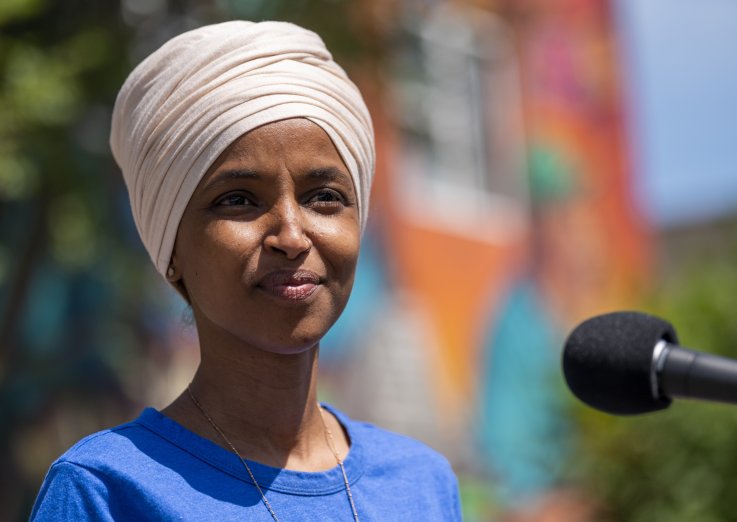 Rep. Ilhan Omar (D-MN) speaks with media gathered outside Mercado Central on August 11, 2020 in Minneapolis, Minnesota.
Stephen Maturen/Getty Images
Representative Ilhan Omar (D-Minn.), tweeted, "Wall Street has made billions on the back of the worst recession since the Great Depression, and fought to deregulate finance to pre-2008 levels. And the moment regular folks beat them at their own rigged game, it's 'SHUT IT DOWN.' How about this: financial transaction tax. Now."
In 2019, Omar and Senator Bernie Sanders (I-Vt.) introduced a bill to tax trades, but it went nowhere in Congress. But proponents of short selling say it enforces market discipline by showing which companies' stock prices are too high.
GameStop's volatility may be driving some investors to take a look at Bitcoin and other crypto-currencies.
Steve Ehrlich, CEO of Voyager Digital, a site designed for retail buyers, told Fox Business that the company is opening 100 accounts a minute. As a result, he said the site had climbed from unranked to No. 18 in the Apple Store.
GameStop closed Monday at $225.01, down $99.99, or 30.77%, for the day. The 52-week range is $2.57 - $483 a share.