'Garena Free Fire' Redeem Codes and Rewards, Plus How to Claim for January 26, 2022
Garena Free Fire has been updated with a new batch of codes that can be used to redeem diamonds and other rewards.
The 111dots Studio game is one of the most popular battle royales in the world right now (holding its own against the likes of Fortnite, Apex Legends and Call of Duty: Warzone) despite only being available on iOS and Android devices. You cannot play it on any consoles and there is no dedicated Steam page for it, yet it still managed to record 150 million peak active daily users last year.
With titles like Fortnite, you can only unlock new cosmetics by progressing through a battle pass or spending money in a digital storefront. Part of Garena Free Fire's appeal, however, is that players can simply input 12-digit codes to earn free rewards.
As with Dead by Daylight, you don't really have to do anything in-game to find these passwords—they can be easily tracked down online. By entering the codes on a special web page, you can redeem new weapons, premium cosmetics and even the diamond micro-transaction currency. The codes all have expiration dates, though, so you need to use them before it's too late.
Here are the eligible codes for January 26, 2022.
'Garena Free Fire' Codes for January 26, 2022
The codes are region-specific, meaning that you cannot use them if you are on an incompatible server (for instance, European codes won't work for someone in the United States).
Below are the latest Garena Free Fire codes for gamers who live in North America.
ERTY HJNB VCDS
ERTY HJNB VCDS
F0KM JNBV CXSD
F0KM JNBV CXSD
F10IU JHGV CDSE
F10IU JHGV CDSE
F6TG D5EN 314K
F7UI JHBG FDFR
F7UI JHBG FDFR
FA3Z XCVB NJMK
FD3E B1N3 M4K5
FERF T5R4 E3W2
FFVB HY65 RFGH
FI5Y TGFC XSWE
FLOT 6YH9 F87Y
FNMO I8U7 YHGZ
FQE2 R3FR TR76
FXCV BNMK DSXC
FXSA W234 RFVB
HDFH DNBH NDJL
IUYT GFBN MXKL
NDJD FBGJ FJFK
VFGV JMCK DMHN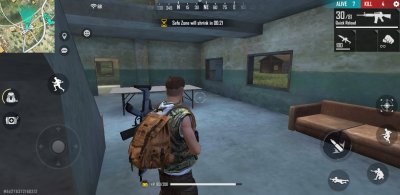 How to Redeem 'Garena Free Fire' Codes
To redeem a Garena Free Fire code, players will first need to ensure that they have created an account in the game. You are not eligible to claim rewards as a guest.
The fastest way to register is to install Garena Free Fire on your mobile and link it to your Facebook account. If you don't want to do it that way, you can create an account using an email address instead.
Once you have a profile set up, head to https://reward.ff.garena.com. Here, you will be prompted to sign in to your account.
After that, you will be taken to a page where you can enter the codes. The hyphens between each 4-digit cluster will be automatically added for you, even if you copy and paste the characters from the list above.
Once you have entered the codes, press the orange Confirm button. Within the next 24 hours, you should see the associated rewards appear in your in-game vault.
If you get an error message after inputting a code, this might be because it has expired or you are not on the right regional server.
To sum up, here are the steps for redeeming Garena Free Fire codes.
Download the Garena Free Fire app and register as a user
Head to the Garena Free Fire rewards redemption page on your web browser and log in to your account
Enter an eligible code and click Confirm
Wait for the rewards to be added to your in-game account.
Garena Free Fire is available to download now for free on iOS and Android devices.