Garland Declines to Comment on Bannon Contempt Referral: 'This Is a Criminal Matter'
Attorney General Merrick Garland continued to remain non-committal about the contempt referral against former White House advisor Steve Bannon.
The U.S. House voted in favor of a criminal contempt referral against Bannon for his refusal to answer a subpoena issued by the House select committee investigating the January 6 riot at the U.S. Capitol. The referral was then sent to the Justice Department, which has yet to make a move on the matter.
Garland remained evasive on the matter when pressed about it on Monday by reporters, insisting that the process is ongoing. "This is a criminal matter," Garland said, according to CBS News' Nicole Sganga. "We evaluate these in the normal way we do facts in the law, by applying the principles of prosecution."
CNN's Zachary Cohen also pressed Garland about whether or not there had been any new developments in the case against Bannon and received a curt response.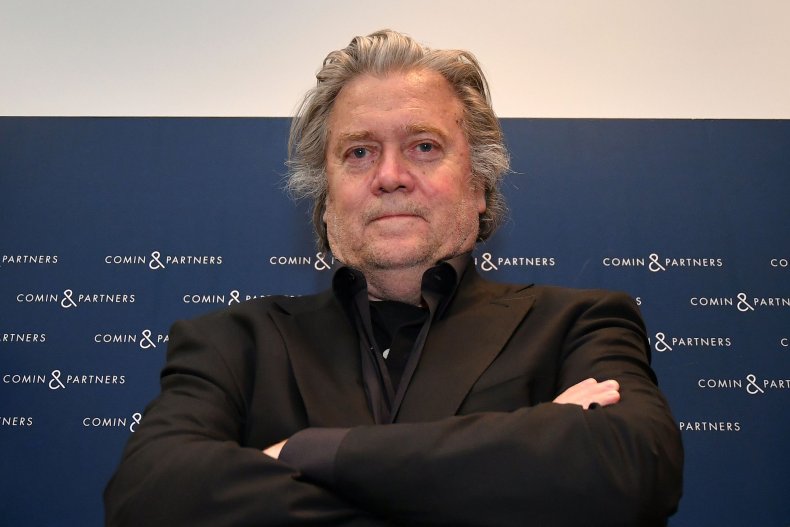 "No," Garland said. He added that he would not comment on an ongoing criminal investigation.
The vote to refer Bannon for criminal contempt passed 229-202. A total of nine House Republicans voted in favor of it, including Adam Kinzinger of Illinois, Liz Cheney of Wyoming, Peter Meijer of Michigan, Fred Upton of Michigan, Anthony Gonzalez of Ohio, Nancy Mace of South Carolina, Jaime Herrera Beutler of Washington, Brian Fitzpatrick of Pennsylvania and John Katko of New York. Kinzinger and Cheney are also the only two GOP members that sit on the House select committee.
"Mr. Bannon's willful disregard for the select committee subpoena demonstrates his utter contempt for the American people's right to know how the attacks on January 6 came about," Kinzinger said of the vote. "No one, and I repeat no one, is above the law, and we need to hear from him."
President Joe Biden also weighed in on the matter prior to the vote. Speaking to CNN, he voiced his support for holding anyone who defies the subpoenas accountable and added that he hoped the Justice Department would help go after them as well.
"I hope that the committee goes after them and holds them accountable," Biden said.
Garland told the House Judiciary Committee on October 21: "The Department of Justice will do what it always does in such circumstances, we'll apply the facts and the law and make a decision, consistent with the principles of prosecution."