Gas Crisis Prompts 'It's Always Sunny in Philadelphia' References
Rob McElhenney of It's Always Sunny in Philadelphia has spotted a case of life imitating art as the southeast grapples with a gas crisis.
Four states on the East Coast have declared a state of emergency in response to the cyberattack on the Colonial Pipeline, prompting panic buying at gas stations and a wave of Always Sunny memes and jokes on Twitter.
Several gas stations across Florida, Georgia, North Carolina and Virginia have now run out of fuel. The pipeline, which delivers about 45 percent of the fuel consumed on the East Coast, was hit by a ransomware attack on Friday.
Energy Secretary Jennifer Granholm has told reporters that operations should be fully restored by the end of the week and there is no need for consumers to hoard gas.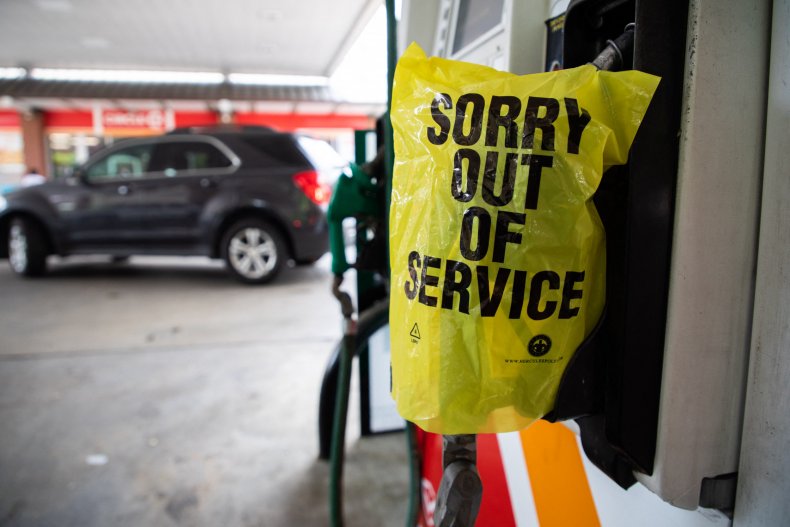 Granholm also warned gas stations against taking advantage of the crisis, saying there would be "no tolerance for price gouging."
Panic buying has been reported, however, and social media users are sharing photos of people filling up numerous containers with gas.
Patrick De Haan, an analyst at GasBuddy.com, reported that 1,800 gas stations from Maryland to Florida were out of fuel on Tuesday.
"A lot of that is because they're selling three or four times as much gasoline that they normally sell in a given day, because people do panic," Tom Kloza, an analyst with S&P, told the Associated Press. "It becomes a self-fulfilling prophecy."
One photo of a couple filling several red containers with gas and loading them into the trunk of their car has gone viral.
The photo prompted McElhenney, who created Always Sunny and plays Mac on the FX dark comedy, to refer to an episode with a strikingly similar plotline.
In a Season 4 episode called "The Gang Solves the Gas Crisis," Mac and Charlie (played by Charlie Day) stockpile gasoline and then attempt to sell it.
"I SAW THIS SHOW," McElhenney wrote on Twitter, sharing the viral photo of the couple loading up their car.
Another Twitter user posted a still from the 2008 episode, along with the comment: "gas crisis? i thought this was solved years ago."
Another user joked: "The Gang Solves the Gas Crisis 2: Electric Boogaloo May 2021 Edition."
The episode was a documentary about gas shortages, one person suggested: "I watched a cool doc about a previous gas crisis. Everyone should check it out."
Another posted: "Someone call the crew of always sunny and let them know we need them to solve another gas crisis."