U.S. Gas Prices Again Approach Record High, Near $6 a Gallon in California
Gas prices in the U.S. are continuing to climb to record highs once again and California sees prices at nearly $6 a gallon statewide.
Inflation and the start of the Russian-Ukraine War in February drove the cost of gas up in the last few months, causing the national average to set a new record four days in a row in early March. When it seemed prices were beginning to plateau, a new surge pushed prices up once again.
According to the American Automobile Association (AAA), the national average as of May 9 was $4.328 a gallon, whereas, in California, the cost per gallon hit $5.829 on May 9.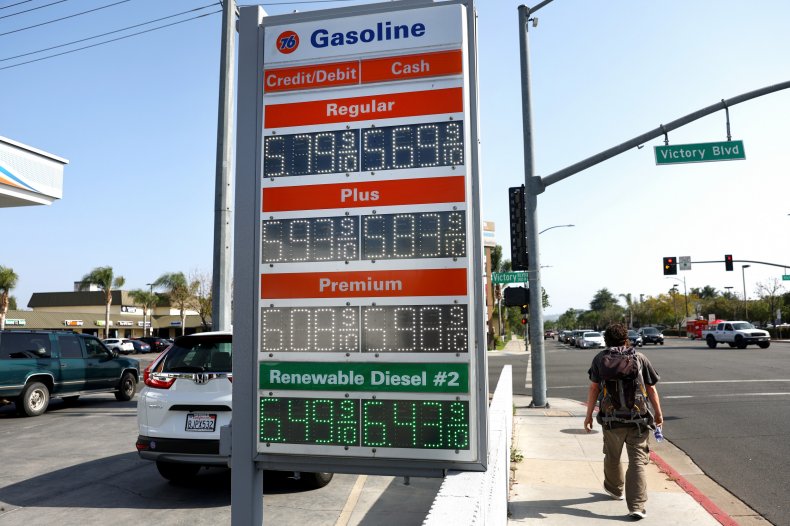 While California's record high was recorded on March 29 at $5.919 a gallon, the current cost of gas in the state is much higher than it was a year ago, when the average in California was $4.100.
The current average gas prices in gas stations around San Luis Obispo-Atascadero-Paso Robles are recorded at $6.042 per gallon, according to AAA.
Nicole Petersen, a spokesperson for GasBuddy, told Newsweek, "The cause of this week's spike in gas prices is similar to that in March, largely due to Russia's war on Ukraine and resulting sanctions on Russian energy, compounded with continuing supply recovery following COVID-19 related imbalances."
Petersen added that the gas prices are being raised at an international level. Experts expected that prices would surge again after the U.S. Senate passed a bill in April banning imports of Russian oil and gas, stating that gas prices would increase if that oil was not replaced by American oil.
In recent days, European Union governments have been discussing more sanctions against Russia that include a ban on buying Russian oil, and have been meeting daily to negotiate such potential sanctions as another way to economically isolate Russia.
"Now that the EU might sanction Russian oil, and we are experiencing more demand as summer driving season begins, oil prices have risen on concern that supply could become even more limited. California in particular has felt the most pain at the pump, with average prices consistently nearing the $6 per gallon range in the last few months," she said.
"For now, it is undetermined when and if prices will fall this summer," Petersen added. "The majority of factors today point toward gas prices continuing to increase, especially if the decision is made by the EU to stop importing Russian oil."
Analyst for GasBuddy Patrick De Haan told KNTV, "I think in California that shock and awe happens at $6 a gallon. And I think for the rest of the country, a lot of consumers are probably saying $5 a gallon, given the fact that the economy is seeing some strength coming out of COVID."
But as summer travel begins, De Haan added, "I think consumers have a little bit more appetite to hit the road; that is $4 may slow them down. But I think it's the $5 mark where there's a real sticking point."
Doug Shupe, corporate communications manager for the Auto Club of Southern California told Newsweek that in looking ahead to the summer, "Our best advice from AAA is to think about ways you can maximize your fuel efficiency. Think about it every day. Make it a part of your daily routine."
"Really make sure that your vehicle is in tip-top shape before your Memorial Day or summer road trip," Shupe added.
Newsweek reached out to an AAA spokesperson for additional comment.
Update 5/9/2022 at 2:20 p.m.: This story has been updated to include a comment from Shupe.