Poison control experts are warning Americans about the health risks of gas siphoning as the U.S. battles record-high gas prices.
"Prevention is the best medicine," said Kaitlyn Brown, the clinical managing director at the American Association of Poison Control Centers (AAPCC). "I do highly recommend against anybody siphoning gasoline, just because it is a very common way you can be accidentally exposed to something that can be potentially dangerous."
Police across the country have reported incidents of alleged gas siphoning and are advising drivers to both be on the lookout for gas thieves and take preventative measures to protect their vehicles.
The warnings come after the U.S. last week broke its previous national average gas price record set in July 2008. The country's first new record in nearly 14 years was set on March 8 and was broken three additional times last week, with the March 11 price of $4.331 for a gallon of regular unleaded gas holding as the current national record. Industry experts have identified Russia's invasion of Ukraine, which began on February 24, as the primary reason for spiking gas prices, due in part to Russia's role as one of the world's top oil producers.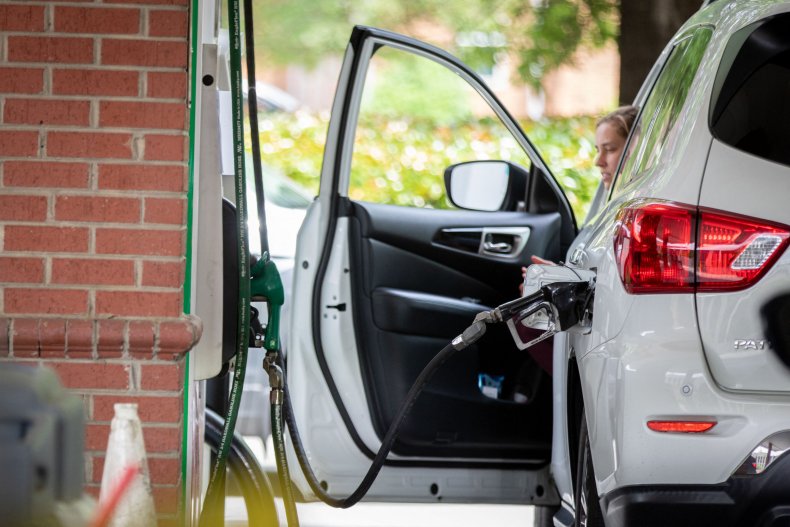 In Wallkill, New York, police said they received their first report of alleged gas siphoning in decades amid current surging gas prices, local stations reported last week.
Authorities in Everett, Washington, issued a warning about gas siphoning on social media, though police told Newsweek there were no new incidents reported over the last few weeks. Police in Neillsville, Wisconsin, told Newsweek they confirmed two separate incidents of alleged gas siphoning, with one of the thieves accused of using plastic juice and soda bottles to hold the stolen fuel.
Authorities in Wakefield, New Hampshire, similarly posted a bulletin on social media warning residents about gas siphoning but told Newsweek as of Monday afternoon they had received only one report of a suspected gas siphoning incident in recent weeks. Police encouraged local residents to keep their vehicles parked in home garages when possible, park in well-lit or heavily trafficked areas when in public spaces, and notify local authorities if any suspicious incidents occur.
Reported gas ingestion incidents increased by an estimated 21 percent in the weeks following Russia's invasion of Ukraine, according to AAPCC data. Brown told Newsweek not all of those incidents were directly attributable to gas siphoning, as the cause of the exposure is not always specified. Between February 24 and March 13, AAPCC data showed poison centers across the U.S. received 165 reports of gas ingestion, an increase from the 141 incidents reported during the 18-day stretch immediately prior to the invasion.
Beyond gas ingestion, gas hoarding can also pose health risks when fuel is not stored properly, Brown said.
The AAPCC has cautioned against gas siphoning during gas shortages in the past, warning that ingesting gas or inhaling gas fumes can require medical treatment.
Brown said gas siphoning can be "very dangerous" and identified experts' main concern as the potential for gas to get inside the lungs.
"If someone does swallow gas, one, they're going to have an unpleasant taste, potentially some irritation in their mouth," Brown said. "Beyond that, they are going to experience some nausea associated with it."
Siphoning gas can trigger "gas burps," coughing, difficulty breathing and dizziness, Brown said. Gas exposure can also cause chemical burns on the skin and vomiting, the latter of which Brown said is "very concerning" due to the risk of additional exposure to the lungs.
"We immediately recommend going to the hospital if someone is having any difficulty breathing or loss of consciousness," Brown said. Other suspected gas exposure incidents should be reported to local poison control centers "because every case is a little different," Brown said, "and specialists will be able to go over the case with the patient and help them make the assessment if they need medical attention at that point in time."
If you or someone you know may have ingested a dangerous substance, please contact poison control immediately at 1-800-222-1222 or go to poisonhelp.org for assistance.