In recent weeks, thieves have stolen more than $140,000 worth of fuel from gas stations around the U.S. as gas prices continued to soar to record numbers. That's according to an analysis by Newsweek of recent reports of gasoline thefts throughout the country.
In North Carolina on Friday, the Charlotte-Mecklenburg Police Department announced that it had made arrests in connection with the theft of 300 gallons of gas worth more than $1,000 on March 16. In a video posted online by the department, police said the thieves "had rigged gas pumps to distribute free gas" and that they had arrested the "ringleader" of the group, who faces several charges.
In a separate incident in Colorado last month, thieves allegedly stole roughly 5,000 gallons of gas valued at around $50,000 from a gas station. According to news station KXAN, a video showed the suspects arriving at the station, who pumped thousands of gallons of gas into tanks in the back of their vehicle, without paying. The manager of the business said he believed a remote control was used to pull off the theft.
On Thursday, law enforcement officials in Florida announced that fuel thieves had allegedly used a "homemade device" to steal $60,000 worth of gasoline from two gas stations, which saw the arrest of six people. In another case in Florida, four men were arrested and accused of stealing more than 2,800 gallons worth of gas. Officials didn't say how much the value of the gas totaled, but it could have been worth tens of thousands of dollars given other police departments' estimates.
"Our law enforcement investigators, officers and partners are working hard every day to protect Florida consumers and businesses from theft and other fraud at gas stations across our state," Florida Commissioner of Agriculture Nikki Fried said in a statement last month. "Whether individuals are trying to steal fuel like in these situations or credit card data with skimmers, know that our department will continue to crack down on crimes at our gas pumps."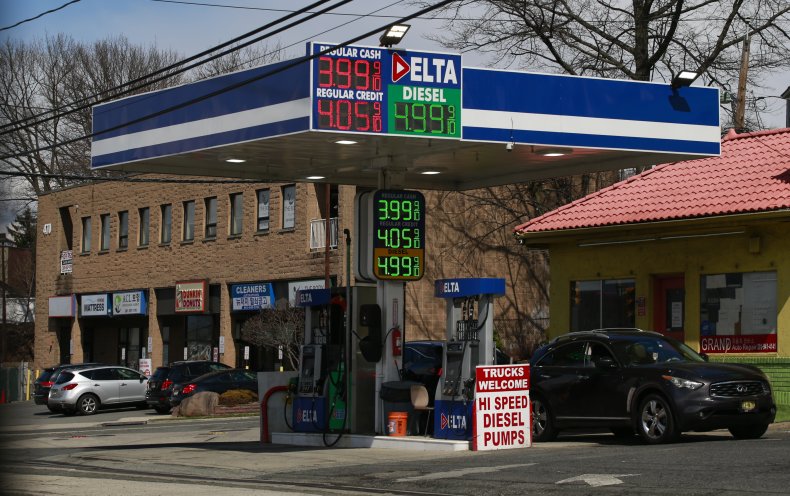 According to CBS Dallas-Fort Worth, the owner of a Valero gas station in Duncanville, Texas, said last month that thieves had stolen 6,000 gallons of diesel fuel worth over $23,000 from his business.
Meanwhile, another gas station manager in Texas said that 1,000 gallons of fuel were stolen from underground tanks from his business last month. Jerry Thayil, the manager of the Houston business, Fuqua Express, told ABC13 Houston that the fuel that was stolen was worth roughly $5,000.
In another reported theft in North Carolina last month, thieves allegedly stole 400 gallons from a gas station, which valued at $1,600.
Newsweek has reached out Charlotte-Mecklenburg Police Department for comment.