As Gavin Newsom Offers $600 Stimulus Checks, Recall Campaign Continues Push
The campaign to recall Gavin Newsom claimed on Wednesday to have collected almost 1.7 million signatures as the California governor unveiled his plan for a $9.5 billion COVID relief bill for the state.
The group Recall Gavin 2020 issued a statement on Wednesday night, saying its petition had reached 1,689,000 names with less than a month to go. The campaign needs a minimum of 1.5 million signatures to force a recall election, but aims to collect 2 million in case any are discounted by state officials.
The campaign has set an internal target date of March 10 and the official petition deadline is March 17.
"During the past several days, thousands of volunteers have hit the streets to help collect tens of thousands of additional signatures to force Governor Newsom into a recall campaign," said Orrin Heatlie, chairman of the campaign committee, which is officially called the California Patriot Coalition/Recall Gavin Newsom 2020.
"The people are being heard loud and clear; however, our job as a campaign is not done yet."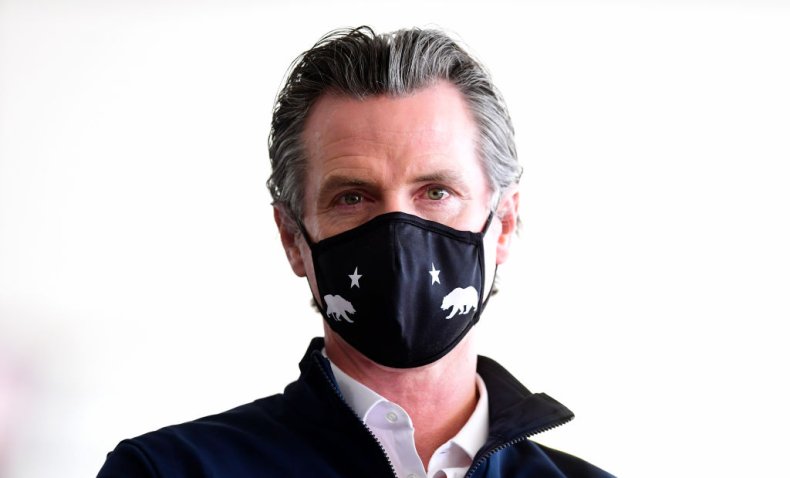 The campaign's senior adviser Randy Economy also said the group's mission was not yet complete, but added that it had "beaten the odds" by gathering more than 1.5 million signatures.
Newsweek has contacted the Recall Gavin 2020 group for further comment.
The campaign's statement on Wednesday came after Gov. Newsom unveiled a $9.5 billion coronavirus relief bill—including a provision for $600 stimulus checks for more than 5.7 million Californians.
"As we continue to fight the pandemic and recover, I'm grateful for the Legislature's partnership to provide urgent relief and support for California families and small businesses where it's needed most," Newsom said in a statement.
Outlining the key provisions in the relief bill, Newsom's office said the $600 checks would go to households that received earned income tax credit in California for 2020, as well as taxpayers who were precluded from receiving federal stimulus checks.
Small business relief grants of up to $25,000 are also included in the bailout measures, along with $50 million for "cultural institutions" affected by the pandemic. Restaurants and bars licensed with the state's alcohol control department will be offered fee waivers for two years.
Under the plan, $400 million of federal funds will be put toward a $525 stipend per child for state-subsidised childcare and preschool services in California. These serve around 400,000 children in the state. An additional $35 million will go toward food banks and diaper programs.
California has had more than 3.4 million cases of COVID-19 and about 47,500 deaths since the start of the pandemic, according to the state government. More than 6.4 million vaccine doses have been administered.