Two parents' groups are suing Democratic California Governor Gavin Newsom over a mask mandate in public schools. Their lawsuit comes as the state experiences a spike in new COVID-19 infections.
The groups—Let Them Breathe and Reopen California Schools—have filed a lawsuit against Newsom and the state's top health officials. The lawsuit says that the statewide mandate requiring schoolchildren to wear masks regardless of their vaccination status will harm the "mental and physical health" of children, especially after a year of isolation and distance learning.
In early July, the California Department of Public Health (CDPH) issued the mandate. It surpassed a July 9 guidance from the U.S. Centers for Disease Control and Prevention (CDC) stating that vaccinated students could remain unmasked during in-person classes.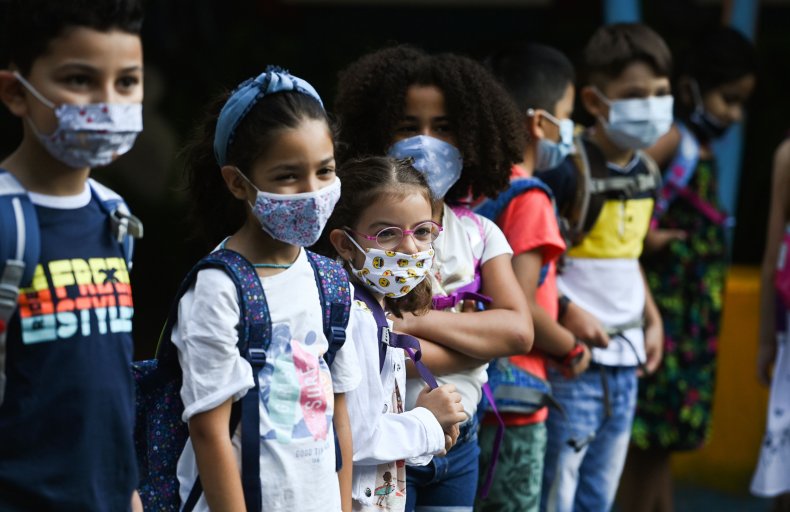 "It's clear that [CDPH] has chosen to ignore the overwhelming evidence that shows children are at a very low risk from being infected with COVID-19, transmitting it to others, or becoming seriously ill from COVID-19," Reopen California Schools founder Jonathan Zachreson said in a statement.
The lawsuit names Newsom, Health and Human Services Secretary Mark Ghaly, Public Health Director Tomás Aragón of the Department of Public Health, and Dr. Naomi Bardach of Safe Schools for All as defendants, The Sacramento Bee reported.
The lawsuit comes as COVID-19 cases across the state have begun spiking after a long period of decline. The state dropped most of its COVID-19 safety restrictions a month ago. Since then, its hospitalization numbers have increased by 58 percent, according to New York Times data.
On June 22, the state averaged around 939 new COVID-19 cases a day. One month later, the average has jumped up to 5,019 new cases a day. The state's case numbers haven't been this high since late February, just after a winter resurgence caused a bunch of new cases.
Though 61.7 percent of the state's eligible residents have been fully vaccinated, the highly transmissible COVID-19 Delta variant has increased infections, even amongst vaccinated individuals.
An estimated 20 percent of new cases in Los Angeles have been so-called "breakthrough" cases amongst vaccinated individuals. Increasing case numbers in Los Angeles County have compelled county health officials reinstate a mask mandate for indoor spaces.
Despite the breakthrough cases, health officials are still encouraging people to get vaccinated. Vaccinated individuals remain far likelier to capably fight off the virus if exposed. They're also far less likely to become seriously ill or die. Approximately 90 percent of nationwide hospitalizations or fatalities occur amongst unvaccinated people, the Associated Press reported.
Resurgences of COVID-19 will likely become a regular part of life, much like flu season, Dr. Peter Chin-Hong, an infectious disease specialist at the University of California, told CalMatters. The only difference is that unvaccinated individuals will be far likelier to be hospitalized and die, he said.
Newsweek contacted Newsom's office for comment.